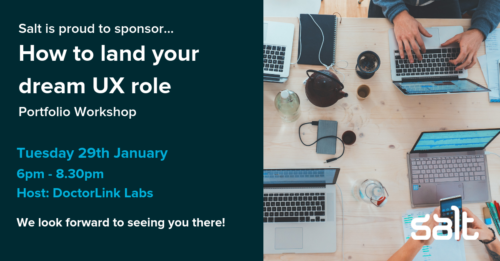 How do you land your dream UX role? Join us for this interactive talk and workshop with the UX Clicks team  Anastasija and Simon in London. They will be delivering a talk, followed by exercises to give you the tools to perfect your portfolio and help you land that dream job in 2019!
This session is for anyone, junior or senior looking to update their portfolio to either enter the job market or to secure that next career step. Register for your place here.
The session will cover:
– Where to start with your UX portfolio
– Quick fixes that can make a real difference
– Who's important during the hiring process
– How many projects do you really need
– Essential elements of a great UX portfolio
– Great examples of online portfolios
– Structuring and laying out your portfolio
– How much copy do you need
– How best to sell and describe yourself… and does it need to look beautiful?
To make this session as relevant as possible there are a few questions to complete to make it more tailored to you, so please do fill them out!
Places are limited so register now to secure your spot!
UXClicks are two senior product designers currently living, working & consulting in London. Brought together through a mutual love of design and excitement for the field of user experience design.
Check out our UI UX designer jobs in London, with Salt, a global creative recruitment agency.