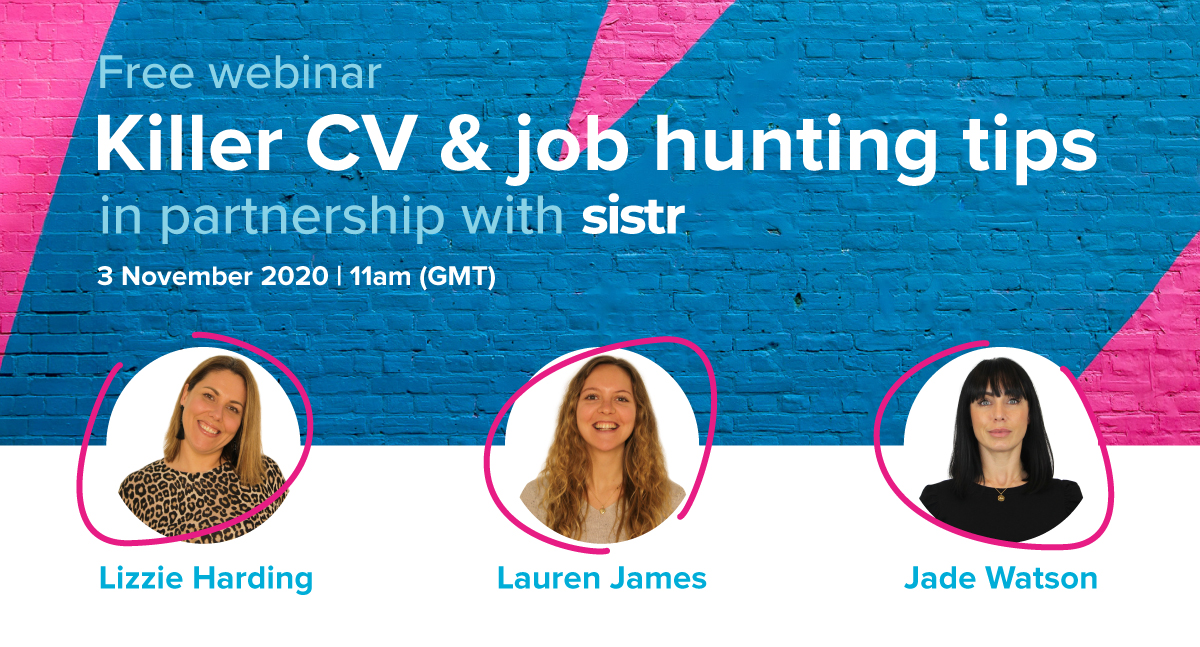 The COVID pandemic has unfortunately meant that a lot of people have been on furlough, are struggling to find a job or are facing redundancy as many businesses are forced to cut jobs.  Many people don't know what support they can turn to when job hunting.
According to the BBC, millions of people in the UK are at risk of redundancy as the end of the furlough scheme nears. It is a stressful time and you can sometimes be left feeling overwhelmed with your job search, with many people asking questions like "how many pages should a CV be?", "What needs to be on my CV?", "how do I stand out during COVID?" and lots more.
We want to help you. 
As part of their Covid campaign, we've partnered with sistr, a mentoring platform which helps women to connect and support each other, to bring you a free webinar on CV, job hunting and interview tips. Join us on Tuesday 3 November at 11am (GMT) as Salt consultants Lizzie Harding, Lauren James and Jade Watson share their tips, advice and what not to do – to help increase your employability and land a new job.
Sign me u

p:
This webinar is open to all. Make sure you book your FREE space here. 
During the webinar, we'll discuss:
The job market: where we're at now and what to expect in 2021 
CV tips: what to include, how to show off your transferable skills and how to stand out 
Job hunting tips and building your personal brand 
Interview dos and don'ts (including how to prepare for remote interviews) 
Our speakers:
Lizzie Harding, Sales Manager at Salt 
Lizzie Harding is the divisional Sales Manager for Marketing at Salt, where she is now in her 8th year with the business. With over 17 years' experience in recruitment and over five years as a marketing brand and communications manager for a tech growth business, it's probably no surprise that her specialism at Salt is for senior marketing hires within software and technology across the UK and Europe. As well as creating futures for talent in this space, Lizzie leads a successful team of seven marketing recruiters across various disciplines and industry specialisms. As events and engagement was part of her background as a marketer, Lizzie also runs sales incentives for Salt as a business, where motivating and inspiring the wider HQ team is key.  
Lauren James, IoT Managing Consultant at Salt 
Lauren James (nee Chamberlain) is an IoT Managing Consultant at Salt and has been with the company for 3 years. With over six years of experience in recruitment, Lauren specialises in sourcing outstanding talent within the Internet of Things market across Europe and partners with organisations which range from start-ups, SMEs and large corporates. She also leads the company's Corporate Social Responsibility team and helps to raise money for a range of charity's including Crohn's & Colitis UK, South London Cares and Great Ormond Street Hospital Children's Charity. 
Jade Watson, Principal Consultant at Salt 
Jade Watson is a Principal Consultant at Salt. She has more than seven years' experience in eCommerce and digital marketing recruitment and currently leads across the fashion and beauty industry specialisms in the UK and Europe. Jade has worked at agencies including Cranberry Panda, Profiles Creative and Digital Gurus. Part of Jade's role involves working with brands of all sizes, from start-ups to global businesses and roles from executive to c-suite level. She loves to network with candidates and actively gives advice on how to make your CV stand out from the crowd and prepare for interviews. Outside of work, Jade can usually be found in the gym, eating out with friends or hooked into a box set/good book.  
Want to learn more about sistr? 
sistr is a free resource focused on supporting women at work. We're on a mission to build a world full of connection, collaboration and professional growth to really make some magic happen. It's where we can share, collaborate, mentor, support and learn from our sistrs. No matter what industry we're in, we all have wisdom and ways we can help each other and supporting one another has never been more important than it is right now!
Choose sistrhood over competition, spread the word and help us change the working world for women everywhere. If you're not already part of the amazing sistr community join us for free here. 
Want to see more tips and advice? Check out our articles here.
To shape your future with Salt, a leading digital recruitment agency, send your CV to enquiry@welovesalt.com or use our search to find jobs. You can also keep in the loop by following us on Facebook, Instagram and Twitter.