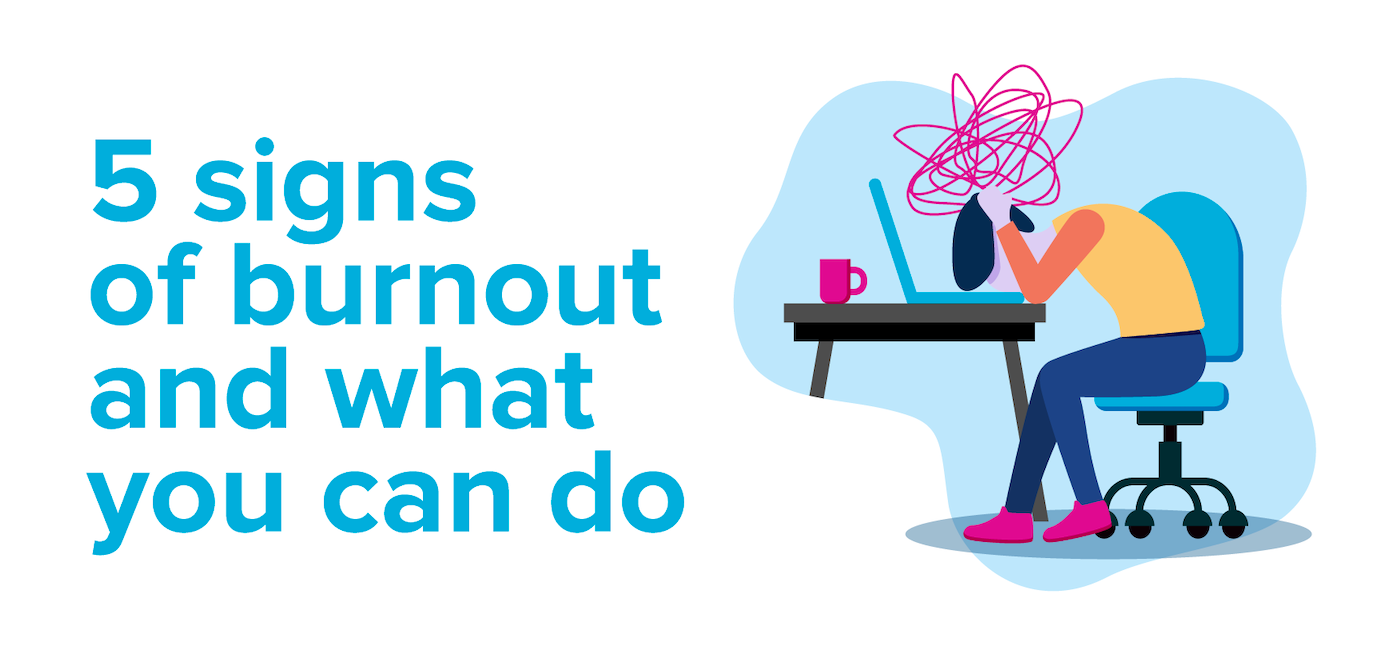 Saturday 10th October marks World Mental Health Day. Looking after your mental health is always important but this year, we've all faced unprecedented and challenging times in some way or another. Research by mental health charity Mind found that 60% of adults and 68% of young people claimed that their mental health worsened during the lockdown.
From lockdown, to furlough, to job losses, worrying about your job and the job search process – we've all found ourselves under pressure and stresses that can have an effect on your mental health.
Something that people need to be aware of is burnout which is affecting more people in 2020.
What is burnout?
The term 'burnout' relates to a state of emotional, physical and mental exhaustion which is caused by excessive and prolonged work-related stress. It occurs when you feel overwhelmed, emotionally drained, and unable to meet constant demands.
What are the 5 signs of burnout?
You have little to no motivation
You feel exhausted and drained the majority of the time
You feel like you're constantly on and always thinking or doing something
Suffering from headaches or stomach aches
You've noticed that your work isn't to the standard it used to be
These are just some of the signs of burnout but it's important you take time to see if you're struggling with any of these and take steps to make yourself feel better. Burnout can have a considerable impact on your mental health where you could find you're feeling more anxious or depressed.
What to do:
Take some time off
We are very aware that some people feel they are in fight mode for their jobs but you can't be the best at your job if you're exhausted and haven't taken a proper holiday since pre-COVID. Book some time off and spend the day doing something that makes you happy. The majority of managers will want you to be happy and focused, rather than drained.
Even if you're currently unemployed, you're probably chaining yourself to your desk and applying to jobs all the time, but you need to let yourself have a day off too. Job searching can be disheartening and can leave you feeling deflated and drained. Take some time away from applying to jobs and focus on simple things you like doing, such as seeing family or friends, reading or going for walks, so you get that time and space away from applying to jobs. You'll come back to your laptop with a fresh head and who knows what creative ideas may have sparked!
Be honest about your workload
Similar to our first point, there is uncertainty surrounding everyone at the moment and if you are still working, there's every chance you're taking on every project and task to prove to your manager that you're needed and valuable.
However, if you're feeling stressed and overwhelmed about your to-do list, struggling to fit everything in and barely leaving your desk – you need to have an honest conversation with your manager or HR team. 
Disconnect
There are a lot of benefits to being in a digital world, but one disadvantage is that we are always switched on – to news, to status updates, to emails. Our brains are not conditioned to process all of that information. Scrolling or never putting your phone away can trigger negative emotions and heighten that 'always on' feeling, typical of burnout.
Start with small steps such as putting your phone away for a certain amount of time in the evening and don't look at your phone as soon as you wake up, have your coffee first! You'll find by being disconnected from the noise on your phone, you'll start to feel calmer and clearer and focused on yourself.
Write a list of things that make you happy…
They don't have to cost you anything and it could be something that you may think sounds silly, but make sure that you do one of those things every day. It's good to have a list of fail-safe things that improve your mood so you can turn to them when needed.
Visit Mind's website for more resources on handling your mental health at home and in the workplace.
To shape your future with Salt, a leading digital recruitment agency, send your CV to enquiry@welovesalt.com or use our search to find jobs. You can also keep in the loop by following us on Facebook, Instagram and Twitter.