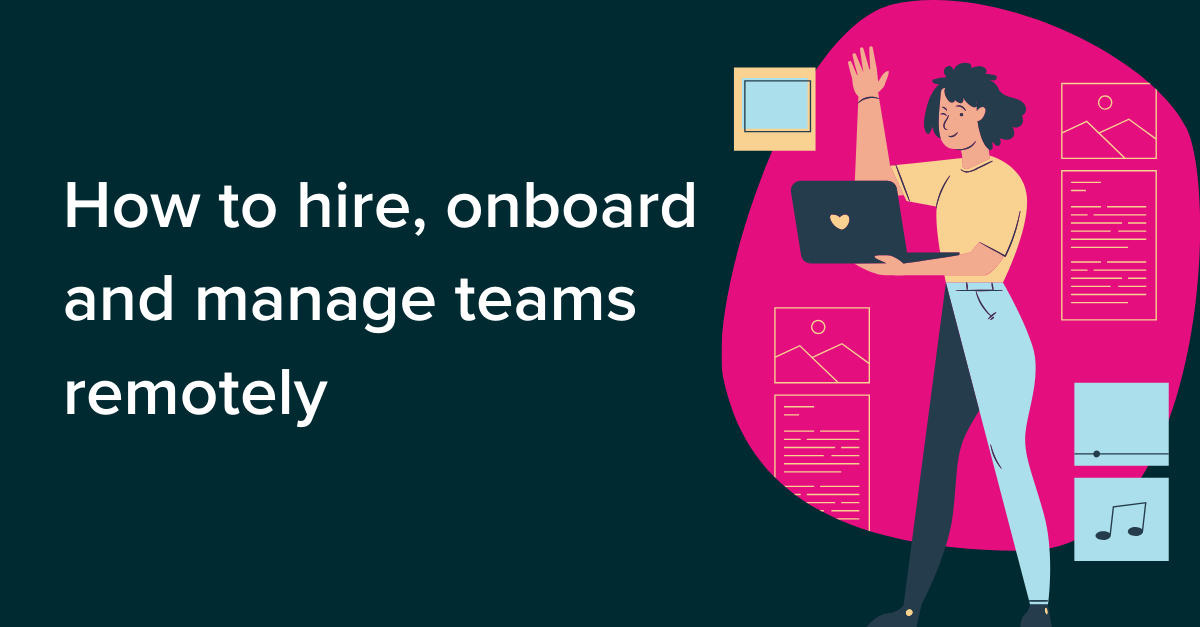 As most of us are working from home now, this also means some hiring and onboarding processes are happening remotely too.
Our CEO, Elliot Dell, recently took part in a panel discussion with Insider and Tom Dixon, on how to hire, onboard, and manage your teams remotely. If you missed it, you can watch the recording below.
Or, carry on reading to read some of our tips…
When hiring remotely, it is important to adopt a remote hiring strategy to make sure that you not only employ the right candidate but can show potential new starters what it is like to work for your business and integrate them into the team. Here are some important tips:
1. Communication and transparency are more important than ever
First impressions are always key, but more so when you are hiring remotely. It is important to remember that the interview process is a two-way process. Getting to know a candidate and a candidate understanding and evaluating whether your business is right for them is the same. When hiring remotely, it is even more important to demonstrate your ability to communicate, collaborate and work out whether you can work together, such as how long it takes for a response from an email, call, etc.
2. Focus on the values which define your business, your objectives and company culture
Employers should spend a good portion of the time talking about the team, culture, and environment. It's more important now that you sell your brand and not just focus on the candidate fit for the position.
Think about ways how you can organise an introduction to the teams and the key stakeholders that potential new employees will be working closely with to help them build a rapport, understand the business and culture, and build relationships online.
Video calls are a good way for people to be able to start building relationships and this allows you to break down barriers.
Make sure that the environment that you create online is reflective of your company culture, objectives, and overall team morale. This will allow people to understand what it will be like working in the office when things are back to normal.
3. Make sure that you have the tech you need for interviewing, building a remote community and collaborating
Many clients we speak to are opting to hold interviews on Zoom, Microsoft Teams, Skype, and other video calling tools. Have a backup form of contact arranged in case video doesn't work and when arranging an interview make sure you explain what the process will look like and what is expected from the interviewee so that they are prepared. Both parties should do a connectivity test beforehand to make sure that the tech is working effectively. Alternatively, you can always set up telephone interviews if this works better for you.
If your company already uses collaboration tools such as Trello, Office 365, Teams, or Slack, this is a good opportunity to explain your way of working and to give them an understanding of how your teams collaborate online. Interviewing remotely is an excellent opportunity to explain the tools and systems that you regularly use and to ask the candidate if they have experience using them before.
4. Shorten your hiring cycles and explain your selection and onboarding process
A lot of businesses have long hiring cycles and processes (sometimes 3 or 4 rounds of interviews) which can slow down taking on new staff. Think of ways in which you can shorten your hiring cycles; arrange group video calls with the candidate and the key stakeholders they will be working with or separate meetings so that they can understand the business and role more.
Keep candidates engaged by explaining the process from the beginning, including when to expect a follow-up and a decision, and try to be as transparent as possible. Candidates will want to know how it is going to work, how they will onboard, and what help you will provide to help them build relationships with the rest of the business.
When arranging interviews, you may need a different set of questions than normal to ensure that the candidate can work remotely and understand what training they may need to get started in the role.
5. Create a remote onboarding programme or review and tweak your existing programme to make it more user friendly
Your onboarding process is just as important as interviewing and hiring and needs just as much attention and effort as the hiring process. During these times it can be daunting for candidates to start remotely, especially if there is no clear communication or guidance about their daily tasks and training.
Set out an entire remote hiring and onboarding strategy, don't just wing it case by case. Make sure you are set up to run everything smoothly and be sure to check in regularly with new starters to see how they are doing and make sure that important training and introduction meetings are set up in their calendar. Documents and contracts that are normally sent through the post can be handled digitally. Essential equipment such as phones, laptops, and headsets can be delivered and competency testing can also be completed online during the interview or selection process to identify if the candidate is right and what additional help or training they may need in the role.
Also, think about putting together welcome packs with the most important contact information for IT and information about the business, you can also use online training to help get new starters set up, group calls with HR and other new starters to explain processes, and make sure that your new starters are set up for induction or team calls from day 1.
6. Highlight your Employee Value Proposition (EVP)
Allow candidates to get a feel of the office and the people that they are going to be working with. Create an offline experience online such as a video of the office or team, photos of social events and corporate events/launches, explain more about your location, share staff testimonials and feedback and demonstrate your employee value proposition.
For more information or advice on hiring digital talent, get in touch with the team today at contact@welovesalt.com.