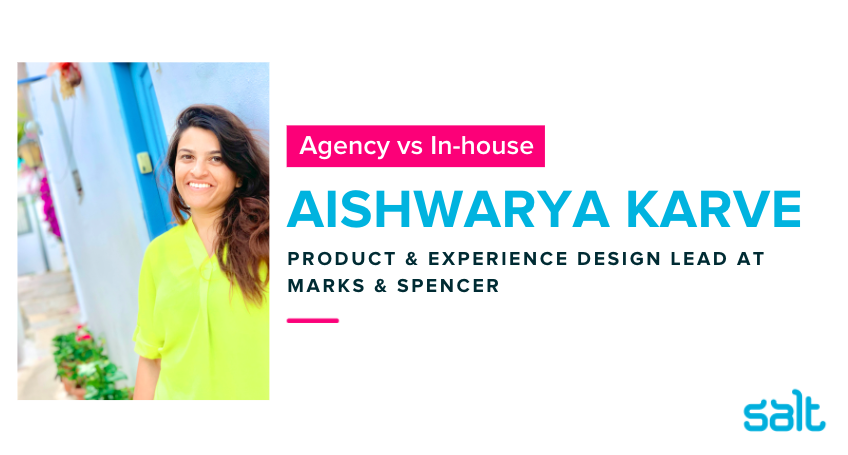 In this 'agency vs in-house' interview series led by Salt's Management Consultant for Creative, Holley Potts, we speak to customers from all different sectors within the world of digital to answer the age-old question – agency or in-house? This series is designed to give you a snapshot of creative career journeys and insights into what is currently happening in their businesses. Over to Holley… 
My next guest is Aishwarya Karve, Product & Experience Design Lead at Marks & Spencer, where she shares her wonderfully in-depth knowledge of her passion and craft. 
Holley – Well, thank you so much Aishwarya for taking part! So, I am sure the audience would love to know your view on the shift between people moving from agency to in-house? 
Aishwarya - I have been client side for most of my career mainly focusing on service design and end-to-end, which is what I look for in any type of new commitments. When you design something, it is not the end of it but the start of it, how this will communicate with the users and then design on top of that to enhance the overall experience for our customers. That's why I feel working client side helps because you have that continuous engagement with a project. 
People sometimes have preconceived ideas that they will be working on only one product and that there will be no creativity or innovation, yet, within an organisation you can switch into different business units, missions, discovery projects or even get a chance to work on omni-channel platforms, so it's not restricting your creativity. More companies are welcoming innovation, as everybody needs to be more innovative.  
Holley – People often assume that in-house determines you will only work on one project, what would you say to that? 
Aishwarya  – Fortunately, I have worked on a quite a few projects. I started on a discovery piece to enhance lingerie buying experience, then on to delivering product page, and after that led the UX and service design for M&S loyalty scheme (SPARKS) which plays a big part in M&S digital transformation.  
Holley – Do you find there is more of a lean towards working multi-disciplinary in-house?   
Aishwarya – Having worked on end-to-end design delivery, I am comfortable doing both UI & UX. For any company it's good to have a hybrid designer, for example in a project like Sparks, there are so many different platforms, it's not one role for a designer to do, it's looking at holistic experiences across stores, web, IOS and Android, to make sure they align. For certain projects, a hybrid works but for others you need specialists to be part of a bigger team to achieve the focused goal. That's the beauty of in-house.  
Holley – Has your role changed since being at M&S in terms of the way you handle projects? 
Aishwarya - The massive shift that I have seen is that we are heavily resourcing to design for data, which is the next big thing. By adding analytics and data to it, it gives it meaning. This is reflected throughout the business, not just design, but through to marketing and other departments too.  
Holley - Data is the new oil, all about the customer journey. It's all about behavioural intelligence, would you agree?  
Aishwarya - Absolutely, it's important to get proper personas for companies in place, as we have seen a massive shift in customers who are 50+ on how they are using our apps. It is interesting to understand the behaviour from the different age groups and designing for them is the best challenge.  
Holley - With the ever-popular movement of product design sweeping this year, what are your thoughts on Product Design?  
Aishwarya – I think a product designer is not only advocating for the users but is also an advocate for the company and the organisation. 
A product designer's job is to solve problems for the end-users and ship high quality, user-friendly, pixel perfect products which are aligned with the business goals. 
The trend of having a full-stack designer who does UX & UI is now becoming more popular at it ensures there is full focus on the mission and has a better understanding of the project.  
Holley - I feel companies want to know what the future looks like in this climate, what with the climate being so unpredictable, do you see a rise in UX researchers this year? 
Aishwarya - I think UX Research is definitely picking up. Many companies are still struggling to understand the importance of research and why it is vital for the success of the product, but at M&S I have seen that the stakeholders are more interested in the thought behind it and the research because our focus is data. They want to see the quantitative and qualitative research in terms of making a decision which is why we have the UX Researcher role and even copywriters sitting on the UX and overall design team. 
Holley – What areas in tech do you see starting to grow this year? 
Aishwarya - Analysing metrics every week, makes what you are doing relevant and current.  
Technology, AI, and data are important for any business to make sure they are designing appropriately for their customer needs. There are variables now like audio solutions, and so many varieties other than just mobile or desktop, whether that's Alexa or your watch. Also, instead of screen design it could be audio design in future! The market is changing every day and we need to adapt to it.  
Holley – Have you found creativity to be challenged this year?  
Aishwarya – Initially, it took time to settle in the new normal, but now we have more time to be more productive because we have cut out the travelling. In terms of collaboration, we have invested in certain tools like virtual whiteboards, which has massively streamlined our ways of working. 
Obviously, nothing beats being in person and brainstorming is brilliant but even before lockdown we were doing remote working, so we were quite well set up for this. 
Holley - With M&S working in retail, I take it you have stayed strong despite this outbreak?  
Aishwarya– Yes, because we work in the food business, we are fortunate we were not impacted too much. We have been on top of everything in terms of helping our customers in this unprecedented times by providing the right help & support by making it easy to shop and by doing our bit by contributing to NHS in various different ways, which is why people look at us as a major heritage brand. It feels quite humbling how people are so interested in the brand in the UK. 
Holley – Much like in advertising, you get teams of Art Directors and Copywriters, do you ever see the rise of digital teams of UX + UI?  
Aishwarya - If I were to set up a team, I would do a bit of tech, UI + UX. If a team has the knowledge and understanding of the technology then it helps in designing feasible design solutions in the given time frame. I think there is already a rise of squad concept in tech companies where each product team will have a UI + UX resource to ensure the products are well thought and pixel perfect!   
A fab insight into the M&S way of working with Aishwarya, looking right across the spectrum from start to finish. Seems like in-house is leading on this occasion!  
Read more of our agency vs in-house interviews here.
Stay tuned for more interviews, coming your way. If you would like to find out more about the series or find out how to hire creative talent, get in touch with Holley via hpotts@welovesalt.com.