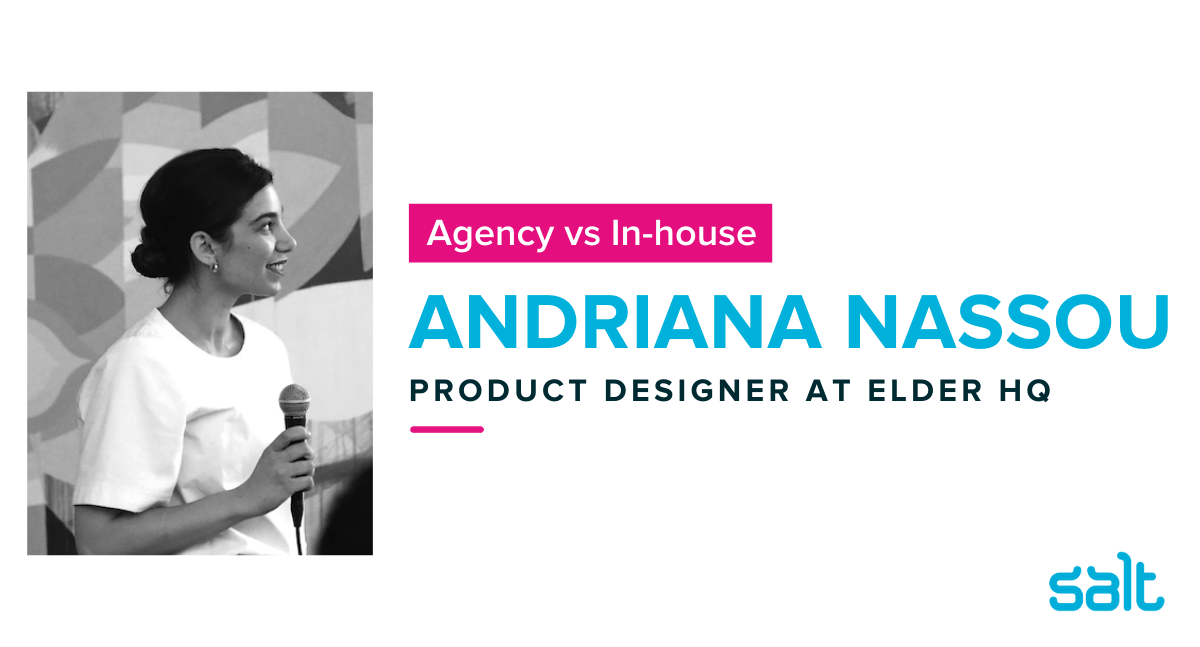 An interview with Andriana Nassou, Product Designer at Elder HQ, about working in agency vs in-house in the Creative industry.
In this 'agency vs in-house' interview series led by Salt Senior Consultant for Creative, Holley Potts, we speak to customers from all different sectors within the world of digital to answer the age-old question – agency or in-house? This series is designed to give you a snapshot of creative career journeys and insights into what are currently happening in their businesses. Over to Holley…  
My next guest is the lovely Andriana Nassou, Product Designer at Elder HQ who shares her thoughts on the holistic world of design and gives a unique insight into compassionate ways of working with the elderly. This is an area that is slightly off grid for some people but holds some fascinating ways of new thinking coming from a designer's perspective… 
Holley– Design. It's a big word. Everyone has a slightly different take on this, so what does design mean to you at Elder HQ? 
Andriana – Design is a process where you empathise with your users to create a product that is useful, usable and delightful for them. For us, it's a bit different as we have multiple user groups.
There is the person who needs care, there is the family who is usually taking care of the care plan for the person and then there are the care professionals who are working with us to help the families, so there are these 3 different user groups that we serve. So, it is important to us to address the needs of our carers and families equally through our product.  
When in need of care, people may feel stress or anxiety. Our product is designed with the mental state of our users in mind. The experience aims to give them reassurance and peace of mind that Elder is going to provide them with the right care service for their unique needs.  
Currently we are working on a new tool that will help people navigate available funding from the government in order to fund their care as right now, it is quite difficult to do so. Live-in care is more affordable than people think and this tool is a real game changer.  
If I have to summarise our design process in one phrase, it's that you have to know your users well for your product to be successful.  
Holley – From what you said it sounds like a very different way of thinking about design when it comes to your users at Elder, you must have to be very creative in the way you work on that basis, what would you say then is your main challenge?
Andriana – Our audience isn't always familiar with technology and in moments of urgent need of care this can become even more challenging. Our team focuses on seeing the product through their eyes in order to make the experience easy and delightful to use. It's interesting but also challenging for us, this is what makes it so great. 
Holley  – Everyone loves a challenge! That's fortunate that the work you do is challenging, as that always pushes you further in your field of work. Speaking of challenges, especially the ones that have happened this year, I am optimistic that there will be positives that come out of any negative, what sectors do you see growing as a result of this year?  
Andriana – This year has really put things into perspective, and caused us to really think about the services of the coming decade. I think Healthcare and FinTech will definitely be areas that have, and will continue to, boom.  
Holley – Yes, there is a definite boom in those areas, designers will be broadening their horizons for the sectors they work in, like you said within Healthcare and FinTech, and also expanding their skill-sets too, is this something that you are noticing too?  
Andriana – The real value in a designer is to be flexible to tackle any given challenge. As designers we are the mediators that translate the user needs into product features.  
 
I like that more and more people from different backgrounds decide to take on a career in Product design. I love all these different perspectives that come to the table from someone with a background in psychology or behavioural sciences.  Also, a great opportunity to learn from each other and adapt to new challenges. I am personally a hybrid designer myself with a background in design engineering, so I definitely value the different skills a person can bring which allow for a more holistic way of thinking to the challenges we have.  
There we have it, a really informative view from Adriana into the ways of working at Elder HQ. It's fascinating to hear the new creative solutions that need to be thought about when working within this sector. 
Stay tuned for more interviews, coming your way. If you would like to find out more about the series or find out how we can help you with your hiring, get in touch with Holley via hpotts@welovesalt.com.
Read more of our agency vs in-house interviews here. 
For more information or advice on hiring digital talent, get in touch with the team today at contact@welovesalt.com..