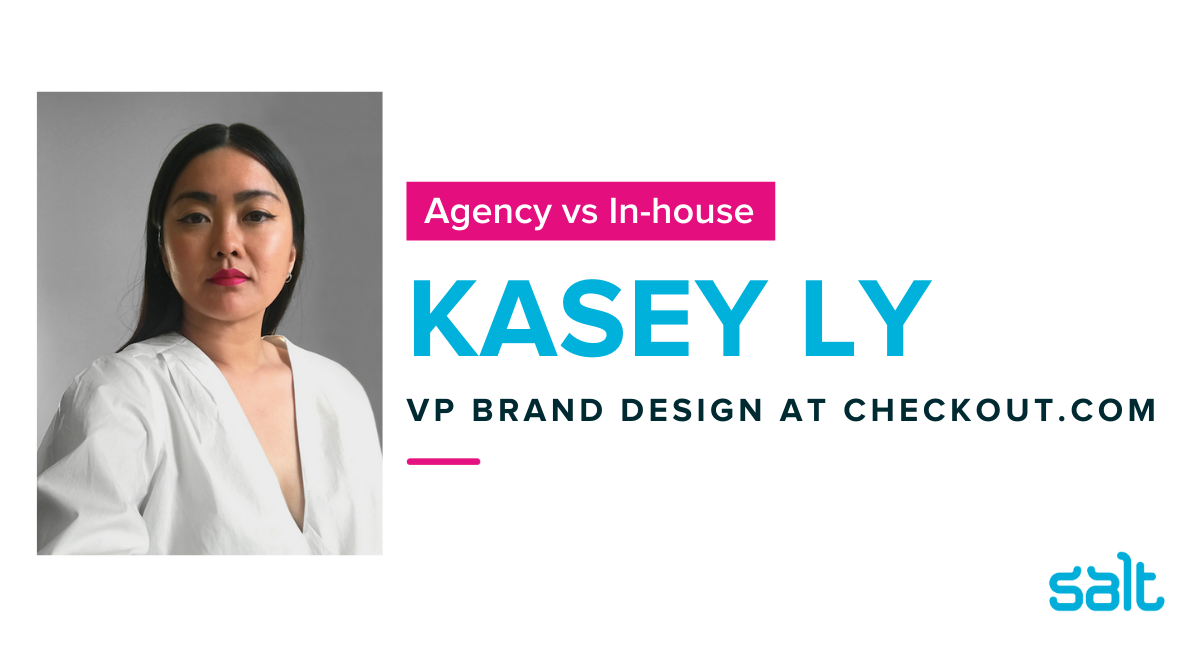 An interview with Kasey Ly, VP Brand Design at Checkout.com about working in agency vs in-house in the Creative industry.
In this 'agency vs in-house' interview series led by Salt Senior Consultant for Creative, Holley Potts, we speak to customers from all different sectors within the world of digital to answer the age-old question – agency or in-house? This series is designed to give you a snapshot of creative career journeys and insights into what is currently happening in their businesses. Over to Holley… 
Leading nicely on to our next panellist on the ever-growing content series, Kasey Ly, VP Brand Design at Checkout.com, who tells us wonderfully why it's all about pushing ideas not pixels and how to truly empower your team to get the best out of them… 
Holley – So good to have you here Kasey! I shall kick off with the question that everyone wants to know, if you had to swing to agency or in-house, which would it be and why?
Kasey – I think it would have to be in-house for me – I love distilling brands down to their clearest, freshest form and helping businesses move through brand changes whether that's brand creation, re-brand or refresh. And working with your team and the rest of the business to bring it to life is the most fun and fulfilling part of that experience.
Holley – Working brand-side are definitely the popular choice over these last few years amongst designers and only appears to be growing more, for many reasons such as being more of the author of your projects, so what has attracted you to work brand side?
Kasey – I've worked brand side my whole career and I've been lucky to have been part of businesses who's invested in brand building, with dedicated brand teams. So even though you're a creative, it's less about beautiful design but about the role of design in building a brand. Paul Rand said it so well, 'design is the silent ambassador of your brand' and I feel it rings true here.
I've learnt a lot about what it means to create a meaningful end-to-end customer journey. It's taken me beyond design, and into deeper strategy and brand development work. Working agency side would be really exciting, but working in-house means I can help bridge the gap that often exist between agencies and businesses – corporate and stakeholder considerations and realities of implementation that agencies often haven't experienced first-hand, then take internal creative team and stakeholders on a journey to understand the changes and why we're making them. So that we together can develop creative, business-relevant solutions with a clear design point of view that brings the brand story to life.
Holley – That is a great notion to think about, looking how the larger design thinking that goes past just the visuals. It is these combination of skill sets that is being highly requested among designers. So, what does good look like for a designer in your eyes?

Kasey – I tend to look for creatives who have that wider understanding that goes beyond design. Design without capturing the very essence, the idea of an organisation and a brand isn't going to help you cut through and form a closer emotional connection with your audiences, inside and outside. So you have to be purpose-led and thoughtful in your approach and understand that everything is connected to something else. Projects in-house are rarely one off's so I tend to encourage the team to push ideas, design for scale and consider how designs can unfold across different channels over time.
Also knowing how to dial up and down the brand and distinctive assets depending on your audience's needs and wants is absolute key. The creative should always be appropriate to the environment in which it appears – whisper in company, shout in a crowd. It's hard, finding creatives who takes such a brand-led approach, especially when we're seeing more and more specialist designers.
Holley – Indeed I remember those days of getting only specialist roles, how times have changed! Of course, they are still about but there is more of a favour towards multi-skilled designers. What areas in design do you see changing that designers should take note of?
Kasey – I think just focusing on executing design briefs doesn't really allow you to influence and add value. As an in-house creative, your days are often filled with different briefs, and how well you've executed them is often based on how quickly you've done it, and helpful the stakeholder found you to be, and often not because the creative ideas you bring to the table. Which is why you'd want to get out of being in the production line, connect with stakeholders and get a broader understanding of the different departments, what they do and how their priorities translate in the next 3-6 months and what role you can play.
So, for instance we are going through a rebrand, instead of just re-skinning, we look for opportunities to evolve, improve and simplify. Rebranding an induction presentation can suddenly become a much bigger project, because why wouldn't we look to produce a fabulous physical welcome back for our new starters, especially during times where everyone is onboarded virtually? Working in a fast-moving start-up environment means you're empowered to just run with these ideas, which is really exciting.
I often ask my team if they're producing portfolio worthy work and if not, how can we make that happen? Where can we find those opportunities? Stakeholders are often limited by time and budget, this is where we as creatives come in with great ideas and relevant, smart design solutions. The more relationships and trust we build across the business through our work the more it allows for creatives to be creative and stay creative because you're now pushing ideas and not pixels at speed. The value you add and the impact you drive will 100% not go unseen, and in fact, make them come for more!
Stay tuned for more interviews, coming your way. If you would like to find out more about the series or find out how we can help you with your hiring, get in touch with Holley via hpotts@welovesalt.com.
Read more of our agency vs in-house interviews here. 
For more information or advice on hiring digital talent, get in touch with the team today at contact@welovesalt.com..