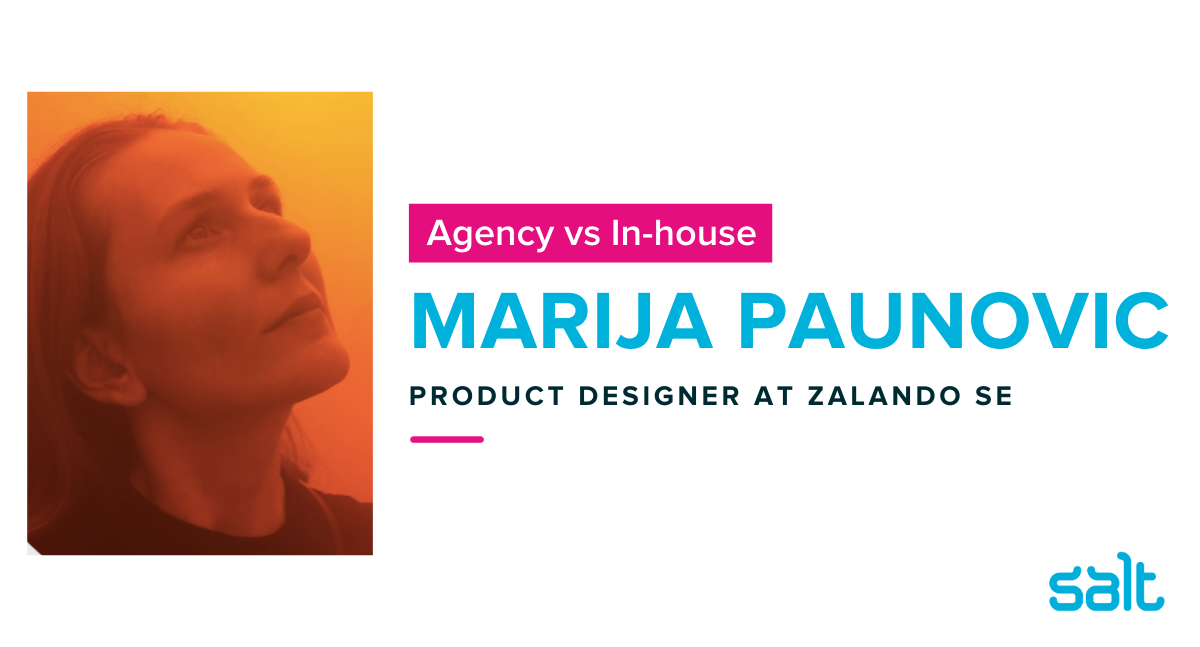 An interview with Marija Paunovic, Product Designer at Zalando SE, about working in agency vs in-house in the Creative industry.
In this 'agency vs in-house' interview series led by Salt Senior Consultant for Creative, Holley Potts, we speak to customers from all different sectors within the world of digital to answer the age-old question – agency or in-house? This series is designed to give you a snapshot of creative career journeys and insights into what is currently happening in their businesses. Over to Holley… 
Delving into the world of retail, we get a thoughtful insight from my next guest Marija Paunovic, Product Designer at Zalando SE, looking particularly at how lockdown has affected this market… 
Holley – Brilliant to have you here Marija! Talking to someone who has been to both arenas of agency and in-house, how does design differ between agency and in-house?  
Marija – Well, working in house, we listen to our customers a lot, we get to see the product grow, and work on a range of improvements from the small details to implementing new features that can change the way customers use our product, we iterate.
Whilst on the agency side, in my experience, once something was delivered there wouldn't be much iteration after the project was finished. Looking back, I'd say I was more focused on craft, because I didn't work with design systems so there were a lot of design decisions to be made, and whilst working at big e-commerce platforms like Tesco and Zalando I have expanded the range of skills and responsibilities, and work has become more dynamic. There is a lot more focus on data, stakeholder management and instead of client briefs our starting points are customer needs. 
Holley – That's a good point to make about realising that there is so much more to design when it comes to product and not just looking at the aesthetics, but things like strategy. Indeed, I think lots of companies will be looking more at strategy and how we have had to adapt this year. What sort of adaptations do you see coming out of this eventful year? 
Marija – We are seeing a change in customer behaviour because of the pandemic, people's shopping habits are changing and adapting to a new reality, which means more people are adopting and looking for more digital solutions for their everyday needs. As digitalization expands it does get me thinking about how we can create meaningful solutions that are accessible and sustainable for all generations, especially the elderly. 
Holley – Like you said, throughout each crisis there will be a new way of adjusting as every situation is different. It's all about constantly evolving. Such as remote working, we have evolved to adapt to this. How have you found this new way of working?  
Marija – I'm a big fan of remote working, and I'm lucky because Zalando has been very flexible and supportive during the pandemic which has allowed me to work in a comfortable way. They focused a lot on mental health during these difficult times and always put it as a priority that we all have options (once full lockdown ended), such as people who are more comfortable in the office can book a table and work safely from there or stay at home! This resulted in equal or increased productivity in many digital teams. I've always wanted to try a digital nomad lifestyle and now that I've seen how it can work on a bigger scale, I'm hopeful that companies will invest more into building trust, exploring different ways of working, and understanding that a company culture lives within the people not in the postcode. 
As a designer though, I must admit that sitting together does have its perks, such as knowledge sharing, inspiration and the occasional goofing around, but personally I can also see how creating rituals and coming together occasionally can balance out both worlds.  
Holley  – Definitely a catch 22 for an open plan office coming from a designer's perspective! I feel more of a positive on the whole with the opportunity for collaboration. Do you see the larger retail stores starting to collaborate with smaller brands? Such as more ethical brands?   
Marija – Definitely! Zalando is already collaborating with smaller businesses and boutiques to help them get their products online, and in front of customers. There is also a big emphasis on sustainability (we have a dedicated team just for sustainability) and working only with brands that share the same values.  
Unfortunately, I think we are still a long way from solving the "fast fashion" crises, that is not only a disaster ecologically but also ethically. We recognize we are a part of the problem like many other industries, but we also want to be a part of the solution, so I look forward to working on products and features that deliver on that front. I am also hopeful that we will create mechanisms that help even smaller brands and ateliers get the exposure that they need to succeed without big investments, because demand for uniqueness and quality is definitely rising.  

Stay tuned for more interviews, coming your way. If you would like to find out more about the series or find out how we can help you with your hiring, get in touch with Holley via hpotts@welovesalt.com. 
Check out all of the interviews in our agency vs inhouse series here.
For more information or advice on hiring digital talent, get in touch with the team today at contact@welovesalt.com..