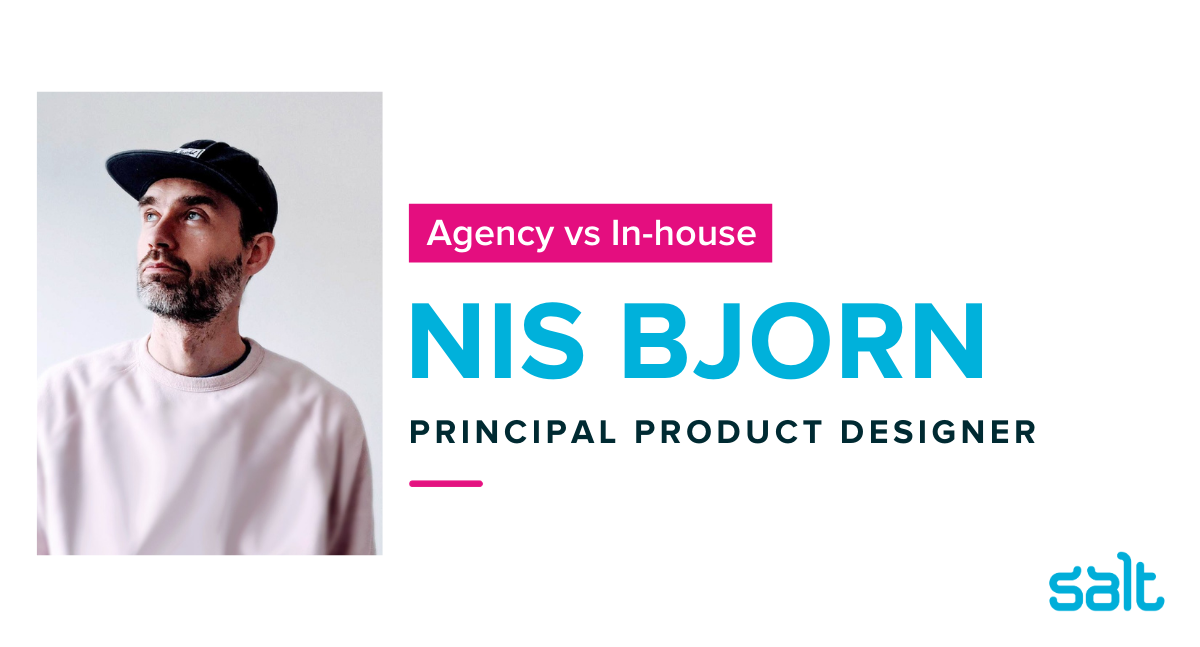 An interview with Nis Bjorn, Principal Product Designer about working in agency vs in-house in the Creative industry.
In this 'agency vs in-house' interview series led by Salt Senior Consultant for Creative, Holley Potts, we speak to customers from all different sectors within the world of digital to answer the age-old question – agency or in-house? This series is designed to give you a snapshot of creative career journeys and insights into what is currently happening in their businesses. Over to Holley… 
On to our next wonderful guest to join us here is Nis Bjorn, Principal Product Designer previously agency-side at Huge and in-house at Cleo, a fintech start-up, who gives us a wonderfully insightful talk into how the industry is changing today. 
Holley – Over my time having placed designers in both agency and in-house, even on the outside I have seen a big shift in the ways of working, so someone such as yourself Nis having worked on both too, I would love to hear your views on what life is like on these two sectors?   
Nis – Well, agencies can work a lot faster in my experience. They have a time and resource plan when they start working and any scope changes or delays are considered against that plan at the threat of loss of margin. In-house everyone can sort of at any time say "Can we change that"? Which can spin out of control if not managed properly, as the cost is not as clear cut as it is agency side. 
On the flip side, in agency work you have this buyer and seller relationship with clients, which is a challenge for modern agile product team models that are based on ownership and independency. In-house teams are better positioned to have ownership and independency, and shouldn't have to spend time and energy selling their work to a buyer, but can actually iterate and validate with users as their primary driver of change. 
Most traditional agencies are still in a transitional phase from being driven by strategy, content, advertising and big chunky deliverables and moving into product. That's driven by a deeper change in our society I think, as brand building today is about brand behaviour and brand experience, and you have to show over time and through interaction who you are as a brand. I think social media in part has democratised that aspect, and brands have to co-exist at the same level of communication as their customers. If you think way back before the social media world we live in today, traditionally brands would go on TV and billboards. It was a one-way conversation; they would say it and we would listen. There was no way to question or interact directly with that. It's a slow-moving paradigm shift that is still in progress and has many angles beyond pure design like tone of voice, transparency and authenticity. 
It has been a massive change for agencies, but it also comes with challenges that they aren't necessarily set up to do, like product leadership, product management and tech capabilities. It can be a really exciting phase for agencies I think, but Product Designers interested in going into some agencies may feel like product isn't really understood at a leadership level yet, or feel impacted by an agency's technical ability to deliver as they are working on building out those capabilities.  
The work is also changing as clients are becoming fully aware that digital isn't something that you invest in every 4 years but a crucial part of the ongoing business, so they seek more involved project models with evolving scope, which is a new way of working for many agencies. 
Holley – Interesting how advertising has very much become more interactive with the audience nowadays, instead of being, like you said, much more traditional ATL advertising and very one sided.   
With some people speaking of the fading of agencies, do you still see them as a benefit to uplifting in-house brands work?   
Nis – I do think there is definitely room for agencies. They have the massive benefit of working across many different organisations and industries over time, and build up insights, experience and tacit knowledge an in-house team simply doesn't have access to. It's also important to understand that agencies are "selling people" as much as they are selling work, and while in-house teams may struggle with legacy tech and large slow-moving organisations or the lack of discipline pillars in smaller organisations like start-up's, agencies have every opportunity to grow and retain great talent that many of their clients may not be able to. And likewise, the culture and process around those people that you can build over time becomes part of the package. 
That has a lot of interesting aspects to it for in-house teams, and you don't have to do all the specific people recruiting or culture building yourself upfront, or worry as much about talent churn. There is also just a lot of benefit for in-house teams to getting that kick in the butt from an agency that doesn't have all your assumptions and tacit knowledge asking questions and breaking dogmas and expressing that with designs. I think it's important that in-house teams get involved in collaboration early on though, beyond just feedback, and that the relationship isn't exclusive to leadership to give the output life beyond the initial direct engagement. 
Holley – Agencies have been traditionally at the forefront of design, over the last few years I have seen in-house clients producing similar work as agencies visually with their goal for people to look at their work and say "Which agency created that"?  
With the lines of titles blending so much these days especially between Product Design and UX + UI – how do you see these areas developing?    
Nis – A lot of organisations are definitely just taking their UI and UX Designers and changing their titles to Product Designers, but you need to also work on the culture, organisation and processes around the design discipline that are needed with that change, as well as their skillsets. 
The bigger challenge for design today in my opinion is not actually the design itself, but executing and implementing to a high level of quality in code. Making sure it's built in such a way that it can change and evolve over time, making compromises for the sake of lean and clean code, and that's where Product Design can come in. Product Design is about the execution of design and that's the bigger challenge today I feel. The one thing I know to be true for sure about design, and I think every designer can attest to this, is that what is good today may not be good 6 months from now, so what's more important than the design itself is that you can change it with little effort. 
There is definitely room for UI and UX specialised designers on larger teams. It's not necessary, but product designers I think should have a wider range of less specialised skills, so magic starts happening when pairing up Product Designers with highly specialised UI and UX designers. But at the end of the day, you need Product Designers to pull everything together and drive execution together with Product Managers and Tech Leads. 
Holley  – Indeed, changing of titles can come with a changing of skill sets, something definitely to be aware of. So, what is your take then on the difference between a UX/ UI Designer and a Product Designer?   
Nis – There are two major differences between them I think, the one being that executional side of design, the other being the business "cost and value" side of the product. Product Design just sort of stretches further into those two areas than UI and UX Designers traditionally have. The business side is about the transactional value of the product, the value to customers, and what it costs to create that value. Product Design can pay dividends on both sides of that equation, by identifying, validating and communicating the real value of a product to customers through rapid iteration, as well as reducing cost.
Now, some designers start to lose interest when I talk about reducing cost, but the great thing about reducing cost is that gives you more freedom and time for creative ideas and getting journeys right through cheap and rapid iteration. If you can reduce the time and cost it takes to change something, it really raises the ceiling over time for product evolution and creativity. If you can spend less time getting 80% there, you can spend more time on the last 20% that in today's markets make all the difference. 
Then there is the question of specialisation, I think inherently a Product Designer is less specialised by design. A Product Designer is sort of specialised in not being specialised, as somebody who can have non-superficial conversations with many different disciplines on a sparring level and pull it together. I think it's perfectly fine and natural to have Product Designers with stronger verticals in either UI or UX though, but then you need to pair them up. Over time, your verticals get deeper and you can start outputting both UI and UX to a high level of quality while building a wider profile centred around product thinking. 
I also always like to point out that Product Design isn't some new idea, though applying it to digital is of course more recent. The output may be interfaces and experiences but in ways of thinking Product Design has more similarities with Industrial Design and deals with many similar concepts like the choice and cost of materials, construction and mass production, and balancing all that with stuff like ergonomics, design and price. 
Holley – From speaking to quite a few designers on this, I have heard similar stories as yours, the positive of Product designers is they tend to have more of a business strategy mind. This hybrid model that is preferable to a lot of companies. Some models such as the T-Shape Designer to now the M-Shape Designer are spoken about a lot, what's your take on each of these?    
Nis – The T-Shape means you have a specialisation and just enough knowledge to have good conversations with other disciplines, but if you for instance take a developer and a designer who both have a deep knowledge of both the design principles and the code practice of motion design and put those two verticals on top of each other in collaboration, that's where the magic starts to happen. The T-Shape just allows them to talk about it, it doesn't necessarily allow contribution and collaboration across disciplines like the M-Shape does. 
Stay tuned for more interviews, coming your way. If you would like to find out more about the series or find out how we can help you with your hiring, get in touch with Holley via hpotts@welovesalt.com. 
Check out all of the interviews in our agency vs inhouse series here.
For more information or advice on hiring digital talent, get in touch with the team today at contact@welovesalt.com..