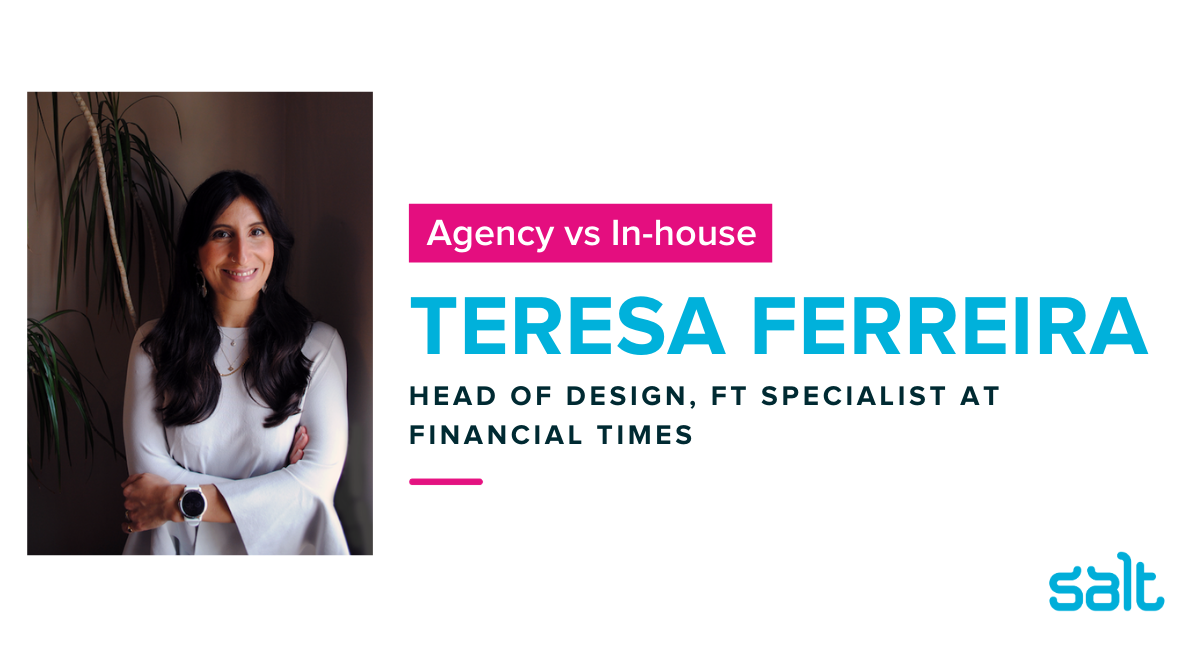 An interview with Teresa Ferreira, Head of Design, FT Specialist at Financial Times about working in agency vs in-house in the Creative industry.
In this 'agency vs in-house' interview series led by Salt Senior Consultant for Creative, Holley Potts, we speak to customers from all different sectors within the world of digital to answer the age-old question – agency or in-house? This series is designed to give you a snapshot of creative career journeys and insights into what is currently happening in their businesses. Over to Holley… 
Bringing to the stage the fabulous Teresa Ferreira, Head of Design, FT Specialist at Financial Times who tells her story on what's been happening this year in her world…
Holley – So good to have you on my series Teresa, I am sure the audience would love to hear your thoughts on what differences you see between the two, coming from someone who has been in both agency and in-house?
Teresa – Thank you so much for having me, it's a really interesting time in our industry. Working in an agency tends to be really fast-paced, jumping between briefs and turning around work for different clients, whom you seldom build a relationship with. I enjoyed it as an experience, but I much prefer working in-house. My team works with specialist titles so we get a lot variety of briefs across all different brands. Being in-house allows you to work more closely with the clients, building the brand strategy together, based on a deeper knowledge of the audiences. I really enjoy this strategic process and believe that there's a trend for companies to invest more in-house, rather than commissioning agencies.
Holley – That journey of being fully committed to a particular brand and seeing that all the way through must be quite fulfilling, especially as you guys at FT work with so many brands. Speaking of brand, I have noticed quite a lot of talk around Brand Strategy this year, is this something you are seeing in the industry and at FT?
Teresa – Absolutely, brand strategy is a key thing for any design team. It enables us to focus on the bigger picture, regardless of what we're working on. It goes hand in hand with brand values and I've been proud to work for a media company that publishes quality journalism. In our team we are strategic with our advertising and marketing output, making sure that we target audiences with relevant content.
Holley – Wise words of yours saying to "make sure what we are advertising is relevant to our audiences", this is now more prevalent than ever after this year and adapting to the changes. Especially through digital, and it seems your designers are a wonderful blend of digital and print. You guys seem to work using more of a hybrid model, does this benefit your way of working?
Teresa – We work across a wide variety of projects and although it's undeniable that digital is becoming the majority of our output, we still do quite a lot across print. Running integrated marketing campaigns really helps us to build brand awareness, whilst targeting key demographics. Saying that, up-skilling in digital is a priority as we need to adapt to the current environment. Display ads, motion graphics, email communications are fast-evolving areas, so keeping up with the latest technology and industry trends is really key.
Holley – Digital is the way forward they say, indeed all the companies that hadn't invested in digital this year will most definitely be doing it now or they will fall behind. With new platforms emerging but focusing on how you can improve existing ones, what platforms have you seen becoming more popular?
Teresa – On the specialist side of the FT we hold a lot of events, which are all happening virtually at least until the end of the year. Personally, I've attended some really great virtual events where I've learned a lot. The downside to this is that you're missing out on the live interaction and meeting new like-minded people. Hopefully in the future events will be a mix of virtual and live, so we can get the best of both worlds. Due to this webinars and digital conference platforms are absolutely key. We've had some really good engagement on both. On the content side, I can see podcasts and video really flourishing in our industry.
Holley – Indeed there are pros and cons to each subject, but it's great to hear that engagement is high on the webinars. Whilst people are engaging more on webinars and podcasts I have found recently that clients are trying to do less Zooms and streamline them with only relevant content in their teams to talk about, as they can be very mentally tiring, have you found this too?
Teresa – I couldn't agree more. At the beginning of lockdown, we felt it was important to have constant contact as we were adapting to a new way of working. It was a learning curve that taught us a better way of using virtual meetings. In my team, we hold a daily 15min catch up, to run through the most pressing issues and we have streamlined meetings in a way that is working well for us. As designers it's so important to experiment and immerse yourself in the creative process and that has been easier to do at home with less Zoom meetings.
Holley – Good to hear you have got a concise process nailed, it's all about refining it until it's a slick proactive way of working. So, to finish us off Teresa, I am sure the audience would love to hear what you guys at FT are focusing on this year what with all the changes that have happened in 2020?
Teresa – I guess the main focus will be to carry on momentum of the digital transformation which was already in motion. It's really important to adapt to this new way of working and to new industry demands. All things considered, we have weathered the storm this year pretty well at the FT. Our audiences rely on the specialist titles to make investment decisions and that's as important as ever in the current political and economic climate. 
Stay tuned for more interviews, coming your way. If you would like to find out more about the series or find out how to hire a creative , get in touch with Holley via hpotts@welovesalt.com.
Read more of our agency vs in-house interviews here.