---
My Universe is… covering permanent design roles; that could be anything from UI/UX designers, motion designers, graphic designers and so on
The movie I can quote the most is… probably the classic hood movie 'Friday' because I've seen it about 1001 times…"Bye Felicia!"
My favourite places I've visited are… that's a hard one! It's got to be either Sri Lanka, The Philippines or Jamaica. Oh, and I can't forget New York in the summertime
My dream job when I was a child was… an artist or illustrator; which I actually am in my spare time when I'm not working my day job as a recruiter! I also really wanted to be an animal conservationist (in my head I could do it all somehow) because I was a nerdy kid and I absolutely love animals!
The song I would sing at a karaoke bar is… 'Ready or Not' by The Fugees. That way I get to sing a nice hook but also wow everyone with my rapping skills lol
Fun fact about me… in one of my previous jobs, I was literally robbed at gunpoint…not just once, but twice!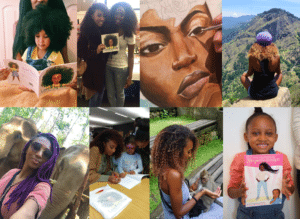 Salt is a global, award-winning digital recruitment agency in London. To find creative jobs , contact Aliecee at acummings@welovesalt.com