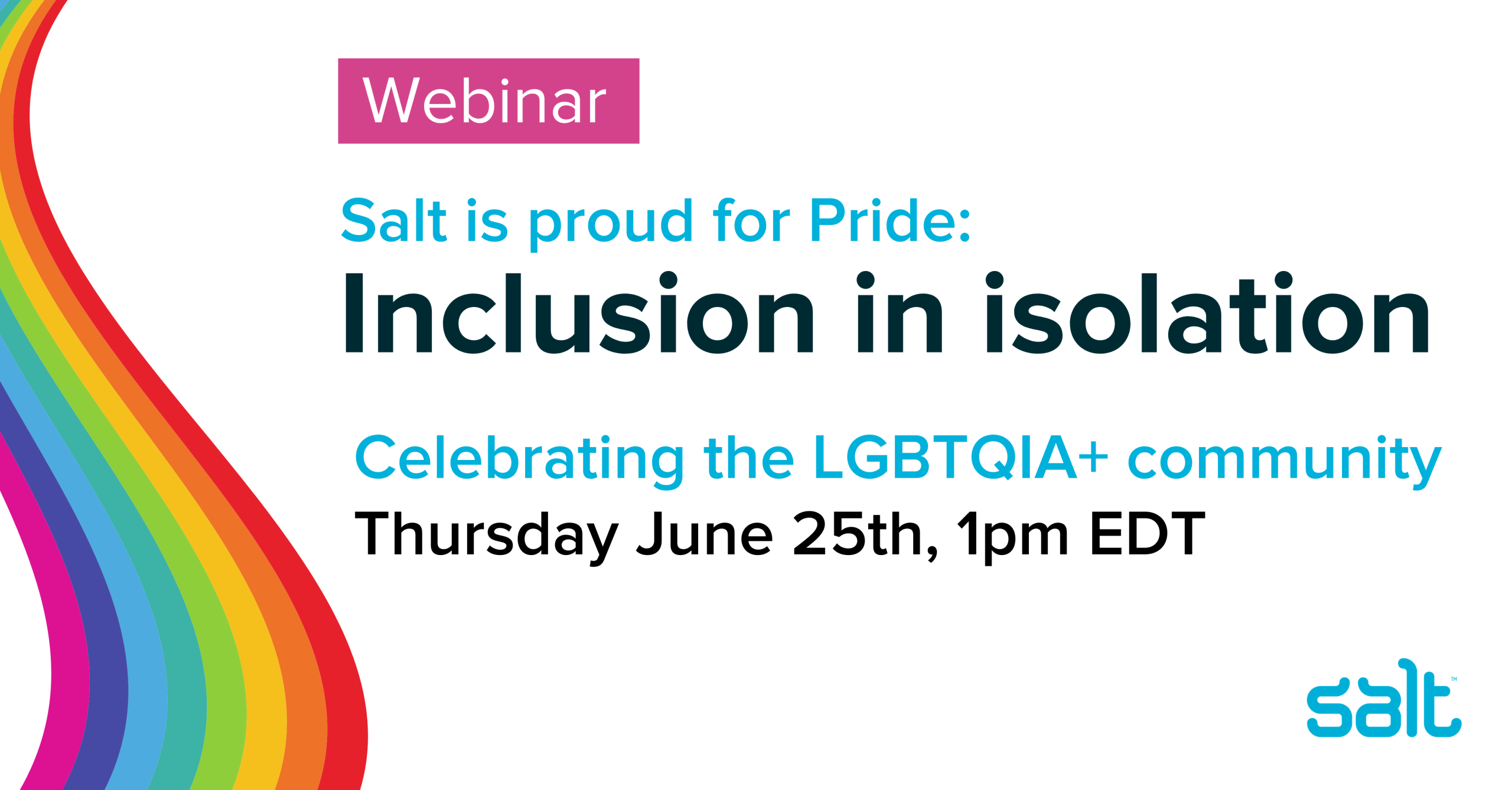 We at Salt, a global digital recruitment agency are celebrating Pride month with our webinar: Inclusion in Isolation on Thursday June 25th and you're invited!
Now more than ever, communities are important, especially where people may have lost their usual support groups and networks. The workplace has moved online due to COVID-19 and unfortunately, there is a danger that inclusion could slip down the agenda as we deal with the current crisis. People may be feeling more isolated and excluded than normal. That's why it's vital that everybody in your workplace has a voice and is heard.
This event will be focusing on all of the ways you can keep inclusion at the top of everyone's agenda (not just in your leadership team), and in particular making sure the LGBTQIA+ community feels valued and supported during this time and beyond. We'll also be celebrating the incredible work LGBTQIA+ communities have done and continue to do.
Though Pride parades have unfortunately been cancelled, we're looking forward to holding this panel discussion in honour of Pride, to celebrate, commemorate and educate our community! Spaces are limited, register now to avoid disappointment.
Our Speakers:
Dawn James, Software Engineer at Kobalt Music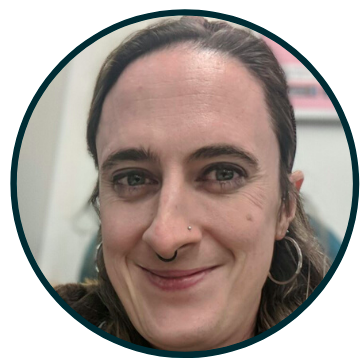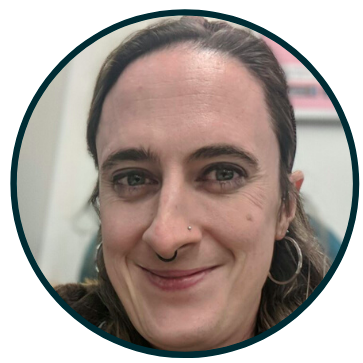 "I'm a Software Engineer currently working at Kobalt Music, currently building authentication and authorization systems. I also run the Diversity and Inclusion group for our London office. In my spare time I am a musician and a DJ; I help to run a small family festival. Oh, and I am a transgender woman."
Lakuan Smith, Diversity and Inclusion Manager at BounceX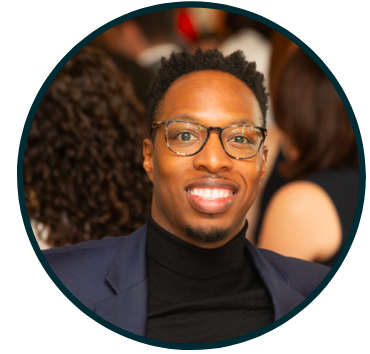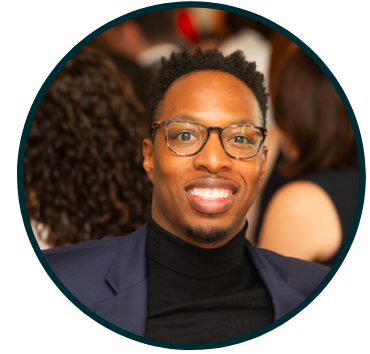 Lakuan Smith (he/him) is a seasoned diversity & Inclusion manager who's passionate about creating an inclusive workplace. He's has worked at companies such as Uber and BounceX and is currently completing a D&I Certification program at Cornell University.
Before getting into tech, Lakuan attended University of Maryland, College Park where he received his master's degree in Industrial-Organizational Psychology and did research on the benefits of inclusive mentoring. Lakuan is an active member of the alumni association for the program and is working with the program director to improve diversity within future cohort.
Lakuan is passionate about mentoring diverse candidates exploring and pursuing careers in tech. He lives in Brooklyn and on his down time you can find him playing basketball or going for a run in Prospect Park while listening to one of his go-to podcasts (currently Work Life w/Adam Grant).
Amy Gómez, SVP Diversity Strategy at Klick Health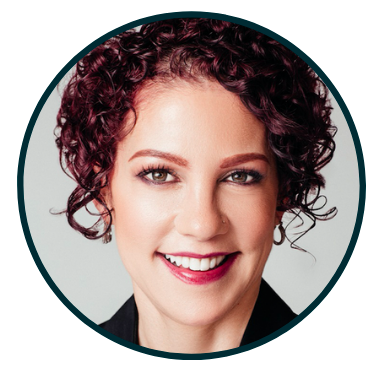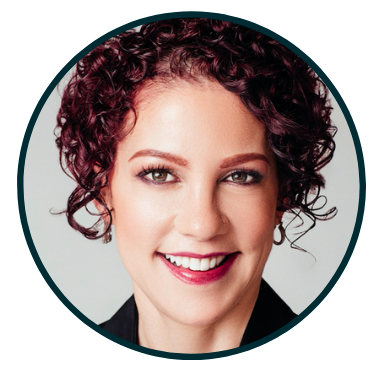 Amy is a cross-cultural marketing specialist and inclusive culture builder with over 20 years experience helping Fortune 500 companies and leading not-for-profits communicate effectively with diverse consumers. Amy spearheads the creation of relevant and impactful communications for the segments driving growth in the U.S. today: Hispanic, Black, Asian and LGBTQ.
Amy is an adjunct professor at CUNY's City College Campus, where she teaches Cross-Cultural Marketing and Advertising Planning. She holds a Master's degree from the University of Pennsylvania and Ph.D. from Stanford, and is fluent in English, Spanish and Italian.
She has worked with a wide variety of clients, including Marriott, Johnson & Johnson, The American Heart Association, Nestle, Citbank, HBO, and Progressive Insurance.
Lianna Newman, Software Engineer at Booz Allen Hamilton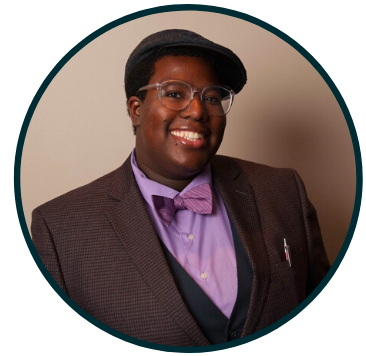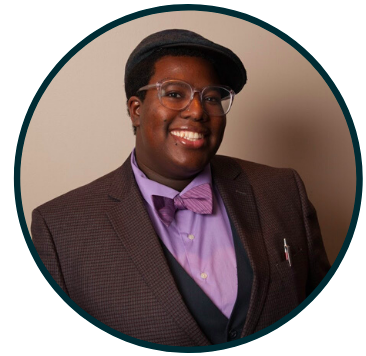 Lianna Newman is a Senior Consultant, Full Stack Developer at Booz Allen Hamilton. Lianna made the transition to tech through the coding bootcamp Actualize in 2016, after spending 3+ years in HR. Lianna's mission is to disrupt the tech space and make sure there's a seat for everyone at the table especially, in tech.
Lianna won the 2018 Out in Science, Technology, Engineering, and Mathematics (oSTEM) Partner Excellence Award for Lianna's work and diversity efforts at ConsenSys, including creating and facilitating an Exploring Gender Beyond the Binary training series to colleagues globally and co-facilitating a presentation on Inclusive Recruiting Practices.
Following the 2018 National oSTEM Conference, Lianna recently accepted the position of oSTEM Director of Affinity Groups and through oSTEM Lianna is safeTALK and ASIST certified. Lianna was also recently featured in oSTEM's Rising Stars series: Black & Out. Along with oSTEM, Lianna also volunteers as the DC Chapter Head of Out in Tech.
When not developing, Lianna can be found video editing, building dollhouse miniatures, tinkering with robotics, and continuing to increase Lianna's ever-growing Harry Potter Hufflepuff collection. Lianna is non-binary, so in lieu of pronouns please use Lianna's first name.
Danie Brawand, Product Consultant / MSW Candidate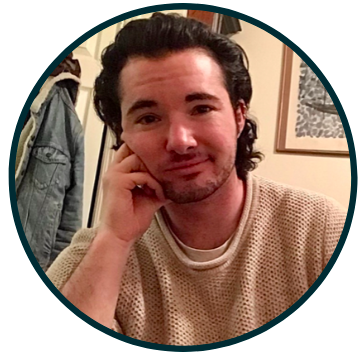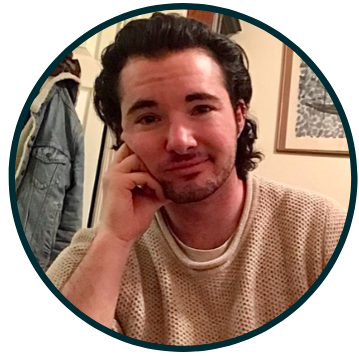 Danie Brawand (he/him/his) is a transmasculine and queer product consultant with 6+ years of experience working in tech. He is currently pursuing a Master's in Social Work at NYU and working on a book of poetry exploring themes around queer identity, spirituality, and nature. Danie has volunteered for the Transgender Center of the Rockies, The LGBT Center in Denver, and just completed a year-long internship with Housing Works serving clients struggling with substance use at their East New York community health clinic. He is an advocate for TGNC inclusivity, a published author, and currently lives in Brooklyn with his dog, Sparky.
Sean Frazier, Manager, User Acquisition and Audience Development at ViacomCBS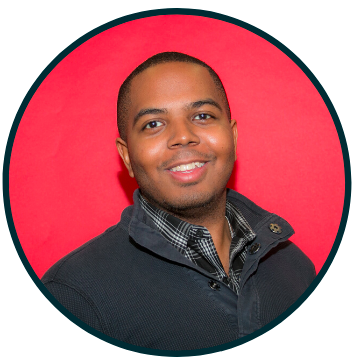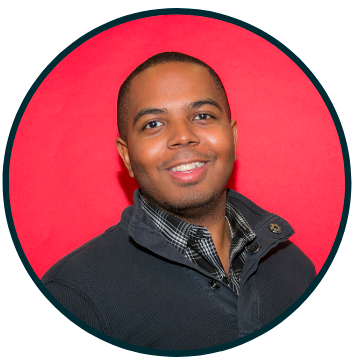 Passionate, performance marketer from Dallas, Texas with 8+ years of experience managing and scaling growth opportunities, specializing in user acquisition marketing for mobile apps and emerging platforms.
Prior to ViacomCBS, I spent time at several advertising agencies including Blue449, IProspect and R&R Partners on brands such as Bridgstone/Firestone, Neiman Marcus, Allegiant Airlines and the Las Vegas Tourism Board.
As a member of the black LGBTQ+ community, I've spent time volunteering with The NYC LGBTQ Community Center, Ali Forney, The Stonewall Foundation and Big Brothers of NYC.
————————————————-
Our webinar is free to attend but we're encouraging donations to The Ali Forney Center in New York, who works to help alleviate and protect LGBTQ+ youths from homelessness and helps empower them with the tools they need to live independently.
To donate, simply visit the donation page on the website or text LOVEALI to 243-725