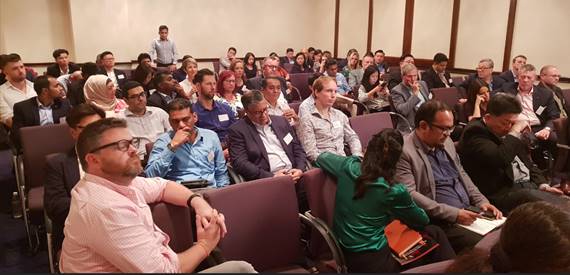 Salt, a global, award-winning digital Recruitment Agency attended this digital focussed event jointly organised by MABC and MDBC (Malaysia Dutch Business Council) at the Renaissance Hotel with the following panellists:
Bina Tulsidas – PS Area Manager, Booking.com
Daniel Havas – Senior Trade & Investment Commissioner, AUSTRADE
David Wong – Founder & Group CEO, SNT Global Sdn Bhd
PC Gan – Country Director Malaysia, GoBear
Sharon Goh – Founder & CEO, IT COMP
Ibrahim Hamid – CEO Axle & Olio Solutions
With Bobby Varanasi moderating – Chairman of Technology Commercialisation Subcommittee
The discussion, directed by Bobby and led by responses from the different panel members addressed a host of broad questions, leading to much more detailed discussion, with considerable audience participation. Topics covered included:
E-Commerce in Malaysia, what is the current state of play in terms of market trends?
Future trends and consumer trust when purchasing online?
Should there be a collaboration between online and offline options to establish trust?
Can and will Malaysia assume leadership for the region in e-fulfilment?
Conversion from online view to actual purchase – state of play in Malaysia benchmarked across ASEAN
Payment preferences & the importance of CX
The concluding sentiment was there's still a lot of room for Malaysia and parts of Asia to improve in the eCommerce sector, though significant progress has been made in terms of Malaysia as a regional hub and maturity of the domestic market opportunity.
After an intense and interesting discussion for about 1.5 hrs, we adjourned for light refreshments and an awards ceremony for the participants
Overall a fantastic evening – well moderated, with a high calibre panel and great networking after the event!