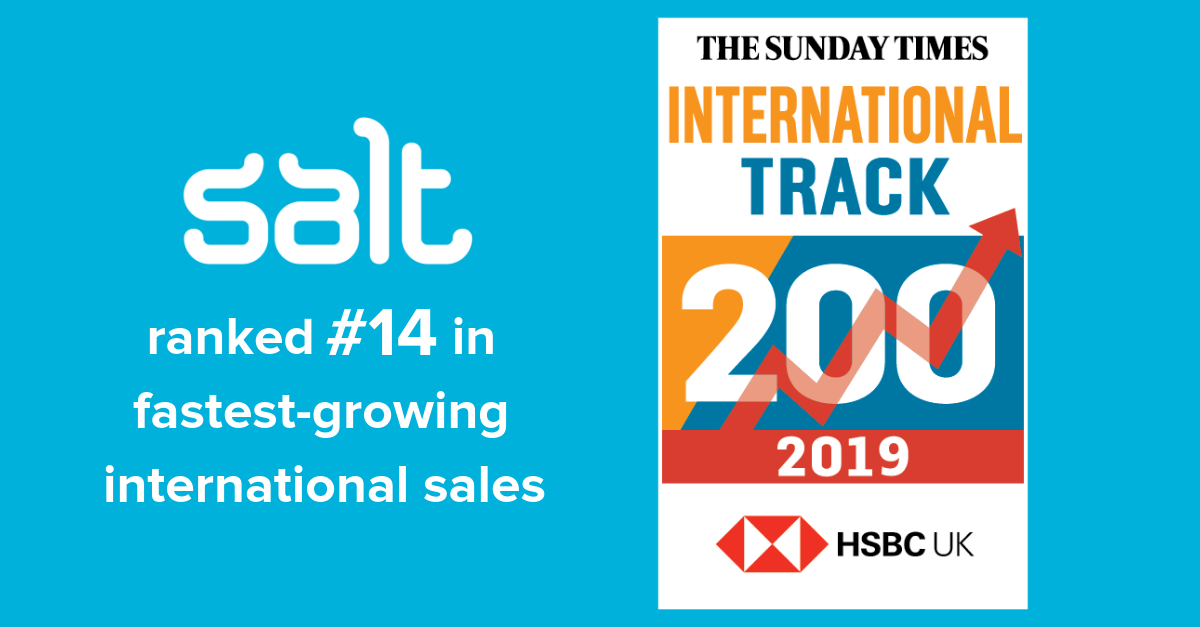 We are thrilled to announce that Salt has ranked #14 in The Sunday Times HSBC International Track 200 for the 2nd year running. The league table ranks Britain's mid-market private companies with the fastest-growing international sales, measured over their latest two years of available accounts.
The minimum average growth rate to achieve a place was 31% p.a. over two years – a new high for the league table as it celebrates its 10th anniversary. Also, the 200 companies employed 140,000 people and added 38,000 jobs over the same period.
Salt's CEO, Elliot Dell said about the ranking:
It is fantastic to be recognised for our growth in 2018. To achieve a ranking in the Top 15 of The Sunday Times HSBC International Track 200, for a second year in a row makes us all at Salt feel very proud. The ranking highlights all of Salt's accomplishments and inspires us to continue our mission of Creating Futures. 
– Elliot Dell, CEO
Chairman of Salt, Paul Gardiner said:
I am very pleased that Salt has made the ranking for the second time and is one of the most successful recruitment businesses. Maintaining high growth in uncertain times can be challenging but this ranking demonstrates that Salt is on track with its successful business model and a 2018 NFI growth of 25%. It also coincides with a record low in employee attrition and our highest employee engagement score, which shows that we are achieving success with motivated staff and delighted customers.
– Paul Gardiner, Chairman
About Salt
Salt is an award-winning global recruitment agency specialising in the digital industry. Over 190 staff based in offices in London, Auckland, Dubai, Hong Kong, Kuala Lumpur, New York, Singapore, and Sydney have successfully completed thousands of searches across the globe.
We deliver outstanding candidates for roles in the digital world across creative, marketing, sales and technology, covering single hires or complete outsourcing solutions. Our services range from permanent roles and retained searches to contract and temporary recruitment. In New Zealand, our market coverage extends to: accounting & finance, business support & operations, and supply chain & logistics.
Salt's presence in key hubs of the digital industry together with the agency's broad services offering enables Salt to support hiring managers in building strong teams. Salt's clients range from global powerhouses to independently run start-ups, covering both agency and client side which allows their recruiters to match job seekers with the best roles in the digital industry.
To shape your future with Salt, a leading digital recruitment agency, send your CV to enquiry@welovesalt.com or use our search to find jobs in London. You can also keep in the loop by following us on Facebook, Instagram and Twitter.