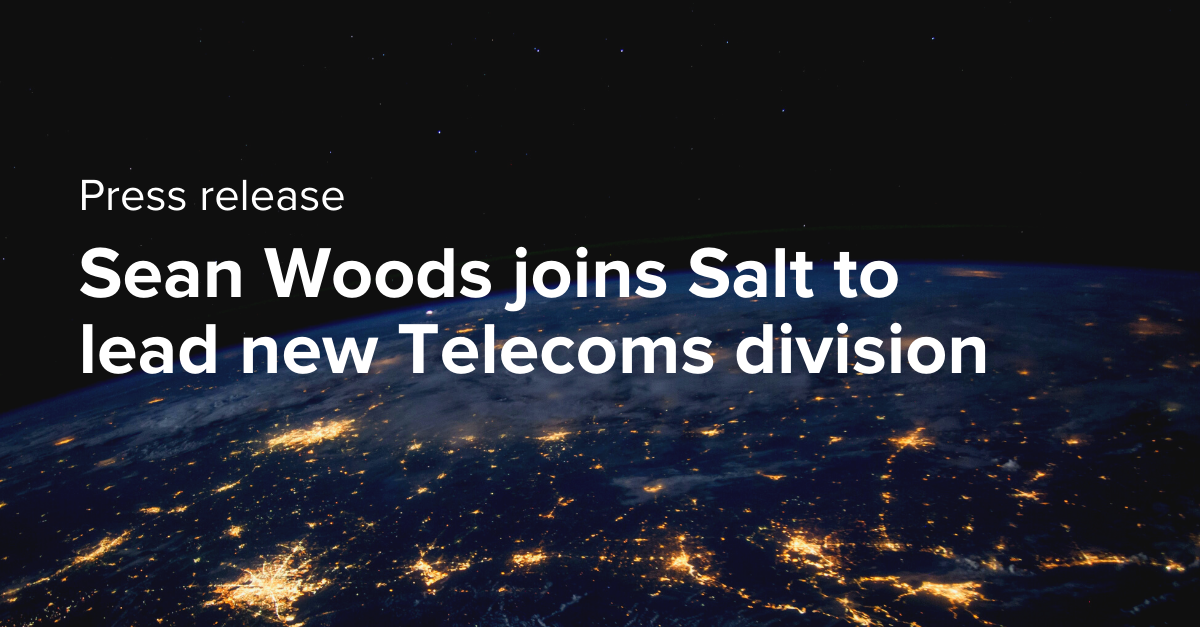 Salt is delighted to announce the senior appointment of Sean Woods as Commercial Director, who has joined the team to build and head the new Telecoms division.
Sean brings over 20 years of experience in Contract recruitment, working his way up from Sales Consultant to Managing Director, specialising in niche sectors. He has developed, grown and managed divisions and brands within Telecoms, Tech, Finance and ERP, and has broad experience placing applicants around the world.
2021 is an exciting year for the Telecoms sector as the industry continues global 5G rollouts and works towards greater connectivity. Digital transformation and the technology landscape have advanced significantly over the years. Next-Generation Networks, Optical, Digital and Cloud Transformation have moved the market as never previously seen.
However, over 40% of people in the world still don't have internet access. Currently, about 4,300 active artificial internet satellites are orbiting the earth and there are dozens of remote areas which don't achieve any coverage at all. The global pandemic has further ignited the need for increased global connectivity and this need has put more pressure on companies to join the 'race to space'.
This challenge has created exciting opportunities for the sector. Privately-owned companies such as SpaceX and OneWeb are joining the race to get satellites in orbit to service the internet for those remote areas, there are many exciting opportunities for the sector. Such demands for growth have accelerated the need to quickly mobilise teams across varied locations and suppliers require an international network to be able to truly service such projects.
"This opportunity to develop Salt's Telco offering is incredibly exciting and too good to pass on. With Salt's fantastic heritage in Consulting, Creative, HR, Marketing, Sales and Technology, I'm excited to build out our Tech/Telco service with a marketplace that's aligned to our niches and gives a truly unique client offering. Increasingly, companies are looking for truly global solutions within this part of their business and Salt's global network of offices across key locations will allow us to service projects of a truly international nature." Sean comments.
Elliot Dell, CEO of Salt Recruitment Group adds, "We're pleased to have Sean on board as this enables us to mirror the Technology roadmaps of our customers and better serve them globally. Telco is fundamental in providing connectivity innovations to bring our world closer together and in creating internet equality for all, which would be a huge milestone for a more inclusive landscape.
"We are excited to help businesses employ the talent they need to achieve success in this 21st-century 'space race'. We know that digital is continuing to change the world, providing a vast amount of opportunities for businesses and job seekers alike. Sean brings a wealth of experience and strong networks to complement Salt and we're excited to continue Creating Futures in this space."