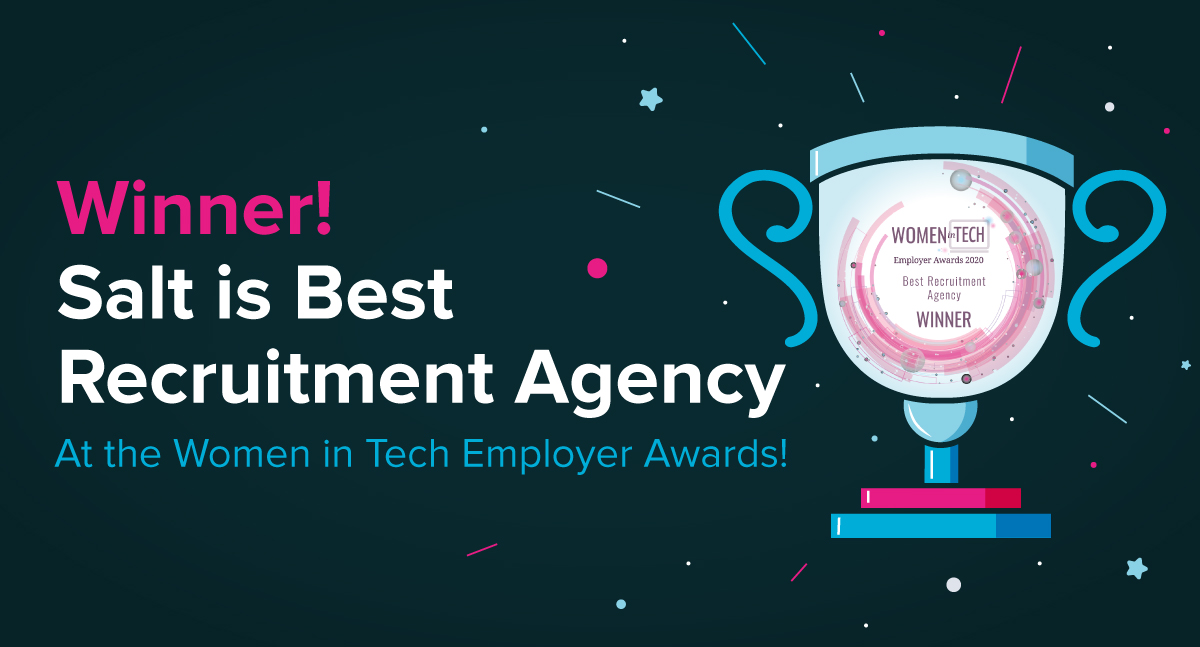 On Thursday we tuned into the Women in Tech Employer Awards live stream and we were delighted to hear that Salt has won the Best Recruitment Agency Award, in recognition of our work supporting women in technology!

Focussing on the digital space and primarily technology, Salt has been an advocate for gender equality for years and at the forefront of helping brands to recruit and retain more women, also helping to challenge attitudes and beliefs which don't match our core values. We believe that these conversations have to happen regularly, and diversity plays an important role in recruitment – which is why we encourage these conversations across the world when working with customers to build their teams.

Awarded by Rob Prince, Talent Nexus, the judges said: "This was a very impressive entry that really demonstrated Salt's commitment to supporting women internally and externally. They have gone above and beyond placing people."

Accepting the award, our People Director, Laura Maxwell-Smith expressed that: "Gender diversity is a priority for us. Internally we are working on our leadership development programme to create future female leaders because we believe the key to our success is having female representation at all levels of the organisation. This passion is mirrored in how we help our clients and is not a subject we shy away from, whether that means presenting a range of candidates that enable them to advance their own gender diversity ambitions or educating clients to avoid the pitfalls of not considering the impact of women in tech roles."
Elliot Dell, CEO at Salt, added: "Supporting women into technology roles is something that we have been focussing on for years and will continue to do in the future. We're proud of the work that we have done and diversity and inclusion will be a focus for us as we continue to have these conversations both internally and externally. This is an ongoing journey and process but the more we engage, facilitate and communicate, the closer we will get to contributing to positive change."
Congratulations to all of the finalists and winners! Click here to view the full list of winners.
Looking for some inspiration? Check out our Women in Tech and Females in FinTech interviews.
To shape your future with Salt, a leading digital recruitment agency, send your CV to enquiry@welovesalt.com or use our search to find Technology jobs in London. You can also keep in the loop by following us on Facebook, Instagram and Twitter.