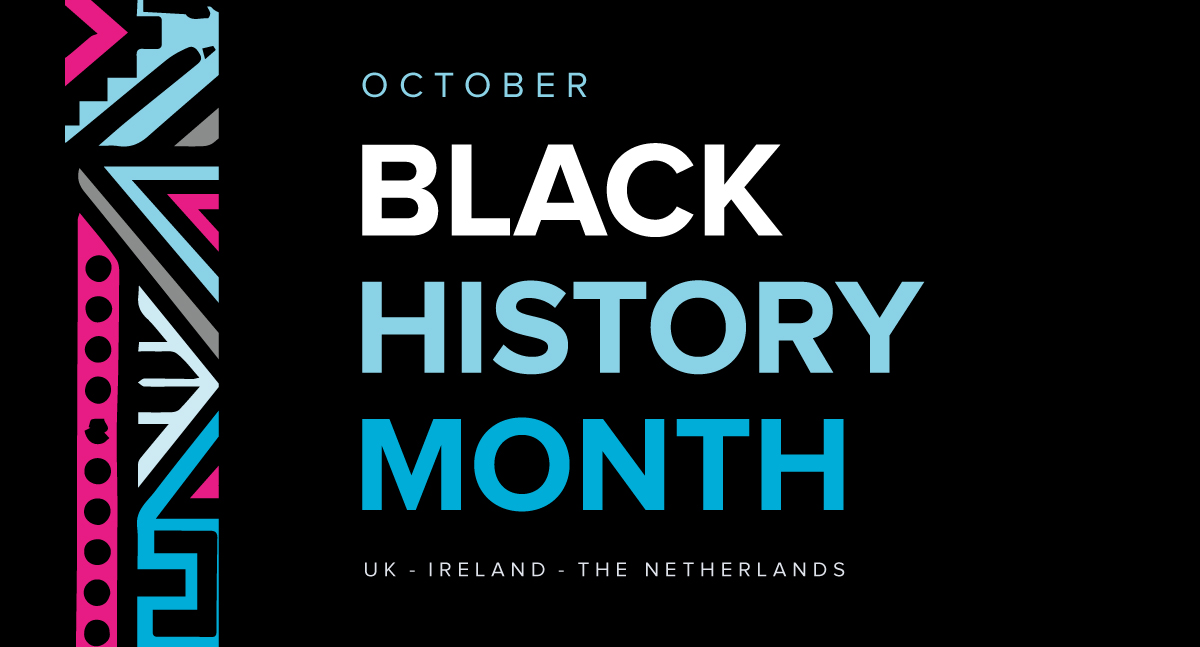 October marks Black History Month in the UK, the Netherlands, and Ireland (USA and Canada observe Black History Month in February).  
In the UK, the month was founded in 1987 to recognise and celebrate the contributions and achievements that Black people have contributed to society in art, music, science and lots more over many generations. 
However, due to racial injustice these achievements are often missed out of history books or brushed over in school lessons. Black History Month aims to address this unfairness, by celebrating the achievements of the Black community over the years. 
For 2021, the theme is 'Proud to be', inviting people of all ages throughout the UK to share what they are proud to be. For example, Proud To Be Black, Proud To Be Black & LGBTQ+, Proud To Be Me. The campaign aims to make Black History Month 2021 personal and unique to individuals, families and communities, focusing on how we're all making history all the time in our own ways. You can find out more here.
Below, we share the history of some Black men and women in the U.K.
Some great people you should know about:
Phillis Wheatley
Phillis Wheatley was the first African American poet to be published with her first volume of poetry in 1773.
Mary Seacole
Most people know the name Florence Nightingale, but people have campaigned to make sure people also remember everything Mary Seacole did.
The War Office didn't allow Mary to help wounded soldiers in the Crimean War, so she raised the money and travelled to Balaclava herself to look after injured British soldiers.
Lilian Bader
One of the very first Black women to join the British Armed Forces. Lilian started as a Canteen Assistant at an army base in Yorkshire and eventually earned the rank of Corporal, after becoming a leading aircraft woman.
Diane Abbott
Diane Abbott made history in 1987 by becoming the first Black woman ever to be elected to Parliament.
Malorie Blackman
The best-selling author of Noughts and Crosses became the first Black Children's Laureate, in 2013.  
Ignatius Sancho
Ignatius Sancho was the first person of African heritage to vote in a British election and was an influential figure in the movement to abolish the slave trade.
John Edmonstone
John is a very important figure in the world of scientific research. After studying taxidermy, John went on to teach at Edinburgh University, where he taught Charles Darwin.
Stuart Hall
Cultural Theorist Stuart Hall was responsible for the first cultural studies course in Britain, which was offered by the University of Birmingham. He was the intellectual force behind the Black Arts Movement and was referred by The Observer as 'one of the country's leading cultural theorists'. 
Paul Stephenson
Paul Stephenson was Bristol's first Black social worker and spent his life leading important campaigns that made big changes in how Black people were treated. It is said his work played a part in Britain's first Race Relations Act in 1965.
Bernard Anthony Harris Jr.
A former NASA astronaut who was the first African American to perform a spacewalk during the second of his Space Shuttle flights.  
Find out more about Black history here.