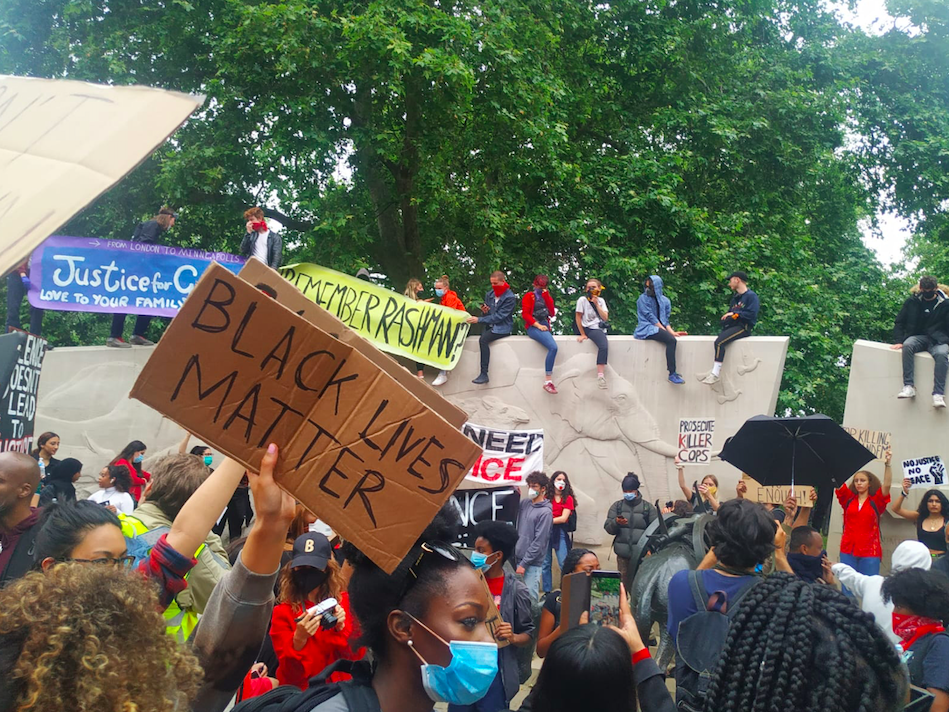 Despite lockdown in many countries, people are coming together across the world in response to the recent death of an unarmed Black man, George Floyd, who sadly died while being detained by police in America.
Salt's Senior Consultant, Robyn Chidwick, shares her experiences of the protests in London, what equality means to her, and what everyone can do to create a fairer and more equal environment.

Last week I attended three Black Lives Matter (BLM) protests in London in response to George Floyd's murder. I want to share my experience of the protest to encourage everyone to get involved in the movement, however they see fit.
For those who don't know, the protests begin at a monumental spot in central London, such as Hyde Park, the US Embassy or Leicester Square. Everyone is encouraged to wear red and black to show solidarity; as well as wearing masks and gloves to protect against the transmission of coronavirus (many protestors are on hand to provide spare gloves and masks).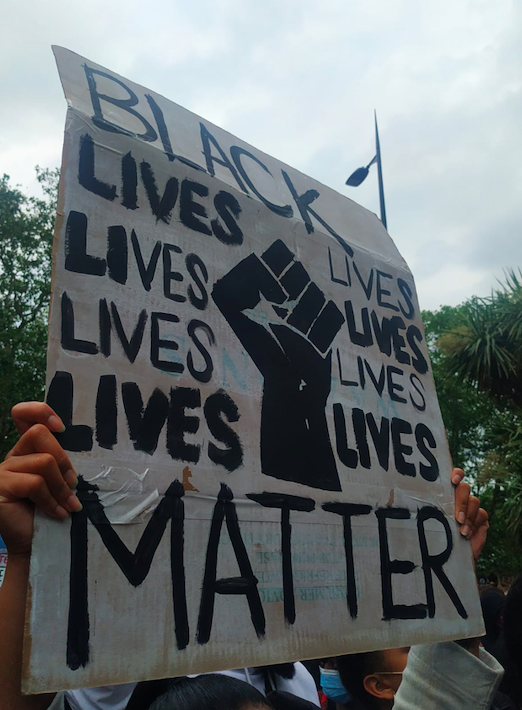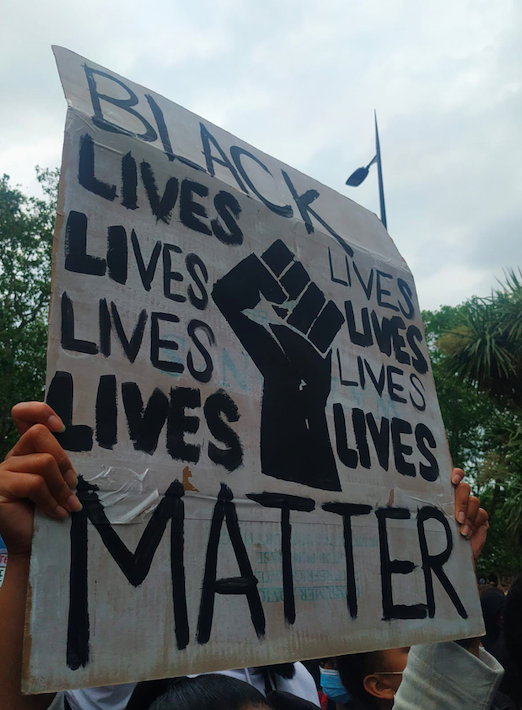 During the protest, we were all urged to "take a knee"– a stance made famous by Colin Kaepernick for his opposition to police brutality. As well as kneeling, many were holding up signs, which said "Justice for George Floyd", "Black Lives Matter", "silence is violence" and the many names of victims of police brutality around the world. There were people with megaphones who would encourage the crowd to chant things such as "no justice, no peace", "Black Lives Matter" or "Say his name", with the response: "George Floyd".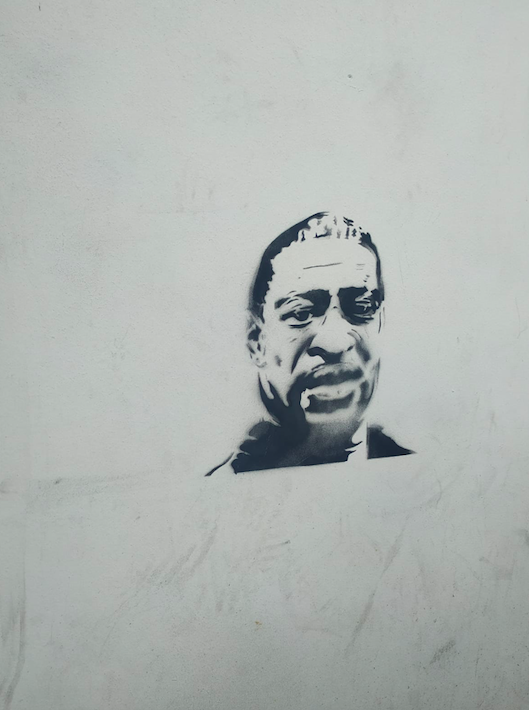 From the meeting point, we walked through London, usually ending at Parliament. During the walk you see many people waving and cheering from the windows of their homes or people travelling in cars cheering and beeping in support. There's also a diverse mix of people who attend, from every race, every age and every background.
Gathering at these monuments and watching the thousands of protesters congregate together to show solidarity for BLM is something I will never forget. It is a positive and hopeful experience to see so many people all fighting for equality.
These protests are happening all over the world and in every state of the US – making it the largest civil rights movement in history, and something I am proud to be a part of.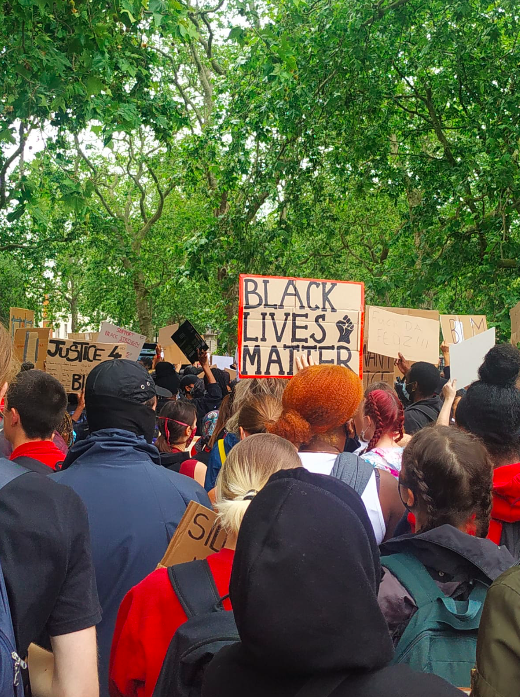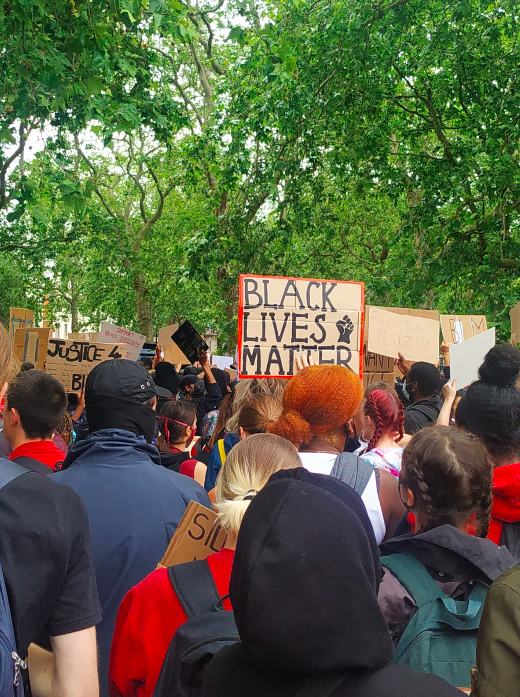 What does equality mean to you?
To me, equality means never having to worry if the colour of my skin will affect me getting a job, worrying about safety in another country, styling my hair a certain way so its deemed more "professional", seeing myself represented in films without it being a stereotype (the list goes on and on).
Essentially, it's receiving the same treatment, judgment, and opportunities as everyone else.
What advice would you give to people who want to do something but not sure how or what?
There are many things you can do if you want to learn and support BLM. My first suggestion is to educate yourself, it may be uncomfortable but it's essential. There are some amazing documentaries, movies, books and even social media accounts that can teach you (Watch: 13th, Just Mercy and When They See Us. Read: White Fragility, Me and White Supremacy).
Once you've educated yourself – talk about it. Become comfortable with the subject, learn more and listen to people's experiences and views.
There are also many petitions you can sign too – have a look on Change.org. There are many charities you can donate to – have a quick google search "BLM Charities". Next would be to protest – protesting isn't for everyone but if you feel up to it have a look into BLM protests in your area.
Most importantly, don't stop talking about race and racism. Let's keep the momentum going!
What can businesses and people in general do to make sure there is a lasting change?
If you want to create lasting change you have to be aware of your everyday actions and how you treat people. If you're a business, look at who you hire – do you have a diverse mix of people? If not, why? How can you change that?
If you have children, teach them about race. It's important to keep learning as this will not be solved overnight or in our lifetime, but if we can keep the conversation going – support Black charities, entertainment and businesses, write to brands and MPs when we need to see change and sign petitions, we will be able to make a huge difference.
To shape your future with Salt, a leading digital recruitment agency, send your CV to enquiry@welovesalt.com or use our search to find jobs. You can also keep in the loop by following us on Facebook, Instagram and Twitter.