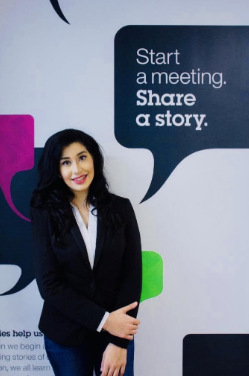 For Salt, a global, award-winning digital recruitment agency's latest Women in Tech interview, we caught up with Prithika Madhavan, AVP and Design Lead at ASEAN Universal Bank, to talk diversity and advice on creating an inclusive workplace.
The #SaltSessions Women in Tech #WiT interview series speaks with thought leaders from around the world to get their opinion and advice on how they have grown their career in tech and overcome challenges and adversity during their career.
What is your current role and the most exciting part of your work?
As an AVP and Design Lead for UX at a leading ASEAN universal bank, I drive the user experience strategy across the bank's digital touch points. I am also involved in redesigning the bank's digital sales enablement products across credit cards, auto-finance, mortgage, and personal loans.
The most exciting part of my job is the instant gratification that I receive from every digital revamp that I lead. For example, we recently revamped our personal loan application form. A user research study revealed that customers were not following through with our online application forms as a result of placing too much information about product features at the start of the journey. We took this insight and re-crafted the journey, so that customers would be able to start out by calculating loan affordability.
By implementing this small change and simplifying the UI across the overall journey, we saw an uplift of 267% in customers completing the application within the first month.
The success from this revamp inspired a multitude of UX initiatives across other products at the bank, and this is what made it even more exciting for me. The best part about my job is being able to instantly simplify customers' lives one digital touchpoint at a time.
What has been your most career defining moment that you are proud of?
When I returned from Los Angeles to Jakarta, I interviewed with IBM Indonesia for a UX Designer position, but instead, they offered me the role of UX Design Lead. That was an extremely ground-breaking moment for me to be offered a role with such great responsibility at such a young age. As the UX Design Lead for IBM Indonesia, I was shaping and inspiring UX strategies for a major telco portfolio, and directly advising a board room of C-level executives.
What do you think we should be doing more of to encourage more girls to consider a career in tech?
To encourage more girls into technology roles, it is important to start early. Girls from a young age are not encouraged to explore STEM-related opportunities as a career for the future, which is something I felt growing up. Young girls are too often socially groomed to be more empathetic and understanding, and I think these traits are lacking in society's approach to technology.
Women have the potential to bring a unique set of skills to the technology industry, and to make the sector more inclusive of the world around us. Understanding these potential differences, and appreciating them as skills of value rather than aspects of one's personality by which to undermine them, is critical in encouraging diversity in tech.
It needs to start from the top – if there is no commitment to encourage opening tech from what has long been a boys' club, the burden of responsibility falls on the shoulders of women in tech who already experience so much difficulty making their mark within the sector.
What challenges have you faced in the workplace, especially your experience in male-dominated environments?
In my experience of working in technology so far, I think it is very easy for women to be solely measured by their appearances. Perhaps since I have spent the last few years working in Asia, where I have worked in extremely male-dominated workplaces, I have experienced being written off due to both my gender and age.
There have been times at which I have conducted design-thinking workshops amongst a room full of older men, and been ignored for simply being "a young woman who is out of place". Furthermore, I choose to take care of my appearance and find joy in doing so, but this has come at the cost of individuals I have encountered in the workplace viewing me unfavorably because of their prejudices against what a woman can or cannot do. It has been a struggle not to be judged simply by my appearance, or the way I carry myself, rather than my contributions to the workplace, which is something I think women across all sectors have experienced.
In addressing challenges I've faced in the workplace, my personal approach has been to view measurables in a holistic way, rather than the traditional method of just focusing on ROI and KPIs. The women I have worked with have tended to be more quality-focused in comparison to our male colleagues, and this approach has been successful because we are able to identify aspects of our project that would not have been identifiable had we taken on a numbers-based approach.
For women to get ahead, it is important for companies and decision-makers to accept these nuances into the process of critical decision making.
In your opinion, what is the biggest obstacle to women's career progression?
One thing I have found, that remains one of the biggest obstacles in many women's career progression, is both the societal pressure to be a good mother, and the lack of flexibility and understanding from corporate culture to do so, while wanting to progress your career.
Especially being in Asia, women live day-to-day in patriarchal cultures that expects us to one day potentially abandon our careers to be able to have a family. This is a topic that I acknowledge has been talked about by many before me, and likely will be talked about by many after me. However, it is still an issue faced by so many women, and while many companies are trying to address it, I think a shift in the way society views a successful woman is required for us to make progress.
You can be a successful woman and an amazing mother, and you might not be both at the same time, but all women deserve the chance to try and should not be judged for wanting to try, or doing so.
Who has been your biggest advocate/mentor in your career and why?
Mona Patel, I first met Mona at Parsons, she was my Professor for a UX research class, and the following semester, she offered me an internship in her company to work for her and to learn all the different roles and responsibilities of a CEO in the UX space.
Mona shares a very similar story to mine in the sense that she also grew up in an environment of firm traditional beliefs about a woman's role in society, but she shared the same career ambitions, and today is she is the CEO of Motivate Design and UX Hires in New York (a user experience-led innovation company, focused on conducting user research to help companies better understand their customers and designing high-level concepts to define the right customer experiences). She leads by example, and I continue to consult her on guidance with career opportunities. I hope to follow in her footsteps of becoming the CEO of an UX company in the near future.
As an employer, what would you recommend to other companies regarding infrastructure to have in place to develop the best talent?
Before we put infrastructure in place, we need to understand the fundamentals –
Understanding baseline and aspiration i.e. where you are and where you want to be as one organisation
Then, based on the above, what are the gaps that needs to be addressed?
This will then provide guidance on the following in addressing the gaps:
Ideal organisational structure that meets the organisation's aspirations
People we need to hire
Development Programs
Technology support
We must not fall into the trap that technology will solve all the problems in an organisation. Technology is the enabler. All other infrastructure has to be in place that addresses both the hard skills and soft skills.
In a management position, how have you found it best to promote and nurture women's careers?
After having led cross-functional teams over the past few years, I think it is extremely important to encourage a fair work-life balance in team members' lives. When team members feel a greater sense of control and ownership of their own lives, it results in better relationships with management and a clear separation of leaving work issues at work, and home issues at home. Balanced team members are more motivated at work which increases their overall productivity and reduces the number of conflicts among co-workers.
Especially in an industry as creative as design, it is extremely important to provide team members with the time that they need to pursue their hobbies, and return to work the next day with fresh perspectives and inspired minds.
Who is your modern-day hero?
My modern-day and timeless hero was always, and will continue to be my mother – Praveen Madhavan. She grew up in the same close-knit, conservative minded society but she chose a life partner who encouraged her dreams of becoming the first woman jewellery designer within our community. My mother was a self-taught diamond jewellery designer, and saved up the money to take a course from the Gemological Institute of America to become a professional diamond grader.
Due to societal pressure, she was unable to study overseas, and pursue a full-time university degree as I have, but she still found a way to qualify as a professional in her craft. Her commitment and dedication to her career is what inspired mine.
Any reading/website you would recommend to stay updated?
Reading:
Nudge by Richard H. Thaler
The Design of Everyday Things & Emotional Design by Don Norman
Reframe: Shift the Way You Work, Innovate and Think by Mona Patel
Fast and Slow by Daniel Kahneman
Don't Make Me Think by Steve Krug
The Paradox of Choice by Barry Schwartz
Websites:
UX & Usability Articles from the Norman Nielsen Group
Strategy from Boxes and Arrows
Smashing Magazine
Mashable – Tech
UXPin Blog
52 Weeks of UX
Tech Crunch
The Verge – Tech
UX Magazine
Medium
Interaction Design Foundation
What is your biggest stress reliever?
Whenever I run low on inspiration, I book a flight ticket to a city that I have never visited before. Travelling helps me to appreciate culture and identity – it's all about creating new experiences. I like to fully immerse myself in a new culture, and experience how people live, eat, commute, and spend their time on leisure activities (festivals, museums and music). I'm also constantly on the lookout for how technology is integrated into people's daily behaviours in different cultures, across communities and countries.
I deliberately choose to travel to locations where I do not speak the language. It pushes me to my limits and takes me outside of my comfort zone, allowing me to discover how resourceful I can be when exposed to new places, people and experiences. It encourages a sense of freshness and allows me to bring a whole new perspective to my work. It makes me a better-rounded global citizen, and UX Designer.
Is there one piece of advice you wish somebody gave you at the beginning of your career?
Rejections are Redirection – As a woman in tech, I faced many rejections from employers. Some felt that my age did not match up to a certain position that I was applying for, and others felt that my physical appearance was not the right fit for a male-dominated environment. If you are willing to wait, you will learn that everything happens for a reason and you need to trust the timing of your life.
When I started to look at rejections as redirection, I found the ability to reassess certain situations and I was able to look within and see where I needed to improve in order to reposition myself to be better suited for a certain role. For every job that I was denied, a new door opened to better opportunities that were perfectly aligned with my interests.
What job did you dream of when you were a kid – your Plan A career path?
Plan A was to become a fashion designer. I've always loved sketching and draping fabrics. I even spent 3 months in London at Central Saint Martins in an "Introduction to Fashion Design" course to experience what life would be like as a Fashion Designer … but after having to sketch 60 designs per day, and running around London's fabric stores in heels, I realised that it wasn't something I wanted to continue doing for the rest of my life. It continues to remain a part-time passion, and I continue to design for my own brand "Prettyka Couture" where I design bespoke indo-western gowns. I design my gowns on-the-go in between meetings, and whenever I have free time, and can often be found browsing fabric stores on my day off – maybe just not in heels these days.
Fun fact about you?
During my time at IBM, as a pro bono initiative with a few developer colleagues, we spent a year of our weekends working with Yayasan Onkologi Anak Indonesia (Indonesian Children's Oncology Foundation) and Rumah Sakit Kanker Dharmais (Dharmais Cancer Hospital) to develop a Mobile App that allowed cancer patients, survivors and their caretakers to connect on a local platform to learn more about different cancer symptoms, find treatment centres, book appointments with doctors, search for treatment funding, and empathise with other cancer patients and caretakers.
The "Teman Kanker" Mobile App is a tribute to my Mother.
About Prithika
Prithika is Malaysian by citizenship, Indonesian by birth, 26 years old, and of Indian heritage – yet this high-flyer has experienced a phenomenal rise to the top of her field and is one of the youngest AVPs in the UX industry.
Prithika completed her degree in Strategic Design and Management (BBA) from Parsons the New School for Design, and graduated Summa Cum Laude at the top of her class, giving the commencement speech to an audience of 6,000 people at Madison Square Garden. In parallel to her Parsons degree, she is also certified as an UX Practitioner by The University of California, Los Angeles. Upon receiving her formal UX certifications from both institutions, she embarked on a stellar career in UX that has already enabled her to work globally for a host of high-profile institutions including Fortune 500 technology companies, specialising in UX for telecommunications and banking.
Even though she originates from a conservative and tight-knit community, and was challenged by gender stereotypes, this only fueled her fire to carve her own path. A life-defining moment for her was when her mother passed away of ovarian cancer one month after she joined Parsons. Her mother had always dreamed of pursuing a formal education, but was unable to do so due to family constraints. It was her mother's dream for Prithika to become the first woman in her family to earn a college degree and to inspire a legacy for the women in her family to become working professionals.
To date, she attributes every career success to her mother's legacy.