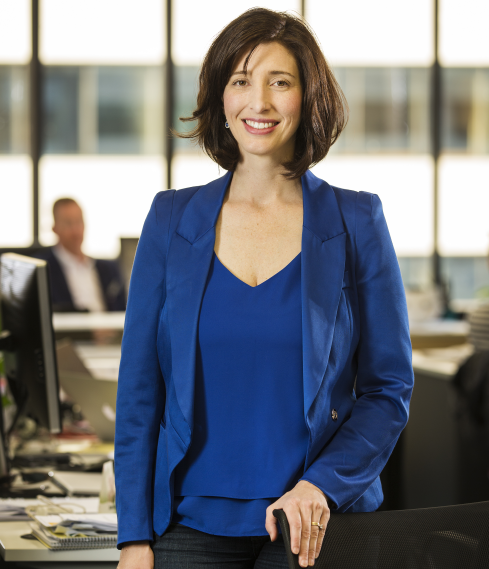 The #SaltSessions Women in Tech #WiT interview series speaks with thought leaders from around the world to get their opinion and advice on how they have grown their career in tech and overcome challenges and adversity during their career.
For Salt, a global, award-winning digital recruitment agency's latest Women in Tech interview, we caught up with Jemma Green, Co-founder and Chairman at Power Ledger to talk diversity and advice on creating an inclusive workplace.
What is your current role and the most exciting part of your work?
At Power Ledger, as the Chairman I look after strategic partnerships, external relations and risk management. This includes meeting with prospective clients, networking, overlooking marketing and media strategy as well as attending conferences and speaking engagements.
The most exciting part is on-boarding new clients and being able to delight them with our technology. Hearing positive feedback on the work we're doing never gets old. I also really enjoy being able to create a culture at work where people are excited to be there and are being stretched by interesting work.
What has been your most career-defining moment that you are proud of?
In October last year, Power Ledger was voted the winner in Sir Richard Branson's Extreme Tech Challenge. The finals took place on Necker Island which I attended with my family (3-month-old son, Castiel, 3-year-old daughter, Amelie and my husband Andrew). One of Power Ledger's other co-founders John Bulich and his wife were there too.
The top three finalists pitched to a panel of judges, including Sir Richard Branson. I must have practiced my talk 100 times, and yet pitching in front of him I was the most nervous I have ever been.
Sir Richard was at the Paris Climate talks and was one of the people present at the pledge for carbon neutrality by 2050. He saw Power Ledger as potentially instrumental in delivering that pledge. I'm extremely proud to have represented the Power Ledger team and for the recognition we received through this award. Having my family with me made it even more special.
What do you think we should be doing more of to encourage more girls to consider a career in tech?
Research indicates that people are less likely to pursue roles that they cannot see themselves performing. I believe that talented females should be promoted as role models and visibly recognised through media coverage, awards and promotion to leadership roles.
I think there is often a misconception that tech focused roles, such as in software development are static and isolating, where programmers sit in cubicles for hours on end with very little human interaction, which isn't an attractive proposition for many young women. In reality, modern software developers work in collaborative teams, working on all aspects of the software solution including problem solving, produce development, client interaction and business involvement, with many different roles and levels of opportunity.
Culture plays a huge part in influencing the type of people it attracts and retains. While many organisations now have policies in place around inclusivity and diversity across the workplace, this is just the beginning. We also need to do a lot of work to address deeper issues like unconscious bias in hiring and promotion, as well as adjusting recruitment processes to shift organizational culture and give women an equal footing in any role.
What challenges have you faced in the workplace, especially your experience in male-dominated environments?
Sometimes it takes a little longer to get a seat at the table, but once you're there it's important to remember you're in the room because you belong there. The criticism seems to come harder and faster when you're a woman. Criticism and trolls are a fact of life for organisations in the spotlight, like Power Ledger. And while the extra scrutiny is frustrating at times, I think I've learned to call it out when necessary or channel into action.
There were times when being a women felt like it was holding me back, and there are times now when it feels like I have an extra large target on my back. But I realised pretty quickly that change doesn't happen by sitting back and complaining behind closed doors. I know I'm as effective and powerful as any man and my ideas are just as worthy of being seen. I acknowledge the problem exists while actively reminding myself and others that we're in the room because we belong there.
In your opinion, what is the biggest obstacle to women's career progression?
Some men in the industry still think that speaking about gender is unnecessary and that if a woman is qualified, she'll just rise to the top as a man would without the need for any additional support. I don't necessarily think that's the case yet.
At its best, this view promotes being seen for accomplishments rather than gender. But at its worst, it suggests the greatest obstacle for women in the space isn't a just lousy system, but a lack of trying.
Who has been your biggest advocate/mentor in your career and why?
My mentors have evolved at different points in my life. In my early career, during my time in London, it was Jakob Stott. During my PhD, it was Professor Peter Newman. In this phase of my career there are multiple people including my co-founders, shareholders and our advisors.
Each of them have championed the work I'm doing and offered valuable advice and perspective along the way.
As an employer what would you recommend to other companies regarding infrastructure to have in place to develop the best talent?
Regularly check in with your staff, that could be by phone calls or quick staff surveys and one-to-one meetings and then make sure you follow up on the feedback. Ensure your employees feel as though they're being heard, and you're actively listening. There's no point collecting feedback to tick a box if no tangible actions come from it.
In a management position, how have you found it best to promote and nurture women's careers?
Encourage them to get involved in technical aspects of the business if they are open to doing so. Coach and support them to believe in themselves, as a lack of self-belief or positive feedback may restrict their goals and ambitions. Providing ongoing learning to build skills and confidence are also important. Sometimes they won't always come to you with ideas, but nurturing them by sending them relevant podcasts, courses, meetups and formal training, are all ways of showing encouragement.
What are some of the best and worst workplace initiatives you have seen/heard of to help promote diversity?
There are plenty of great initiatives in the space, and increasing focus is being placed on elevating women in tech and giving them a platform, so the next generation can see there are role models and are more likely to envisage themselves in this field. I'm happy to be part of that.
Who is your modern-day hero?
So many people I interact with every day. In the past month, Jamie Smith, Cassandra Kelly, Jean Case, Laura Shin, Elizabeth Rosiello, Emma Weston, Marisa Warren, Jen Sincero, Joel Young, to name a few!
Any reading/website you would recommend to stay updated?
Masters of Scale, Tools of Titans, Anything You Want, Be Fearless
What is your biggest stress reliever?
Walking!
Is there one piece of advice you wish somebody gave you at the beginning of your career?
Persevere, stay focused and know there's plenty of female focused support groups to help you if you're feeling alone. Consistent delivery over time is the ultimate test, it's a marathon not a sprint so make sure you look after yourself along the way.
What job did you dream of when you were a kid – your Plan A career path?
To be a lawyer.
Fun fact about you?
I love cooking when there is seemingly nothing in the fridge.
About
Jemma, as the Chair of Power Ledger, provides the strategic external relations, risk management and leadership development for Power Ledger. Jemma has more than 15 years' experience in finance and risk advisory having worked for 11 years in investment banking in London. Whilst there, she completed a Masters degree and two postgraduate diplomas from Cambridge University.
Jemma is a research fellow at Curtin University Sustainability Policy (CUSP) Institute, whose doctoral research into "Citizen Utilities" has produced unique insights into the challenges and opportunities for the deployment of rooftop solar PV and battery storage within multi-unit developments and the application of the blockchain.
Jemma is experienced in the challenges of sustainable cities through her role as an independent Councilor of the City of Perth. She is also the Chair of Climate-KIC Australia, a founder of the Global Blockchain Business Council and a contributor to Forbes on blockchain disruption.