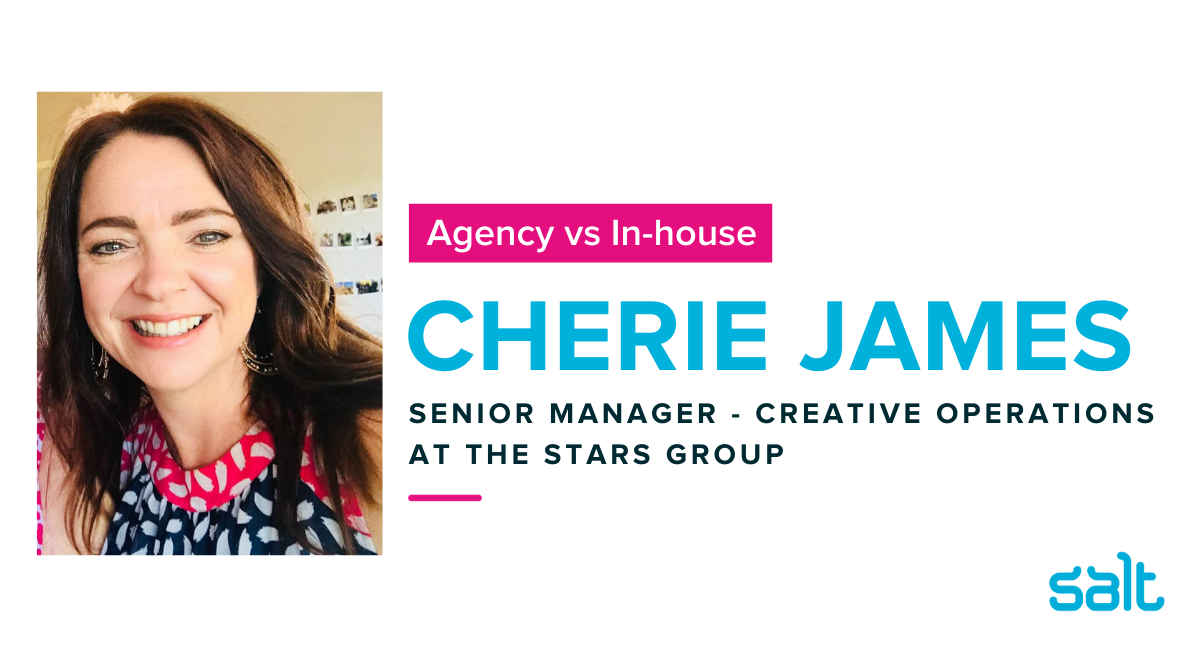 An interview with Cherie James, Senior Manager – Creative Operations at The Stars Group about working in agency vs in-house in the Creative industry.
In this 'agency vs in-house' interview series led by Salt Senior Consultant for Creative, Holley Potts, we speak to customers from all different sectors within the world of digital to answer the age-old question – agency or in-house? This series is designed to give you a snapshot of creative career journeys and insights into what is currently happening in their businesses. Over to Holley… 
Having touched on quite a few sectors in the design industry so far on the series, we now hop over to the lovely Cherie James, Senior Manager – Creative Operations at The Stars Group who delves into the ins and outs of agency and in-house to share her personal thoughts on this…  
Holley – Welcome Cherie! I am sure the audience would love to hear your story of what differences you see between agency and in-house?  
Cherie – When I first started working in-house, I realised that the expectation of long hours isn't there, whereas it was standard for me to do a 12-14-hour day in agency. This, along with the great benefits the company offers (that many agencies don't), has been a key point of difference for me. Benefits and work-life balance. There is a lot of perception from agency that in-house isn't as cool or interesting. PokerStars is a bit of an anomaly as we have about 5 different brands that keeps things interesting. This is why I have been able to attract and retain some very talented long-standing freelancers here. 
Holley – I would agree with you there, traditionally there was that notion that people could get bored working in-house, alas that's not the case anymore, quite often there are many avenues and projects even brands within that one in-house client. How have you managed to keep your designers engaged working for an in-house brand?    
Cherie – I used to have the perception that you would never be able to convince good designers to go in-house as they would get bored working on one brand all the time, how I have proven myself wrong! Not only do we have really high-quality full-time designers, our freelancers are the best of the best and we treat them like our permanent staff. We have a lot of creative variety in the work. When I started we were just Poker, then we launched into Casino and Sports, then purchased other companies. It keeps life interesting and we love embracing the change!  Also, within just the Poker brand we have Products/Games, Promotions, Live Events and Online Tournaments, all of which have slight creative differences. And recently we have been undergoing a cross-vertical re-brand, so there is a lot of creative work to keep people interested! We also do creative show and tell for teams to see what each other is doing.  
Holley  – Variety is key! Anything else…?   
Cherie – Also stakeholder and client relationships, when you all work for the same company, there is more of a sense you are on the same team, which should be the case when you are at an agency, but it isn't always.   
I don't miss doing quoting! I haven't had to quote a creative project in years, or do timesheets, which is so refreshing. We don't keep tabs on people as we trust them.  
There is less of that Big Brother sense that every moment has to be chargeable. Some of our designers will spend a day thinking about new ideas for a product because they are not being constantly pressured with time restraint. Naturally we have deadlines like any studio, but it's balanced and they have time to think. The pressure is less. It feels far more autonomous.  
For instance, for our re-brand we initially worked with an agency, however most of the work has been produced by our in-house team. This has been really exciting too, as you get to look at the re-brand from the client perspective and see a project all the way through. Sometimes when the work comes back from an agency, whilst it may look brilliant, it can't always be realised into completion, so we rely a lot on our team to be the company creative experts.   
Holley  – I can appreciate for any designer having more autonomy is greatly appreciated like you said. Having the green light to create and also think on your own terms is important.   
Speaking of autonomy, and having more independence, remote working has definitely allowed us to have that. How have you and the team adapted and has there been any challenges?   
Cherie – I am a people person so it was definitely a challenge at the start, but I have adapted to it easier than I thought I would. I have noticed it becoming more challenging each month for my teams who rely on creative collaboration. When we were in the office, they would look over each other's shoulders to see what the other members of the team are doing, be challenged by what they see, discuss their ideas together, etc.  It's much harder when you try and catch people on Zoom, then they are busy, then vice a versa, when all you wanted to do was ask a simple question. It becomes digital tennis!   
We are an online technology company though, so as a whole the company made the transition quite easily, which has been great.  
Stay tuned for more interviews, coming your way. If you would like to find out more about the series or find out how we can help you with your hiring, get in touch with Holley via hpotts@welovesalt.com. 
Check out all of the interviews in our agency vs inhouse series here.
For more information or advice on hiring digital talent, get in touch with the team today at contact@welovesalt.com..