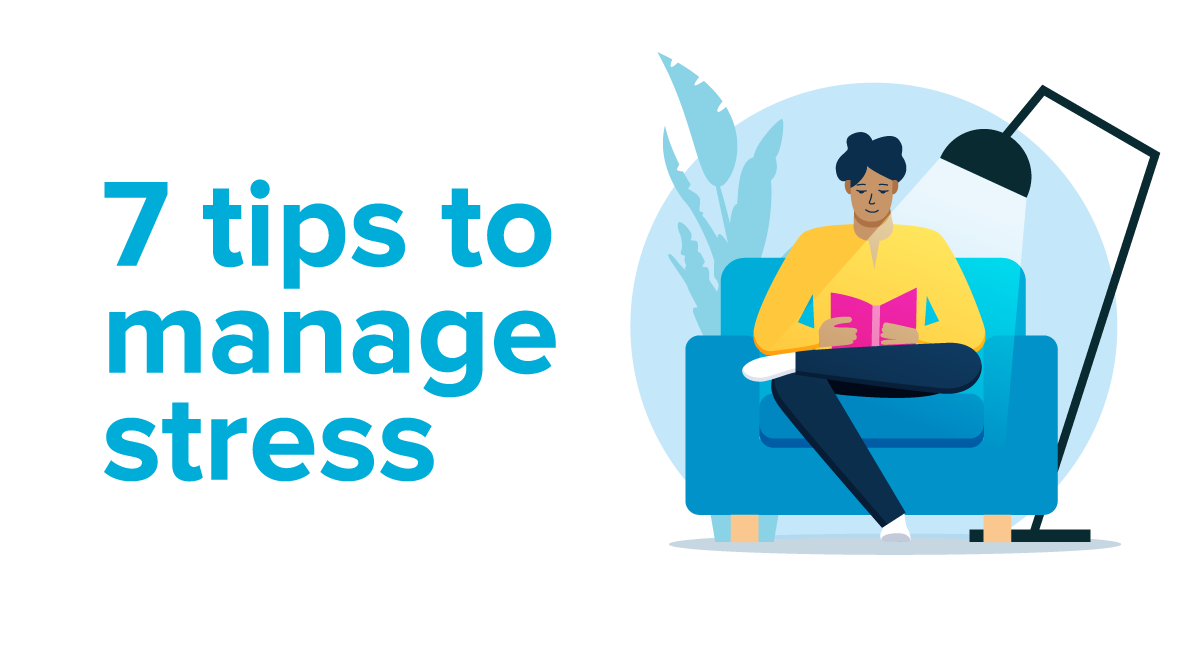 Whether you're a social media manager, currently on the job hunt or a solo business owner, we have compiled a few tips to help get you closer to your 'zen' and unplug from the daily pressures which can cause stress or mental health issues. 
What is stress?
According to the Mental Health Foundation, stress can be defined as 'the degree to which you feel overwhelmed or unable to cope as a result of pressures that are unmanageable.'
What contributes to someone's stress can differ from person to person and therefore managing stress levels can not only improve one's physical health but their overall quality of life.
Quick tips on how to manage your stress levels:  
1. Breathe
We know it might sound cliché, but taking, three, deep breaths can significantly help lower your heart rate and therefore help with relaxation and a sense of calm. Often, we can feel overwhelmed when stress levels are high but if we could stop, 'zoom out' and take a few deep breaths, we have a chance at feeling slightly more at ease.
2. Gratitude
When we feel under pressure and stressed it's easy to get into the mindset that 'nothing is going right' in our lives. By expressing gratitude, we can identify a few things in our lives that we are grateful for. It can be as simple as being grateful that the sun is shining, a glass of clean water or even a friendly hello.
3. Sleep
Sleep is medicine for the brain and the body. If you are currently under a lot of stress, being tired on top of it is not an ideal situation. Getting 7-9 hours of sleep per night is the daily recommended sleep for adults to function at their best and proven to help manage stress.
4. Exercise
Committing to a strict exercise regime can be overwhelming and often we never know where to begin! Start by taking a 10-minute walk around the block or even better somewhere in nature or near the ocean (if you can). This is not only good for your physical body but is a good time to reflect on the day ahead or the day that has passed.   
5. Visualization
We hear top sportspeople practice visualization whereby they see themselves succeeding whether lifting the trophy or hitting the ball in the perfect spot. Visualization is a great tool to use in your day to day where you envision yourself being happy at work, closing the deal, sending that all-important proposal or even pitching a new idea. We tend to think of what can go wrong but if you visualize success and positivity, we can shift that thought to, what if it goes right.   
6. Goals
This may sound intimidating but setting 1 or 2 simple and achievable tasks for the day, writing them down and ticking them off once completed can give oneself a sense of accomplishment. This will help with perhaps more challenging tasks and could even improve productivity. 
7. Unplug
Although this one may seem obvious, some of us may not practice this as much as we would like. Being constantly connected to our screens can often determine how we feel by reacting to external factors. If we are feeling stressed, we tend to blame or feel pressure to conform to what we may see online. Take 10-15 minutes each day to completely switch off whether you're on that much-needed walk, taking a nap, reading a few chapters of your book, journaling or even cooking yourself a wholesome meal.   
As people's stress levels can vary, it is also important to note that you need to find whatever works for you and your lifestyle. Finding simple ways to de-stress can help reduce and manage stress. Remember to not overcomplicate 'self-care' as this can look different for each individual.

To shape your future with Salt, a leading digital recruitment agency, send your CV to enquiry@welovesalt.com or use our search to find jobs. You can also keep in the loop by following us on Facebook, Instagram and Twitter.