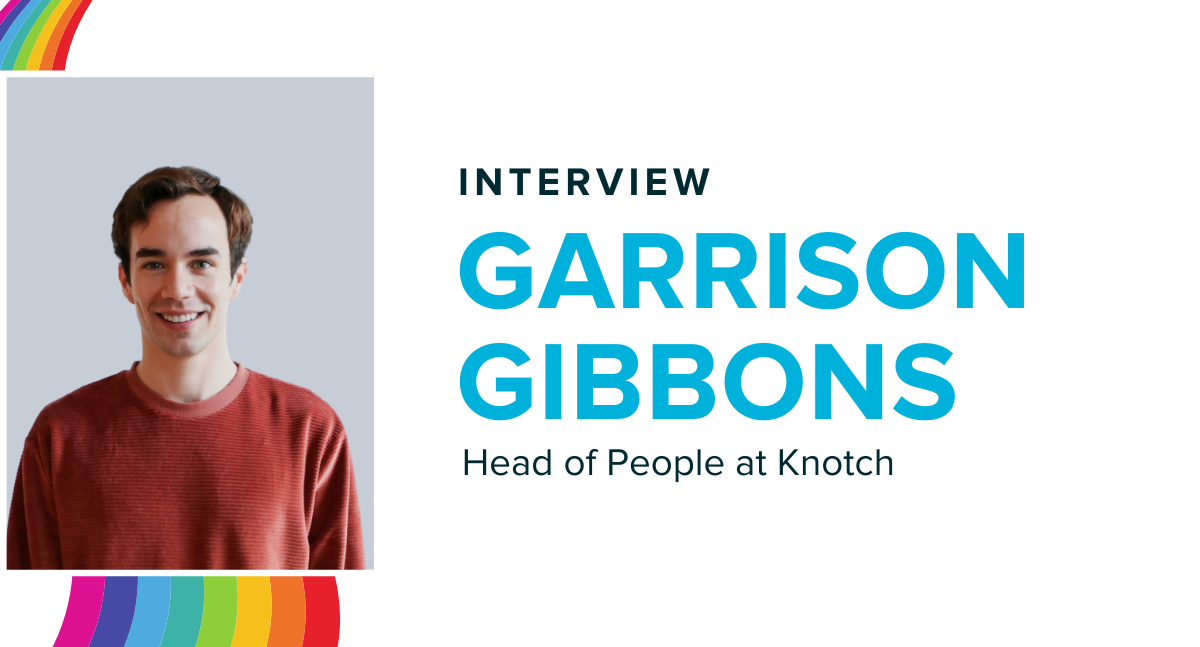 Throughout Pride month, we'll be speaking to people around the world to learn more about LGBTQIA+ and inclusivity in the workplace and share personal experiences. 
To kickstart our series, we at Salt, a global digital recruitment agency spoke to Garrison Gibbons, Head of People at Knotch. Garrison has worked exclusively for companies that make an impact with their work. He uses this mission-focused mentality to impact morale and better company culture. As well as being an expert at scaling practices and policies, his personal values are to lead with empathy, proactive transparency, and belonging.
What does Pride mean to you?
Pride is a journey. As a queer person, many of us start out hating our queerness. With further self-discovery, we grow to accept it. Hopefully, over time, we learn to love our queerness. We learn to celebrate it. That's what Pride is.
With the recent events in the world, we also can't ignore that Pride itself is a form of protest. Being openly queer is itself political. The LGBTQ+ movement started with Brown and Black folx rioting against police brutality. We can't lose sight of how Pride began and what Pride asks of us. We have to continue to speak out against injustice and fight for equality for all LGBTQ+ folx.
What was a moment for you when you feel like your identity was tested? How did you overcome this?
I was once asked by a CEO to join an important business meeting. While I certainly wasn't qualified to take this meeting, I felt honored to be asked to join as a young professional. It seemed like a great opportunity for me, and I was excited that my CEO thought of me for the opportunity.
Upon joining the meeting, I quickly saw why my CEO asked me to join. The meeting was with an openly queer man. I was brought in as a token. I felt hurt and used. It made me question my identity. I began to doubt how I present myself at work. I began to shelter my queerness in the workplace. Ultimately, I felt out of place at the company and othered. I left a few months later.
In my next role, I sought a company who offered an open workplace and inclusive culture. I saw other LGBTQ+ employees in the workplace and knew it was safe to be my true self. Though my identity wasn't tested, it was accepted, and that allowed my ideas to flourish, my productivity to improve, and my commitment to the company and its mission to prosper.
What is it like to be LGBTQ+ in the workplace?
Being originally from Mississippi, I was used to my sexuality and identity to be called into the spotlight by others. Upon graduating college, I found myself overcompensating, for fear of that trend repeating itself. I would make jokes at my own expense. I would talk about my partner to make it clear I was queer. I would mention it often in hopes that if it was out in the open, the shock factor would be removed. It took years for me to unwind that trauma and be able to be "my authentic self" at work.
On the note of authenticity in the workplace, employers need to realize that every employee would love to be their authentic self at work. That said, the LGBTQ+ community specifically faces certain trauma prior to coming out and post-coming out that take years to process. Not everyone is ready to be their authentic selves when they enter the workforce. Hell, not many queer people know who they are yet when they enter the workforce. All you can do is give them the safe space and inclusive environment to help them along their journey.
How should a company celebrate Pride month?
It is crucial that a company's Pride celebration, both external and internal, is true to their brand, their product, their employees, and their culture. What gets labeled as "rainbow washing" by many in the LGBTQ+ are attempts by brands to simply place a rainbow filter on their logo without a message, story, or initiative.
A company must tell stories about the Queer experience. A company must include Queer voices in their strategy. A company must include intersectionality in their celebration.
Pride has to be an internal and external focus. Pride has to inform your product roadmap. Pride has to impact your hiring strategy. Pride has to influence your culture. And, Pride has to continue after June 30th.
What is the difference between Diversity, Equity, Inclusion, and Belonging, and how do you ensure they are each represented in your organization – especially during Pride?
Diversity is being invited to the party. Equity is having the means to get to the party. Inclusion is being asked to dance. Belonging is having your dance moves celebrated.
Diversity, on its face, is merely the presence of different communities, identities, and groups. Equity is about acknowledging we don't all start at the same place or have the same advantages. Equity asks us to create an environment that attempts to correct that imbalance and thus give everyone access to the same opportunities. Inclusion is about minorities, underrepresented groups, and differing identifies feeling valued at work. And, Belonging is celebrating the differences and uniqueness each individual brings.
I see it as a waterfall. Start with Diversity and bring different groups together. Then, work on Equity to level the playing field and create equal opportunity. Then, once you have provided an environment that allows members of those groups permission to feel valued and heard, you have Inclusion. And lastly, you move to Belonging, where employees begin to be cerebrated for what makes them unique and their experience.
For companies:

Diversity: Ensure your job descriptions are encouraging LGBTQ+ to apply. Ensure your recruiting process is inclusive to the queer community. And, launch an employee-resource-group for queer individuals and their allies.
Equity: Run an analysis on your benefits to ensure they are applicable and accommodating of LGBTQ+ individuals. Determine the number of management opportunities given to LGBTQ+ individuals.
Inclusion: Promote LGBTQ+ voices. Use inclusive language in your policies and communications. Don't assume employees are straight upon hiring.
Belonging: Celebrate Queer employees every day. Value their unique perspective and life experience. Be apart of their life journey.
You can find out more about Garrison, his work, and upcoming talks here: www.garrisongibbons.com
---
We are holding an event for Pride on Thursday 25th June with a panel of speakers to talk about and share stories on inclusivity, identity, being LGBTQIA+ in the workplace, and so much more. Click here to join us.