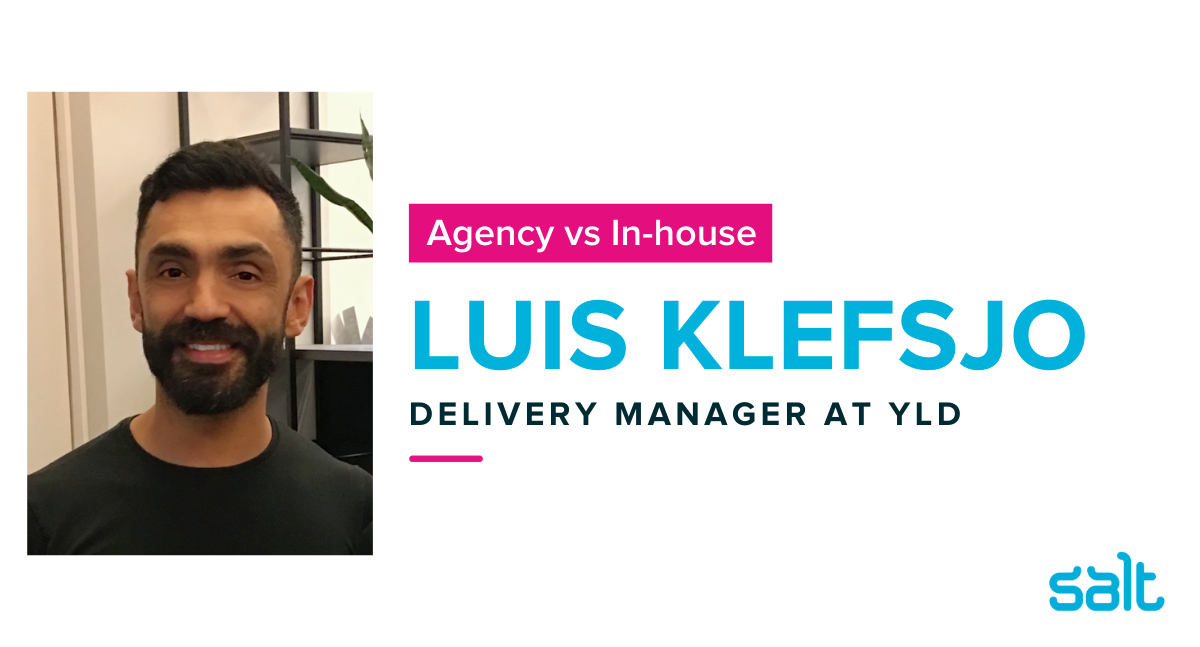 An interview with Aled Pritchard, Brand Lead at Bud, about working in agency vs in-house in the Creative industry.
In this 'agency vs in-house' interview series led by Salt Senior Consultant for Creative, Holley Potts, we speak to customers from all different sectors within the world of digital to answer the age-old question – agency or in-house? This series is designed to give you a snapshot of creative career journeys and insights into what is currently happening in their businesses. Over to Holley… 
Over and onto our next wonderful guest that is Aled Pritchard, Brand Lead at Bud, who delves deep into the nuances of what it truly takes to solve problems within Banking right though to what your living room will look like in the future!
Holley – Fabulous to have you here, Aled. Currently working in-house at Bud, have you seen a difference in the design process and craft compared to that of agency?  
Aled – I don't think there is really a difference in the craft but the process and timelines are very different. In an agency, you have a dedicated team working towards a goal and you know clearly who the key stakeholder is – the client – and you have a deadline to meet. With in-house, that is very different. You're often working with multiple stakeholders across the business with varying degrees of appreciation of what you're trying to achieve.
So, why did I decide to go in-house instead of becoming a consultant or go back into agency life? I wanted to work more closely with the audiences themselves, rather than through a 3rd party, and to see the impact of my work, knowing that if it is successful it benefits our clients as well as our own business. You don't get that too often with agencies. They are very focussed and have specialist skills but you are only working on something for a finite time, whereas with in-house we're playing with longer timelines and really getting a better understanding of the industry, the client or user needs and you get to see what works or what doesn't work over time. For me, at this stage of my career, the idea of having specialist knowledge as well as skills was a natural progression – I don't just want to solve for a brief, I want to define the brief and work on projects I can really sink my teeth into and understand the industry as a whole and what the underlying problems are. An in-house role allows me to do that.
Holley  – Indeed you can't define the problem unless you have a better understanding of the industry. So, would you say there are more challenges you face when designing in FinTech than others?   
Aled – I went in-house as I wanted to design for this specific industry. Working in finance, or data services, is not something you can just dip in and out of. To actually solve problems for your end-user is really difficult, as the product we are working on and the industry around Open Banking is so new, you have little precedent to fall back on. I think the problems for designers across all industries are similar – but we we do have unique situations regarding the scale of businesses we work with and that we work in a regulated. We provide technology to build innovative new financial tools and services that make it easy for everyone to make better financial decisions. We work with start-ups and with more traditional banks. They both have customers that have similar needs and so a massive part of what we work on is designing our products to meet those needs.
But the process for implementation for big banks is very different to a start-up. They often struggle with archaic software and bureaucracy – and so a lot of our work is looking at how we solve these problems. We're working upstream and helping the the Head of Digital or innovation at a bank to convince their Finance Director or providing them with the right information, such as a security white paper, to navigate the legal, risk and compliance committees and so on. Actually, shaping and understanding that client journey as they go through a buying process that can take months and years is where the real impact happens, and that's something that is quite rare at an agency. We still design lots of interesting and quality design, and, although I'm still very much hands on (we are still a start-up after all) I do spend more time mapping out where and how we can add value. It's less about fineliners and much more about markers on whiteboards.
Holley – I shall definitely be taking that quote from your Head of Design! Marvellous. Speaking of Design, in your eyes what qualities make for a good Designer?   
Aled – You always have the classic T-Shaped Designer. It is really important to know where you sit within the organisation and understand the roles either side of you – where the information you need is coming from and where your work is used by others. If you are a UI Designer, you better know enough about code that your designs will work and you can at least have the conversation with the Front-End Developer. It is also important to know enough about the UX to know what objectives they are trying to achieve. If you don't understand how their role works then you can't do your role properly. So, there is a responsibility to know enough about anyone and everyone's role that you interact with to do the job properly. 
At the same time, know your own value and know your worth. Know enough of how to fit in to the team but this idea that you can be all things to all people, it doesn't matter how much training you have, you will never be as good as someone who has specialised in their whole career. Instead, focus on being collaborative so you can work together as a team.  
We are starting to focus on conversations within other departments on how it's less about roles but more about skills. So, if someone is great at designing, it shouldn't matter if it's a Project manager or an Engineer and vice versa. What matters is how that team get's things done .
Holley – I like that notion you mentioned on how it's more about skills than roles, this malleability of evolving is something I see starting to happen a lot. Indeed, there will be many designers who have migrated the way they used to design to fit into the new world we now live in. What shifts have you seen in design as a result of Covid?  
Aled – The world has changed a lot, and the expectations of where people's touch-points with brands are have shifted and will continue to shift. There is not much point in being someone who designs signage at this point since nobody is leaving their house! Seriously though, I think the biggest shifts that I am seeing in our space is what does a brand interaction look like in this world? If you work in packaging, you have moved from what the design of a package looks like on a shelf to the unboxing experience. That was already happening before Covid but how much more has that changed now. If you work in eCommerce, the fact that Shopify's stock has gone through the roof in the last 8 months, shows there is a big focus on it now.
People were trying to shift digital in-store before Covid but it's probably more focussed the other way now. How does an in-store experience move to a full brand experience out-of-store? For example, furniture stores using apps so you can see what the piece looks like in your flat using augmented reality isn't a paradigm shift in Digital, but it is a paradigm shift in that particular industry. And it's great. But it isn't all digital. If there's less reliance on physical stores, how do you recreate the experience for the senses or ensure the advice of an assistant is on hand when you need it? And can you shift emphasis from pre-purchase to post-purchase so businesses focus more on a seamless delivery service or aftercare?
So, for me, the biggest thing to look at is Commerce and how that will accelerate a different way of shopping (and probably another evolution of the high-street) and how all businesses will redefine their Brand experiences when everybody is staying put in their living room – for now.
Stay tuned for more interviews, coming your way. If you would like to find out more about the series or find out how we can help you with your hiring, get in touch with Holley via hpotts@welovesalt.com. 
Check out all of the interviews in our agency vs inhouse series here.
For more information or advice on hiring digital talent, get in touch with the team today at contact@welovesalt.com..