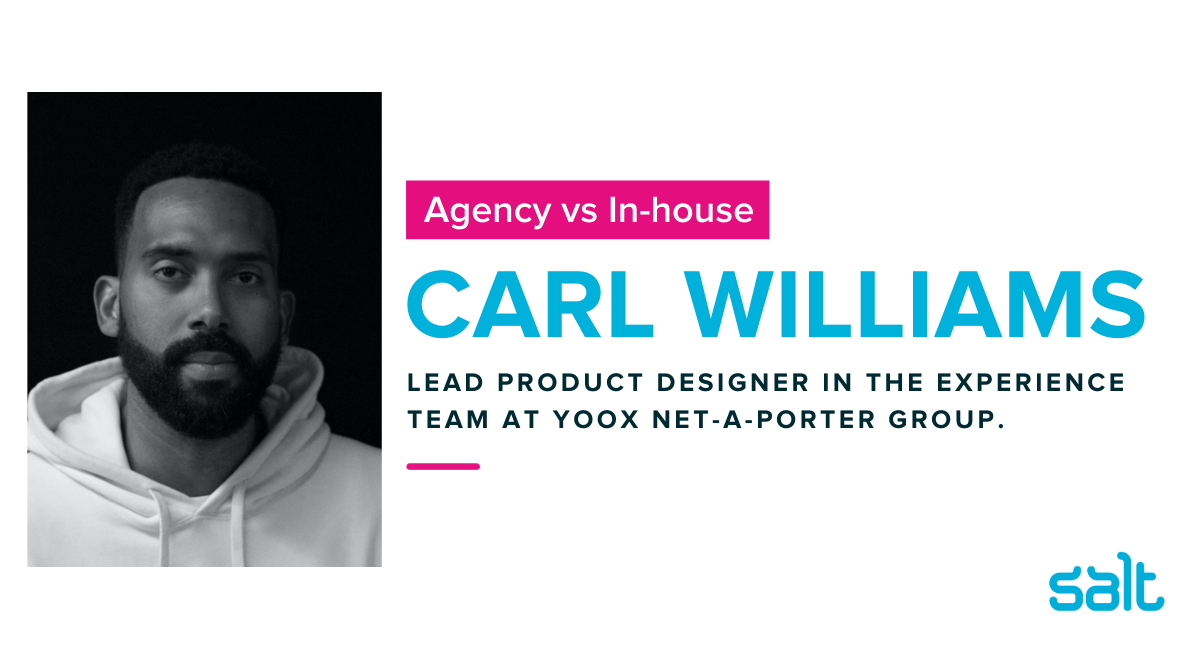 An interview with Carmela Lucamante, Creative Manager at Walgreens Boots Alliance, about working in agency vs in-house in the Creative industry.
In this 'agency vs in-house' interview series led by Salt Senior Consultant for Creative, Holley Potts, we speak to customers from all different sectors within the world of digital to answer the age-old question – agency or in-house? This series is designed to give you a snapshot of creative career journeys and insights into what is currently happening in their businesses. Over to Holley… 
Up next to the talking table is the fab Carmela Lucamante, Creative Manager at Walgreens Boots Alliance, who shares how to establish a creative mindset within the organisation and why crafts are so important now in this digitalised world we live in and lots more!  
Holley – Continuing with the ever-growing subject that has caused such a wonderful movement across the industry between the nuances between agency and in-house, Carmela it would be awesome if you could share with us your take on both of these?   
Carmela – This has always been a topic that is close to my heart moreover now that everyone is talking about it. So, my experience is mainly in-house. I started as a creative freelance and boosted my career in Walgreens Boots Alliance which is the holding of several global health and well-being brands, amongst which the well-known Boots, based here in the UK. 
My experience has been mainly at the corporate level, which is the most challenging one, as things can get quite formal and rigid. Funnily enough, when I started my career there wasn't quite the structure of having a creative team at Walgreens Boots Alliance. So, to leverage creative and design thinking in that set up is always challenging. It was trying to show people the importance of creative and setting up this support network within the team. Slowly as the company grew, they built an internal agency and a specific team dedicated to the partnership with WPP.  
From having no creative team to building an in-house team and now having a partnership with one of the biggest external agencies out there has gone pretty well. In-house together with agency is quite a plus!   
Holley – Well touché on the journey so far, I can only imagine that must have been quite the challenge! It is great that you have found that harmonious balance between agency and in-house, indeed there can sometimes be a little competition between in-house and agency, have you noticed that at all?  
Carmela – There has always been a little competition between in-house creatives and agency creatives. Agencies are often the ones that get to work on the big projects as they have scale and resources, whilst sometimes being in-house, you are the ones that have to sort out the difficult situations when the agency cannot as you know the company and own the relationships. 
Also, it takes time for an agency to understand the brand, especially if it is very established with long history and also depends on the size of the brand.   
The secret here is working together, replacing the "vs" with a "+". There shouldn't be a hierarchy, or it be a challenge, but finding mutual common ground instead.   
Holley – Wise words indeed. Like people say, teamwork makes the dreamwork!   
Indeed, teams have been collaborating even more closely together this year to come up with ideas in digital transformation, especially after 2020 and the need for digital to become even more prominent. Have you thought more about digital transformation?   
Carmela – Indeed, rightly so, this year has highlighted the need even more towards digital transformation. We are looking into mass personalisation with the mission of how we can provide the customer with the best experience as in product, solution or service based on what they want, why they want it and where they want it. So, it's about talking to the masses but in a very personal way and digitalisation will be a big part of it, trying to reach them through an omni-channel way. Communicating with people throughout their journey as consumers and making content relevant for them. This will be our mission for quite a long time! There is a lot of commitment to this. That's externally. Internally, there is a lot of investment in forming people, retaining and attracting talent, so it is engagement work as well.    
Holley – That's a great note on how to look into making things more personable, especially after this year there has been a lot more empathy, so trying to convey that to consumers will be so valuable. How have you seen people coming together as a result of this year?   
Carmela – This year has been an example of how humanity can come together at some point regardless of their differences. There has always been a distinction and separation between the retail world and the corporate world. This year what I have seen is a lot of colleagues, even people in high-up positions working in the corporate environment, have volunteered in the pharmacies and they have helped people in times of difficulties. So, when time comes to it, is always the human and emotional side that really matters in this world.   
Holley – It is very magnanimous what people can do in times of need. It is comforting to hear these great notions of humanity that happen. I hope it is not just a trend this year but follows through into a way of life. Speaking of trends, have you seen noticeable trends that have come about this year?   
Carmela – I have found that whilst we have seen a rise in trends becoming abstract in digital, I am seeing the need for finding the materialised experience as well. You see a lot of websites or Instagram pages on crafts which is interesting. It gives you reassurance that by touching and feeling things in times of uncertainty, somehow comforts you. Creating something with your hands, as everything is virtually digitalised now, and going back to traditional craft whatever that may be, is quite grounding.   
The second trend is that in times of uncertainty you look respectively, and you try and find the entrepreneurial ways of doing things. This world of start-ups and making something on your own, or by joining forces with others with your same vision to make things happen is another big wave. Even some of my friends and colleagues are starting things on their own. It is very interesting as you see the passion that leads these projects, and you find that you can learn from these small micro-causes on how to put these learnings into the macro-cause.  
Holley – So true! We definitely all saw this rise in crafts especially during the first lockdown, I am trying to think of a single person who didn't make a sourdough loaf!  
Indeed, it is having these other skill sets outside of work that add more strings to your bow. Speaking of multi-skilling, this rise in multi-faceted designers is only on the rise, what's your view on the hybrid designer?   
Carmela – This is a great concept for a designer as it broadens your horizons and allows creative input from different sides and not only one creative expertise. I believe the key is building these diverse personalities that are hungry for input from inside and outside that are able to become chameleons. These hybrids are able to inspire, guide and support the specialists.
Agencies tend to advocate on having specialised profiles as it is easier to place people. It is more efficient and a better practice way of working. The combination of both makes for the right team, you can have a versatile angle that can keep the overview and then you can have the specialised angle that can do their role and provide what they are asked for. Personally, coming from such an integrated background, it is more like building a mosaic point of view!   
Stay tuned for more interviews, coming your way. If you would like to find out more about the series or find out how we can help you with your hiring, get in touch with Holley via hpotts@welovesalt.com. 
Check out all of the interviews in our agency vs inhouse series here.
For more information or advice on hiring digital talent, get in touch with the team today at contact@welovesalt.com..