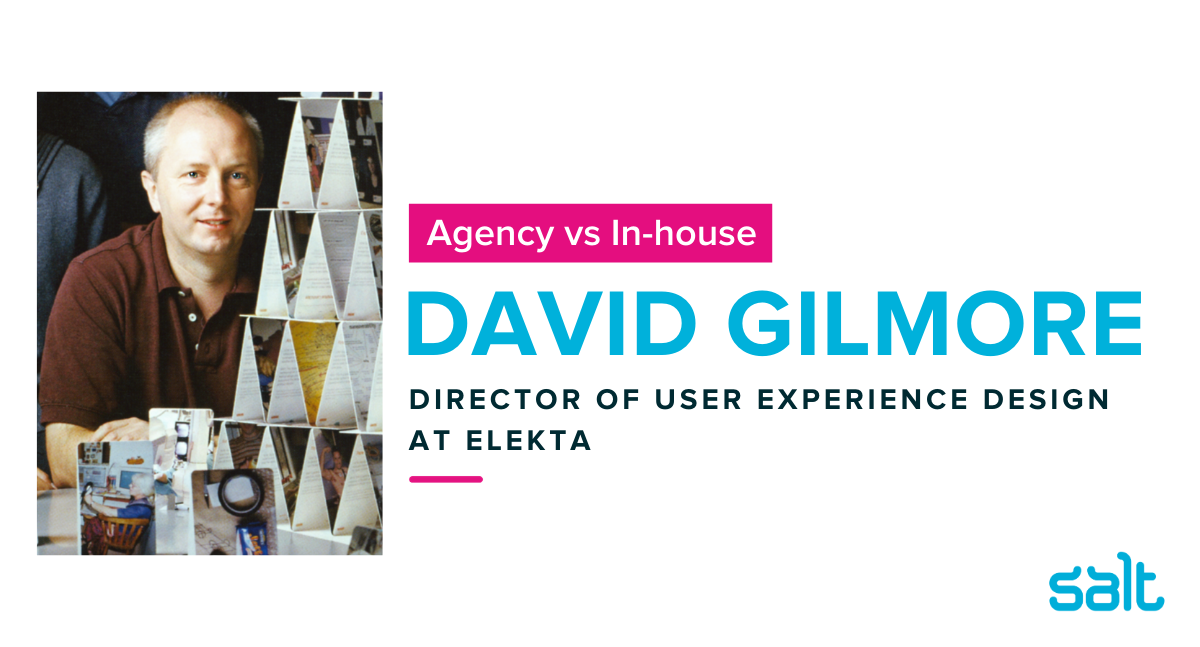 An interview with David Gilmore, Director of User Experience Design at Elekta, about working in agency vs in-house in the Creative industry.
In this 'agency vs in-house' interview series led by Salt Senior Consultant for Creative, Holley Potts, we speak to customers from all different sectors within the world of digital to answer the age-old question – agency or in-house? This series is designed to give you a snapshot of creative career journeys and insights into what are currently happening in their businesses. Over to Holley…  
Welcoming up next to the show, David Gilmore, Director of User Experience Design at Elekta, who gives us a brilliantly detailed discussion on where the industry is heading and why agency models are so important!
Holley – Fabulous to have you join us on our continuing adventure of agency vs in-house David, so tell us your views on what it's like between agency and in-house?   
David – I have come to realise being in-house, there are things you can ask an external agency to do that you couldn't do in-house, which is where they can be extremely beneficial.    
If you are a designer in-house, there are certain boundaries that are very hard to move, but an external agency is allowed to interrupt and disrupt freely and bring new ideas to them. In this way agencies can empower in-house designers to be more creative and more innovative. That's the beauty of it.   
Strangely though, colleagues often want you to choose an agency that has done something similar before; people want to see similar work already in their portfolio. In fact, the reverse is more likely to be true … what you want (and are paying for) are fresh ideas … agencies that have never done your sector before are much more likely to bring something new to the table. 
Holley  – Like you said, that's the great thing about agencies is they really do push the boundaries as far as they can go. I feel the same is happening to titles designers have these days, I realise Product Design has always been around but there has been a big jump this year in into Product Design given as titles to UX + UI Designers, have you noticed this too?   
David – It is interesting these trends; I am not fussed about titles instead I care for what their design background is.   
For instance, visual designers tend to focus (unsurprisingly) on the visual, where a Product Designer may focus on the product definition more than the aesthetics. Great user experience design needs all facets of design (though not always equally) and it's important to me that designers know where their skills really lie and are happy to collaborate with other designers.  
What's important to me at the moment is the space between Interaction Design and UX Architecture; less focussed on the design of an individual screen but on how all the pieces (across screens, devices, the physical world, etc) come together to deliver the experience that we want them to have? To achieve this well requires that we first define that holistic experience we want our customers and users to have. Not all designers are comfortable doing that, and not all designers have the skills to do it.  
The most talented visual designer I have ever worked with only ever wanted to do the visual design of screens that were already fully resolved from an interaction perspective. He could take the same wireframes and 3-4 different brand expressions and render the design in ways that seemed like they couldn't possibly be the same wireframes under the hood. 
At Elekta we are working in a way to provide consistent coherent UX across every product. We own the design; Product Management owns the product definition, but we collaborate equally on defining the user experience. It's a big change for people from the previous ways of working, with a much greater focus on identifying what it it that the user really wants to do?  
Holley – You are clearly shaking things up at Elekta! Which is how it should be done. It sounds like you a fond of both agency and in-house, so my question is would you ever go back to agency?   
David – I did nearly 10 years at an agency, and after that amount of time, I needed a new challenge. I wanted to start seeing things all the way through so made the jump to go in-house. Of course, it turns out that in-house can feel very like being in an agency and there aren't quite as many companies where a UX team really is involved through the whole process as you might think. I did have to move around a few times to find places where I really could see things through, but it is indeed very satisfying to know that a product I took from initial idea to launch ten years ago is still a major seller for that company with new models still being designed and released in the same product family. At Elekta we have just succeeded in bringing user experience to the centre of product development, so I think I shall probably stay in-house for the time being.  

Holley – Seeing projects from concept to completion is definitely a reoccurring theme that I hear from many designers these days. Alas on the contrary one topic that I also hear about in-house is that sometimes in-house creative teams' ideas can't always be heard, how do you help elevate their designs to the wider company?   
David – Yes, I have seen that too – I've tried to solve it by creating collaborative projects between our in-house team and an external agency on the basis that the design and the limelight is shared. So, ideally by the end of the project the in-house designers will feel like they own the design equally and can carry it forward.  
In-house designers are the ones who have domain knowledge and who understand the internal constraints and these need to be balanced with the external ideas for innovation. Too often one sees great work from external agencies that simply cannot be taken to completion in-house – almost always as a result of not enough collaboration along the way. 
Many years ago, I worked on a software project (in an agency) where we kept asking our client for information about their software development practices and architecture because we knew that we had to be concerned with the pragmatics of getting it developed. But our client was on the marketing side of the organization and just wanted breakthrough innovation without discussion of constraints. I know we delivered great work (the same solution was developed by a competitor a few years later) but our client was never able to turn it into reality. 
We probably should stop thinking in terms of in-house or agency and start thinking of in-house and agency. 
Holley  – Collaboration is always key; indeed, it's is a fine balance of pleasing both parties seamlessly. How do you influence designers to be more vocal in their ideas and working more collaboratively?  
David – The established habits of design critique are one key step in achieving this. Having a diversity of seniority in design, but establishing patterns of equal, open, challenging and constructive critique is very important. Not only does it build a fluency in talking about design, it also improves design. But even more importantly it can help to move design from an aesthetic discussion ('what I like') to an achievement discussion ('what does this design do'; 'what story does this design tell').  
The internal agency model can make this establishment of critique much easier, but it also has its own problems, since designers are more removed from their teams building their designs and the likelihood is that the Product lines don't listen to them and they go off with an external agency rather than the internal agency (or even hire their own designers instead!). But not having an internal agency means that the designers can easily feel more loyal to their development team (and that team to the designer) than to the community of designers – but then they are often a lone voice in that team. I think the world is still looking for a good solution here.    
Stay tuned for more interviews, coming your way. If you would like to find out more about the series or find out how we can help you with your hiring, get in touch with Holley via hpotts@welovesalt.com.  
Read more of our agency vs in-house interviews here. 
For more information or advice on hiring digital talent, get in touch with the team today at contact@welovesalt.com..