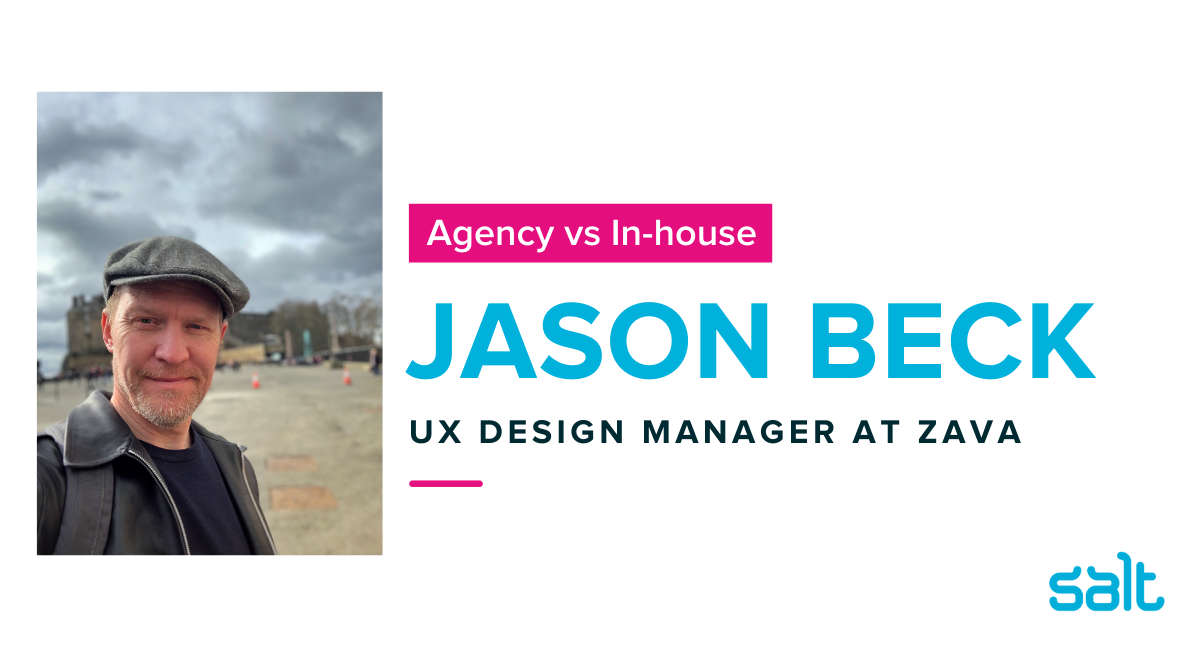 An interview with Jason Beck, UX Design Manager at Zava about working in agency vs in-house in the Creative industry.
In this 'agency vs in-house' interview series led by Salt Senior Consultant for Creative, Holley Potts, we speak to customers from all different sectors within the world of digital to answer the age-old question – agency or in-house? This series is designed to give you a snapshot of creative career journeys and insights into what is currently happening in their businesses. Over to Holley… 
Holley  – Welcome, welcome to the talk! So, let's start off with asking -out of both agency vs in-house and having experienced both sides, do you have a preference that you would rather work in and why?
Jason – Most of my experience has been working in-house but this has usually included working alongside lots of agencies too. Sometimes there's tension when you take on an agency from the in-house team – we like to think we can do everything – but usually we are trying to fill a specific area of expertise for a period of time.  
For myself, I think I will stay in-house for the foreseeable future. I enjoy the team building, strategising and working with the leadership teams on how we best deliver work. Eventually I might look towards consulting or lecturing, but I am not quite there yet!   
Holley – Like you said, in-house tends to require slightly more strategy as opposed to just the designing. Indeed, I have noticed Brand Strategy becoming quite a hot topic amongst clients recently. How do you implement Brand Strategy at Zava?   
Jason – That's an interesting question. A lot of it is about communication and establishing connections; looking at the company vision and determining whether we have the strategy to fulfil it. 
What I have seen in lots of places is that there is often a disconnect between strategy and vision, or North Star as some people say. I've enjoyed being part of that conversation in recent roles. Having a strategy that serves the higher purpose of the company and is well communicated and understood is essential. 
Holley – Wise words indeed. Looking at the strategy holistically rather than just the end result, it's about road mapping the future.
Indeed, I have seen a contrary to this in light of Covid, most notably when it comes to UX Researchers. I have unfortunately seen many companies getting rid of UX Researchers this year. What are your views on this?   
Jason – My opinion is that it's somewhat short-sighted to get rid of UX Researchers. I am an advocate of having UX Researchers embedded into Product and typically when I start growing teams that's always something that is included. Two things here, firstly it puts the burden of research back on to the designers so they have less time to design, a good UX designer will have research knowledge of course but there is so much to do and secondly, there is a depth of knowledge there that some companies miss. Typically, a UX Researcher will have a background in psychology or Human Interaction which provides you with a depth of knowledge that a designer wouldn't necessarily have, also people get confused with the type of research that generally needs to be done.   
Holley  – Precisely, I guess it's because they are not seen as an immediate need right now what with some companies having to let people go. But connecting with your users is more important than ever and companies are trying to find new ways to do this. So, I was wondering how have you created new ways to connect with your users?   
Jason – My focus this year has definitely been to understand our customers – who we refer to as patients at Zava – more and more. This year we've been exploring what our offering is to patients beyond just an online pharmacy. One of the biggest challenges for us this year has been venturing into the world of telemedicine by launching an app for video consultations with Doctors. We launched this in Germany before Covid and I guess it really came at the right time in history. That has been an exciting expansion of our product offering this year. 
Holley  – Impeccable timing I must say on the release of that app, touché! I can imagine that will only grow and grow as a result. Even before Covid remote consultations with GP's where starting to be seen, obviously as a result all avenues in life are remote these days. Speaking of such, I see you joined remotely to Zava, how did you find this?   
Jason – Surprisingly good! It helps that the team is amazing and that we have our rituals and team meetings, so it very quickly felt good. You obviously end up going to the pub/coffee shop less. The micro interactions where you go for coffee with someone and don't talk about work but more abut your own world happens much less, and that is where you build up relationships and trust with people, but that will come soon enough.   
Holley – Thats great to hear, and yes it must be hard when you can't quite create those personal relationships by not being able to meet people. Indeed, that has been a massive factor this year for creativity being stunted. How have you managed to keep creativity alive at Zava?   
Jason – Miro has been a godsend for us, a lot of our creative discussions centre around a Miro board. However, it can't quite replicate the real world, I like the energy in a room with a team working with a whiteboard and pens, even when you have amazing pieces of software it can't quite recreate this. We talk very openly, we share ideas online, our team dynamic is not to be protective over individual's work but to make it the team's work.    
Holley  – Indeed Miro has definitely been an incredibly innovative platform for so many businesses to move forward with on creativity, indeed this will only grow and will be refined and re-worked to make it a better version. What other areas of innovation to you seeing growing as a result of this year?   
Jason – Working in the Health Tech space I can tell you that it is exploding across Europe, especially in places like Germany, and France.  
We've found a lot of opportunities in these markets. With the global pandemic, health is the forefront of everyone's minds these days. Not just in terms of treating a condition but the health and wellbeing space. I can only see that continuing to expand.  
Previous to Zava I worked in the fashion space, and it's interesting to see changes in behaviour which potentially might drive more innovation and how you think about fashion or clothes. Younger audiences are much more knowledgeable about how their clothes are made and the environmental damages of fast-fashion. Companies need to innovate to find a new way of connecting emotionally. 
Stay tuned for more interviews, coming your way. If you would like to find out more about the series or find out how we can help you with your hiring, get in touch with Holley via hpotts@welovesalt.com. 
Check out all of the interviews in our agency vs inhouse series here.
For more information or advice on hiring digital talent, get in touch with the team today at contact@welovesalt.com..