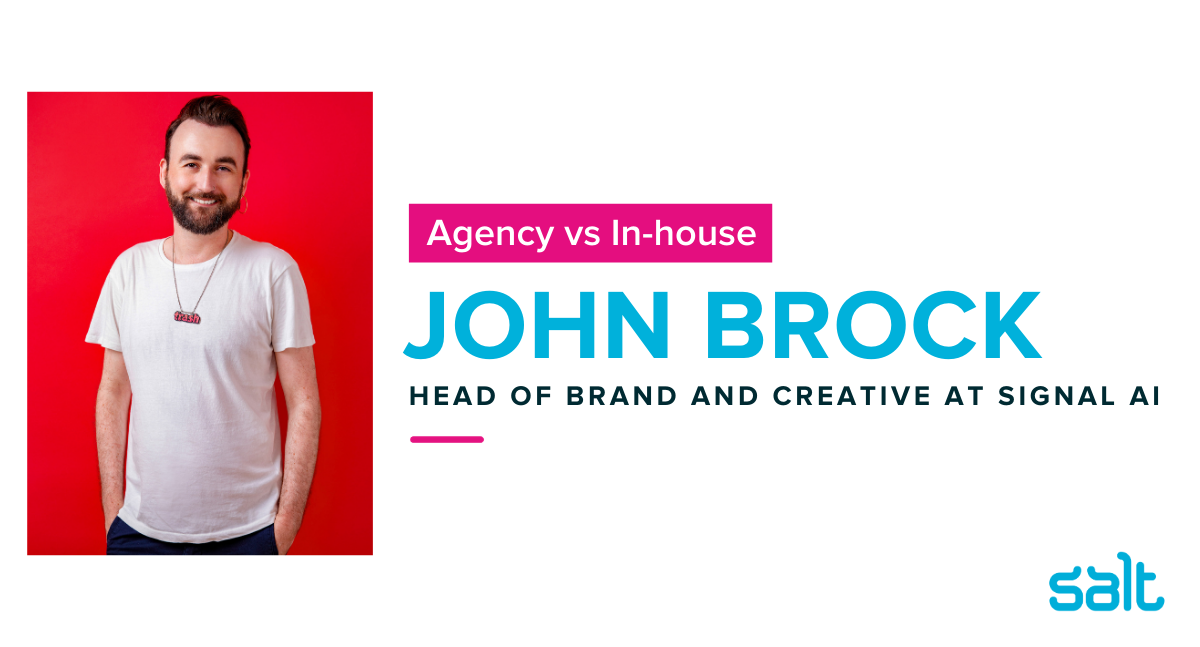 An interview with John Brock, Head of Brand and Creative at Signal AI, about working in agency vs in-house in the Creative industry
In this 'agency vs in-house' interview series led by Salt's Managing Consultant for Creative, Holley Potts, we speak to customers from all different sectors within the world of digital to answer the age-old question – agency or in-house? This series is designed to give you a snapshot of creative career journeys and insights into what is currently happening in their businesses. Over to Holley… 
So here I am speaking to my next guest, John Brock, Head of Brand & Creative at Signal AI – one of the most fascinating, engaging, and down to earth people I have met in a long old while. So, take us away John!  
Holley – So John, what's your story of how you came to work in-house? 
John – Well, I initially started freelancing at Signal AI, and naturally when working on their brand guidelines, I noticed there was great scope to activate and transform how they look right through to their tone of voice. It's been a brilliant challenge.  
It's the first time I have been back in an in-house role for a number of years- Signal AI is a tech company and one of  the challenges we face in our business is people's perceptions around AI technology. People often think AI is this  demon that will one day rule the world,  take them in their sleep and take their  jobs away. So, my challenge  is  to strip that away, bring some more colour to it and give AI a human face and become more relatable.  
Since going in-house, it's also been a new way of working. Back when I was in advertising, I was connecting with about 7 clients a week – so it's been interesting focusing on 1 client and building a brand for them.  
Holley – I can imagine that there must be such a contrast in those two very different ways of working. Being in-house now, do you miss the agency way of work? 
John - There is a lot of infrastructure in agencies that isn't always in an in-house offering, for instance I have been up-skilled in many ways because now I am having to search for locations for shoots or  for video production, but it's been a great learning curve!  
I have to be the Account Manager, Design Director, The Strategist, and The Creative Team all in one! And what a wonderful experience it has been. 
My vision is that one day I want to get Signal AI to the point where agencies look at our work and think "which agency created that"? Then they hear it's in-house and are blown away. 
Holley – That is a really good vision to aim towards. Indeed being in-house you tend to be very very multi-faceted generally compared to agency. What challenges would you say you face working in-house compared to agency?  
John - Well coming from agency to B2B, the challenge for me now is creatively coming up with ideas on how we can solve problems for us, and what can I do to re-engage people whilst not being tone deaf to this situation we are in. That's the next challenge – don't be basic, what are you going to do to be different? People need to buy authenticity, and the important question we should be asking is how you retain the integrity in what you are doing.  
Holley - So true, it's all about coming up with that all new big idea! Not being vanilla, whilst still being functional in what you create and not just a pretty picture. It's about being original but also personal with your users which is crucial. How would you say you engage with your customers after everything that has happened this year? 
John - We are investing to leverage our customer's voice to tell the story of the company, using this situation we are in, to use "Our people are your People", not in the usual testimonial style but more in a series. People are engaging more with video content. We want to show the more human side. Make it look less E.T. and binary code!  
Holley – Ha! I am all for a more human approach, a subject that is always on people's minds when it comes to designing for AI!  
So to finish off, what's in-store for us to see at Signal AI for the rest of 2020? 
John – Well, after finally venturing from freelance back to a permanent role, what I loved was really being part of a family, and I want to help, grow and nurture a team.  We have a lot of exciting work coming out in 2021 from Signal AI, so stay tuned!  
Great insights from John on the differences between in-house and agency.  
Stay tuned for more interviews, coming your way. If you would like to find out more about the series or find out how to hire creative talent, get in touch with Holley via hpotts@welovesalt.com.
Read more of our agency vs in-house interviews here.