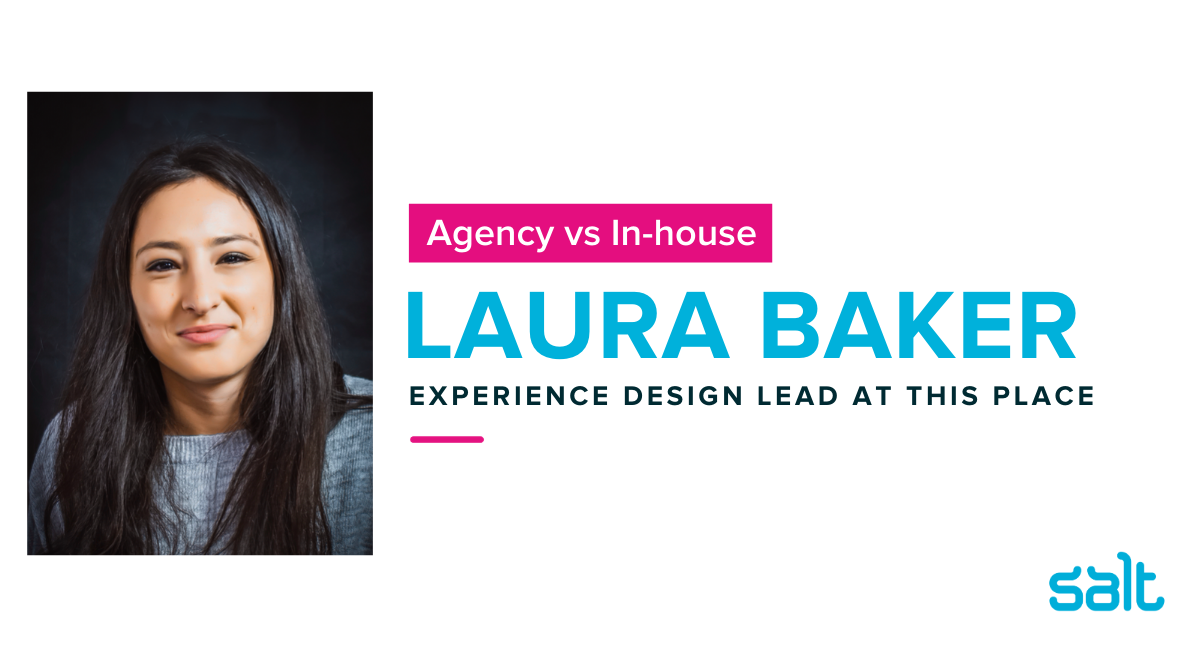 An interview with Laura Baker, Experience Design Lead at This Place, about working in agency vs in-house in the Creative industry.
In this 'agency vs in-house' interview series led by Salt Senior Consultant for Creative, Holley Potts, we speak to customers from all different sectors within the world of digital to answer the age-old question – agency or in-house? This series is designed to give you a snapshot of creative career journeys and insights into what are currently happening in their businesses. Over to Holley…  
We're taking a walk down memory lane onto agency side with the fab Laura Baker, Experience Design Lead at This Place. Laura shares a brilliantly detailed view of the nuances of agency life, upcoming trends, and the type of designer she sees coming up! Take us away Laura!  
Holley – Always a pleasure to have you here Laura, as someone who has worked at both in-house and agency, I can only imagine you have a wealth of experience and things to say on this topic, naturally there is a rise towards in-house these days, what's your view on this?  
Laura – It's interesting as I have heard similar things around agency life vs in-house life. The feeling I have is that it's good to test both out, but people do tend to work more in one area. Traditionally, the in-house life is a bit slower and in agency you are more engaged for a shorter period.  
I find there are 2 ways that agencies work. Either you are in there as a consultant or you are in there doing a project, generally sitting externally rather than being embedded in your team and working with the client, which is interesting to hear. 
When I moved to agency, it wasn't a tangible thought process, it was more the transition from industrial design over to UX design. I started off with an industrial background and as I spent more time in the area I felt I wanted to expand out of industrial design, so I followed into UX. This Place came onto my radar and it gave me the opportunity to explore UX, what it meant and whether it was something I saw myself doing, as opposed to making a conscious decision to go agency. 
Looking at my first few years of working at This Place, it was very traditional agency working life. We would work with a client but wouldn't have that consulting side with them, it was quite a separate way of working. Now, we have transitioned over the years to be more part agency and part consultancy, looking at which way works best for the client.  
For instance, the project that I am on now feels like I am an in-house designer as I spend much more time with the client and with the teams, acting on more of a consultancy level. Sometimes I must remind myself that I am still at an agency!  
Depending on the agency itself, it can give a person a balance of the two, so there are overall pros and cons. I guess there is an overall variety at an agency, as there are so many projects going on and you can move from fashion eCommerce to banking, whereas at a fashion brand, it will be mainly fashion that you are working on. 
Holley – Design is a big word, is there an area within design you see taking a new direction this year as opposed to just the aesthetic of it?  
Laura – Our team sell by doing, that's the best way to get things done as it's showing people the value rather than talking about it. It was a push at the beginning, as when people think of design, they think of people who will come in at the end and fill in the wireframes and make the dev effort pretty, which isn't how it works, obviously.  
People are quite comfortable with the notion, or at least more comfortable, in these big areas of product design with having that person who can work cross functionality with the developers and the product managers.
The area I see having so much more potential is in Design Strategy, where you have design in there from the beginning, not to make decisions but helping to inform decisions. They'd work with the key stakeholders to help find the right problem, so you are not only solving the problems in the right way with the Product Design and usability, but actually finding the right problem at the beginning. Giving design a seat at the table a lot earlier on in the process is where the challenge lies in these bigger established areas and being able to measure the impact of design.   
Holley – With the ever-rising escalator of the Product Designer, a question that must be asked, what are your thoughts on this monumental rush of this sector?  
Laura – It's interesting because I think the rise of the Product Designer has been dramatic over the last year, traditionally I always viewed it as more industrial! What is interesting is the seniority of designers at the moment, partly because of the times we are in, but I feel there is more of a stakeholder management piece that comes with design. For a junior coming in stakeholder management is not the easiest thing to deal with so more people are looking for more experienced designers to be able to manage that.  
 
Something I have been thinking about is with product design you see all levels, but if you think about service design, it's very rare to see junior service design roles. I feel service design is something you transition into more. The benefit of being a Junior Product Designer is that it gives you more breadth than service design would, but I also think it's that stakeholder management and the business piece that comes from the organisational part of service design. You see more junior strategists but not so much in the design area for some reason, at least I haven't.  
Holley – I personally found that motion design was huge last year, with so many requirements asking for Digital Designers who can do motion too, what trends have you seen rise this year?  
Laura – Motion will be interesting to see how it evolves with Product Design more, especially as the more agile and cross-functional ways of working mature. Historically, people used to think that designers need to code, but now designers don't need to code but they do need to use business design which is moving completely to the other side of the spectrum, to the more agile ways of working. As the design and tech relationship matures, we will see products come in to fill that space so obviously you have design software that everyone is fighting over to use as the one type of tool to use, from your Figmas to your Sketch's to your Framers, to bridge the gap between design and development. 
Holley – I hear more people are looking for the T-designer these days, someone with a core specialism who can understand the language of other sectors too, is this something you look for?  
Laura – Yes, I think the need for more of a Swiss-army designer is on the rise, especially amongst agency as you need someone who can be adaptable. In agency, you never know what the next project is going to be so you need a team that can jump on anything, whereas in-house you have a better idea of where people sit long term, I guess that's the difference between where perm and contract come in.
If you need someone to come in for a specific area, then there is less need for that hybrid approach. Most people are T-shaped designer by nature or profession anyway. I have heard now that there is an E-shaped designer which is new the T-shape designer! There is very little one size fits all in design these days. 
Well, what a brilliant talk! Slightly meandering off my usual short and sweet content pieces I usually do but what a solid piece of content it was!  
I particularly loved Laura's quote of "Our team sell by doing". A powerful statement indeed, and as they say, actions speak louder than words! 
Stay tuned for more interviews, coming your way. If you would like to find out more about the series or find out how we can help you with your hiring, get in touch with Holley via hpotts@welovesalt.com. 
Read more of our agency vs in-house interviews here.