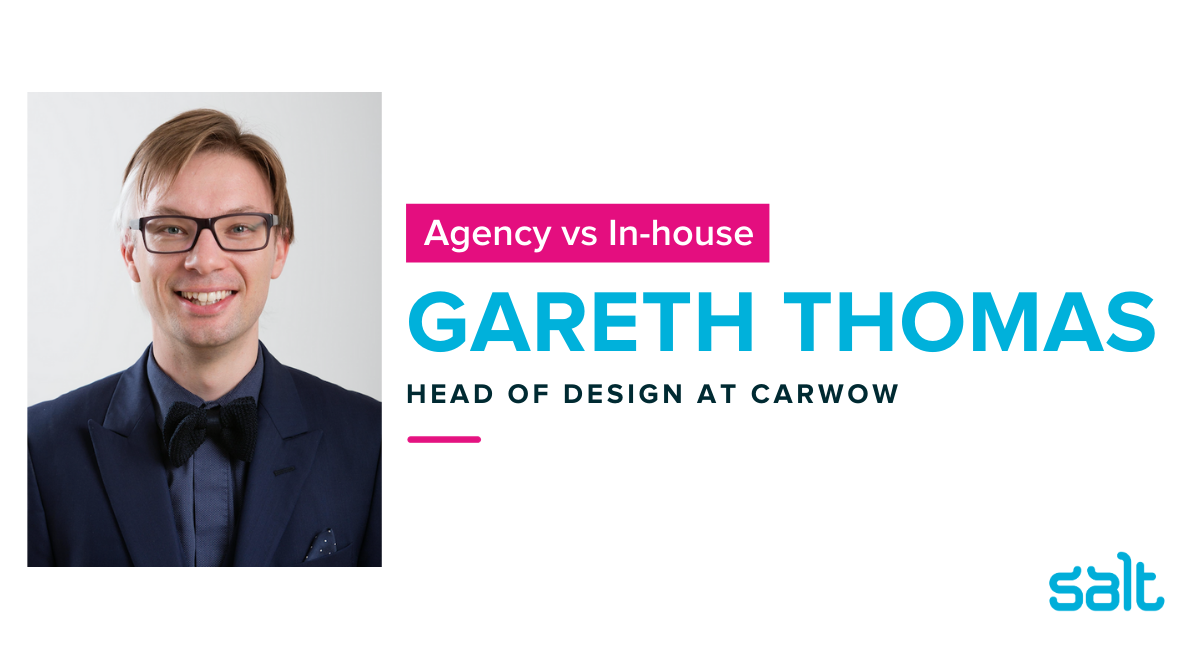 An interview with Peter Gabriel, Head of Brand and Creative at Callsign, about working in agency vs in-house in the Creative industry.
In this 'agency vs in-house' series led by Salt Managing Consultant for Creative, Holley Potts, we speak to customers from all different sectors within the world of digital to answer the age-old question – agency or in-house? This series is designed to give you a snapshot of creative career journeys and insights into what is currently happening in their businesses. Over to Holley… 
I am kicking off this interview with Peter Gabriel, the Head of Brand & Creative at Callsign. I learned a lot from talking to Peter, someone who has had a taster of both sides of the pond across agency and in-house life and it was fascinating to hear his journey.  
Introducing Peter Gabriel, Head of Brand and Creative at CallSign 
Holley: Wonderful to have you here Peter, let's start start with your story of how you have arrived in-house at Callsign… 
Peter: I really cut my teeth in 2005 when the web was exploding. I learned to code at an early age and was thrown into the deep end by starting to develop websites, and from there started running studios in digital departments at various agencies, to then setting up on my own. It wasn't until I was talking to a friend that he introduced me to Callsign. Starting as employee number 24 to us now being 200 employees globally, I have shaped and steered our brand's direction for the last 5 years. It's been a great journey seeing it grow into a global company. 
Holley: That must have been such an incredible journey seeing Callsign right from the beginning to where you are now, you are one of the originals! Where there any surprises at all when you transitioned from agency into in-house? 
Peter: Naturally being my first in-house role, there were elements that I needed to adjust myself to, what with the pace change and the amount of control to be had. However, I was wonderfully surprised by a better work-life balance being in-house at Callsign. Instead of juggling clients and projects, I could focus on making one good brand. It felt like a more holistic way of designing.   
Holley: Indeed that is definitely a notion that I hear a lot from designers is that you have more focus on one area and can really build out the brand, and a better work life balance is always a favourable bonus too! Especially in this climate we are in now. Whilst working on one brand in-house, do you find that you need to be more multi-disciplined in skill sets from a designers perspective? 
Peter: Whilst you may work on one brand being in-house, I have found there seems to be the need for upskilling in many different areas of design for a designer these days, to be able to lend their hand to many platforms. This came quite naturally for me, with a background coming initially as an art director to leaping into digital and morphing into brand whilst now really pushing forward motion graphics and video work. I feel being a multifaceted designer keeps you fresh as you are moving across those transitions. I feel hybrids are the best ways to get as many creative ideas on a project as possible, when someone understands not just one facet but it as a whole. I would look for a hybrid over a specialist any day as they are the key to getting on in-house and in tech land. 
Holley: Brilliantly put. Indeed being able to lend your hand to multiple projects by being more integrated can definitely lend itself to better performance, even if it's just speaking the same language as the other teams can lend great value.  
After this wonderful path you have taken, and everything you have learned, how would you sum yourself up in today's world? 
Peter: I am primarily a brand guy. I create brands big and small and adore brand guidelines. I love writing rules and then breaking them! I am someone who loves getting my hands dirty designing UI in Sketch, or editing video in Premier and am never without a pencil wherever I go. All ideas start on paper and then explode from there. 
So, there we have it, a sweet nugget of insight into Peter's world of agency and in-house. For now, it seems Peter is sticking to in-house! Stay tuned for more interviews, coming your way. 
Stay tuned for more interviews, coming your way. If you would like to find out more about the series or find out how to hire creative talent, get in touch with Holley via hpotts@welovesalt.com.
Read more of our agency vs in-house interviews here.