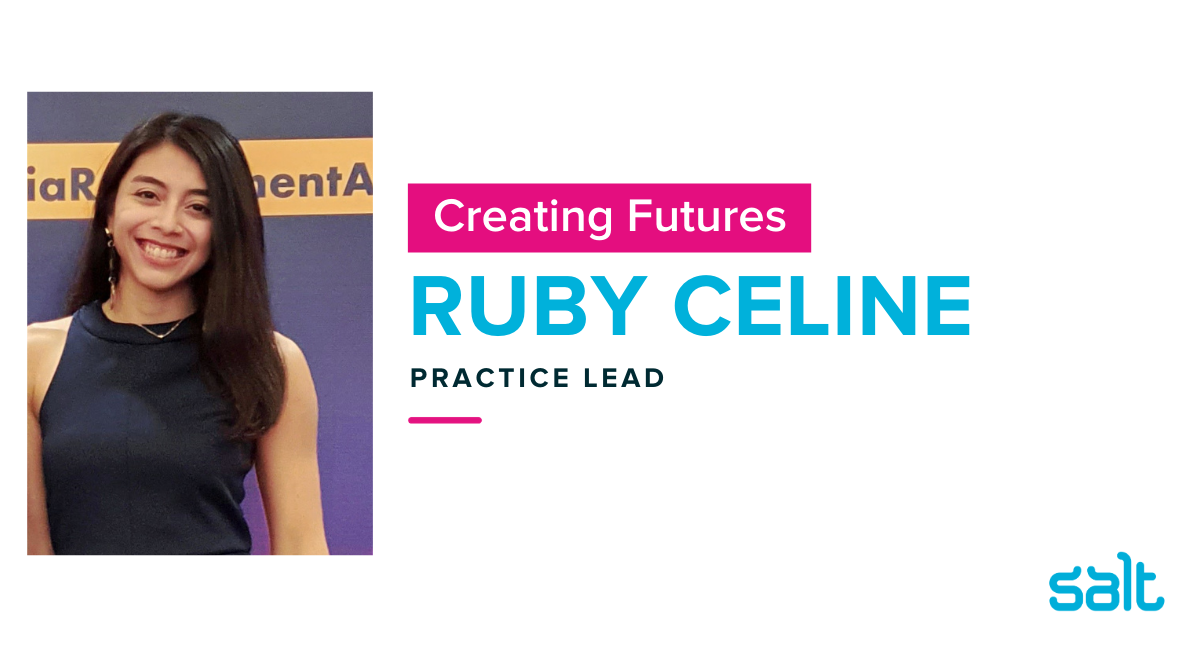 We caught up with Ruby Celine, Practice Lead from our Kuala Lumpur office, to talk about creating futures and the evolution of her career from a PR Consultant to a Recruitment Manager.
What did your life look like before Salt?
Wow that seems like ages ago now! I was a PR Consultant before I became a recruiter. Naturally with a communications degree, I figured an agency would be the best place to start my career. I'd get to be creative with different brands while learning the ropes. The trajectory I had in mind was to embrace agency life for a few years, then move into corporate communications or an in-house role. But, then I met Salt!
What led you to recruitment?
I honestly think it was happenstance. I've always been curious about recruitment but never seriously considered pursuing it. After three years with a boutique PR agency, I was at a crossroads. I approached Salt as a candidate looking to explore PR opportunities and that's when it all happened. I guess it was the right opportunity at the right time. Salt so happened to have been looking for a consultant to take on the PR/Communications specialisation — what were the odds! It was definitely a penny drop moment and now here I am celebrating my 4th Salt anniversary this month!
How has your background shaped your role in this position?
What excites me about a job is the opportunity to consult, guide decisions and help others. That's essentially what I do on a daily basis here. I didn't realise this right away, but being a recruiter combines all the experiences I've had. So, whilst I wasn't expecting to switch lanes when I did, it makes so much sense now. I've always been drawn to sales and service-oriented roles. After graduating in Perth, I accepted a job as a Sales Consultant and did that for two years just for the experience. I remember being thrown in to lead a brand new sales team early on too, which definitely stretched me, but I reckon it's shaped my perspective as a manager today and taught me how to problem solve.
What skills in your career have helped you as a consultant?
Interpersonal skills for sure. Sounds elementary but being a consultant takes practice. We're constantly engaging, negotiating, positioning, and advising — it's our job to create the best client and candidate experience. I also think we need serious marketing skills. Everyone's striving for an edge. Everyone has a compelling story to tell so how we tell ours needs to resonate and be relevant. I don't know if this is considered a skill, but I believe in GRIT. We deal with multiple moving parts on a daily basis; changing expectations, timelines, personal targets, people and their aspirations. As a recruiter you learn to juggle, and you have to love the chase!
What do you find fascinating about your job?
The idea of creating a future for someone is fascinating. I honestly think I've learned more life lessons as a recruiter than I've learned in any other job. Plus, you're often involved in recruiting for more than one sector, so you get a glimpse of how different businesses operate. That's invaluable.
What challenges do you frequently face in your position?
Handling objections is part and parcel of the job. We have to be okay with that, and know how to find a balance between expectations and what is realistically achievable. What makes recruitment such a delicate process is there's always a risk when we're dealing with people, and we have to be absolutely on top of everything from start to end. As we know, our success rides on our ability to find the right people for the right jobs but ultimately we don't make the final call.
How do you continue to build your expertise and stay connected?
Social media aside, I enjoy speaking to people in the field. I always step away enlightened whether I'm speaking to an associate or business leader. That's when I really get to understand things inside out and it gives me better perspective for when I'm interviewing the next person, taking a job brief or making a recommendation.
How do you juggle both clients' and candidates' expectations?
It really starts from the first interaction — making sure I take the time to fully understand the needs on both sides — and then it's about keeping the communication lines open for regular feedback and temperature checks. What we don't want are surprises along the way, and we like to get to a point where we're able to operate as a partner because finding the right skills for the job isn't the hard part. It's figuring out whether someone would fit and thrive in the culture.
What advice would you give someone who wants to be a consultant?
Be curious and never make assumptions. It's really helped me in my role to anticipate, prepare and ask lots of questions.
Quality over quantity always! Recruitment is an honest craft — put in the work, do the right thing and you'll be amazed at how rewarding it can be.
We talk a lot about empathy towards others. We should equally always remember to be patient with ourselves.
How does it feel to win the Recruiter of the Year (Individual) (Bronze) award at the Asia Recruitment Awards 2020 by Human Resources Online?
That came as a pleasant surprise and I have the team to thank for it. This has been a period to reflect and recollect and I must say, it came at a good time. 2020 has given me so much to be thankful for.
 
---
Are you an employer who needs some help with hiring digital talent? Visit our Employer page to submit a short brief and we'll be in touch shortly.
Looking for a new Marketing job? Check out our current opportunities on our job page.
For more information or advice on hiring digital talent, get in touch with the team today at contact@welovesalt.com.