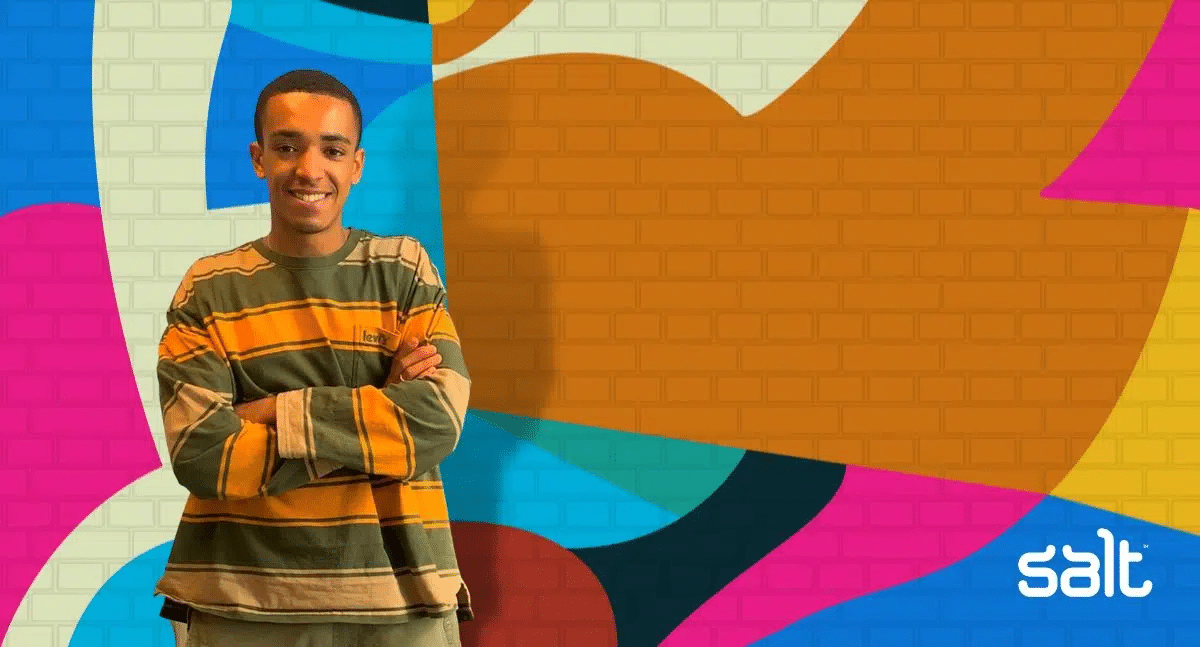 Introducing Jacob
Jacob Nomafo is the Social Media Manager for 10,000 Black Interns: managing all things social and everything to do with marketing.
10,000 Black Interns is a charity aiming to transform the prospects of young Black people in the United Kingdom with paid work experience and internships across 24 sectors of industry. They also provide world-class training and development on their website to support career and personal progression.
How would you describe what you do with 10,000 Black Interns?
Packaging information in a digestible and engaging way.
A common issue is barriers to entry and often that comes in the form of communication. Lots of my role is about forming bridges between different stakeholders, whether it's between firms and interns, or potential firms in the spaces we're working. I take what they want to say, and package it in a way that I know our audience will understand so it will resonate with them.
I personally have a bad habit of communicating in analogies. I like to visualize what piece of information needs to be received by the audience, and then use that as a final goal and kind of reverse engineer to that point.
There's lots of great social media accounts out there and you've mentioned Duolingo is one of your favorites. What do you think success looks like on social?
Duolingo is definitely one of my favorites. They're killing it and I think their success has come from creative freedom.
It's clear that the people running the accounts are very in tune to what resonates with people on social media. For example, KSI commented on one of their TikToks, and they came back with an off the cuff response basically roasting KSI – which got something like 150k likes!
I'd say success is giving those people the creative freedom to do those things without thinking about it too much. The freedom to go against the grain and to stick out. It's easier said than done.
Personally, the content that has performed the best I've always been quote unquote scared to post.
And I think that's a reflection of the fact that it's not doing something that people expect. You can't just put it into one box. People notice what stands out, and then hopefully other people follow the sentiment behind it.
Do you have any thoughts about how to build creative freedom for a social team strategy wise?
I'd say trust the people in the trenches as much as possible, and if that's not possible then put the foundations in place so you can build up to that point.
It doesn't matter how big your company is or if you're the CEO, you want to have some sort of control over your brand. But I think it's very easy to overlook the nuances of the platform that the people on the ground see. The tiny changes from day to day that, whether they know it or not, build into their content.
Learn to build trust in your team: give them a very high-level view of what you'd like to be achieved and then let them go for it.
Periodic check ins can make sure that you're on the same page, but it's important to kind of let them just let them fly. It's like me sitting café and giving directions to a spaceship going to the moon. I don't know much about space. I'm not in the mix. It makes more sense to let the people on the spaceship do their thing.
Do you find that there's a kind of balance to be struck between building that trust and agility with the people in the trenches but also having limited time as a lean team?
I'd say us being a lean team kind of plays into what we're doing. We're doing something very different to most other initiatives, placing many more interns annually.
Having a small team to some extent keeps us on our toes.
No one day is the same, and us learning as we grow (whether it's using a certain type of ad or trialing different platforms) has definitely paid into us being more agile. Not having as much time means that we have to focus more on what to focus on, what matters more.
You mentioned testing tools to help with your processes. Is there a tool that you're using that you found that you like?
From a social media perspective, I found that there are just so many tools that people don't know about. There are tons.
One of the ones that I really like, is a website called Copy.ai. Basically, you can put in some ideas and it just spits out things relative to your inputs. That really helps in the brainstorming process for content, and for wording that hard hitting first line.
You started working with 10,000 Black Interns in your fourth year of University. How did that come about?
I kind of I fell into it. The pandemic hit, and obviously, everything went on with George Floyd and the ramifications of that by way of Black Lives Matter. People were waking up to discrimination against Black people.
I'd just been on a year abroad in Barcelona, and I came back with two days' notice to lock down here. I'd been trading for a while, and I basically decided to double down to keep myself occupied with all that free time.
In the process I started building out my strategy and getting it down on paper. At the time, I really wanted to go into asset management. I ended up sending my strategies to Jonathan Sorrell, one of the cofounders, through a connection of mine.
And he said, Yeah, they're great, we're also launching an initiative for 100 Black Interns in asset management. Do you know anything about marketing?
I said I'd worked for Redbull at University as one of those people that drive around with the cars on the cans on the back. He asked me to help with the social media for launching this initiative.
We had 7 days to launch. The press run hit the Monday after I started.
I was thrown in on the deep end. I remember getting up at 4:30 am to prep those first posts for the morning. And then throughout, I was just typing, typing typing, the whole day. And yet, within a week, we had 200 internships to offer. And then within about a month to 2 months, we hit 10,000 as we expanded across 24 sectors.
From that first day it was really all systems go. And it just kept on growing and growing. Luckily, that's provided the grounds for me to grow as the initiative has grown, speak to different people with tons of different experiences. It's been brilliant. I love it.
Tell us about 10000 Black Interns' upcoming campaign and how that may be is different as an experience of that first campaign in your first seven days with the organization.
We will be opening applications again in September for 2000 positions across 24+ sectors. With so many internships available, we have to reach further afield.
There are a number of people already kind of engaged in this world, the sorts of people that constantly check job boards for internships and are often on LinkedIn. When we launched 100 Black Interns, it was kind of preaching to the choir and getting them on board. That first year, it was almost entirely organic.
The main difference between and what will happen this year is that we need to reach people further afield, who wouldn't maybe consider an internship at all.
We need to reach people that think that they there isn't a seat at the table for them.
Now that we've had all these interns go through the program, that is starting to change organically. They might have a friend that's just done an internship or hear about the program from someone who's done it. But we'll also be using influencers, be running ads, heavily on TikTok, and doing campus activations.
2000 positions will be open for applications from September to November this year.
Find out more here.
These places are open to anyone over 18, either on their gap year or having graduated from any level of University course since 2019, with Black heritage.
You've mentioned that your experiences with real people shape how you craft your online content. Do you have any tips for someone starting out in social and building that skill set from scratch?
I'll keep it simple: Observe, observe, observe, observe.
If 3 people from different parts of your life come to you with something, it's clearly a topic in circulation. A lot of that work has been done for you. The fire has been built – find some kindling and throw it on.
For example, everyone was talking about the Tinder Swindler when it came out. I also saw it everywhere on my timeline.
I asked myself, how can I take this concept and make it my own? How can I frame it to convey the message that I want to convey?
The groundwork has already been done with the concept behind the show – so I was able to spin a meme about enemies coming to find you into a joke about companies not paying their interns and all being a scam. So it's not too far away from the idea, but bringing it into our world.

See the post here!
Is there a moment that you're really proud of in your work for 10,000 Black interns?
It was actually an in-person event, which caught me very off guard at the time. We all got an email from Downing Street about a Black History Month event, inviting 30 interns and 20 Black entrepreneurs. 2 days later, we're all at Downing Street, which obviously I was quite taken aback by that, especially a year into the program.
Yeah, it kind of hit me then. Being in that room was the first time we'd seen some of the interns and they were coming up and thanking us for our work. Hearing about how maybe they couldn't find an internship before finding us and how their trajectory has changed being involved in the program was seeing the impact we were making in the flesh. We also had our first event two weeks ago at the Landmark Hotel in London, and we had 500 plus people there, 400 of them interns, some from last year, some just starting on their internships.
So, yeah, I'd say proudest moments are definitely meeting the people that were helping.