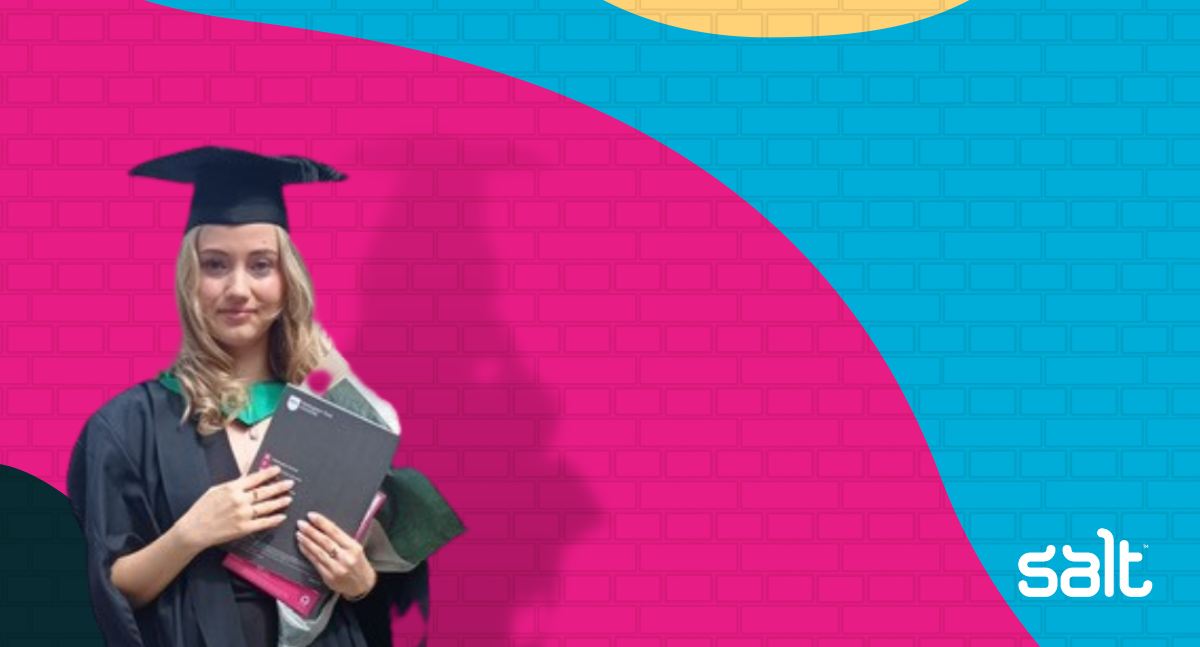 You already have 50% of the skills you need for a Technology role. Soft skills like communication are crucial to Tech employers. Learn how Code First Girls provides opportunities to build a foundation and technical skills for free for women of all backgrounds, and how Lara-Michelle Noack graduated from their degree to secure her first role in Tech with Capital One.
Lara-Michelle Noack is a Cloud Infrastructure Engineer for Capital One, as well as a Code First Girls ambassador! She is documenting her journey in her first role in Technology on her Instagram account Regular Coder Girl to inspire more women and girls to follow in her first steps and train for free with Code First Girls.
Code First Girls has taught 100,000 women to code. They are an organization that provides girls, women and non-binary people with free coding training and development. Their degree program pairs partner companies with outstanding female talent, so they can invest in their education and gain diverse, outstanding female talent, either as graduates or as they move from other roles and industries. Learn more about Code First Girl's courses here.
Introducing Lara-Michelle
Hi, my name is Lara-Michelle and I am a Code First Girls ambassador. Thanks to Code First Girls I just got to start my first job at Capital One. I'm 22 years old and I actually did a degree in Psychology with Criminology at Nottingham Trent University.
How would you describe what you?
I work in cloud infrastructure, which mainly involves working with the whole of Tech and the wider business to create tools to solve problems, so the Development teams don't have to. So, just making sure that all the components are in place and everything runs smoothly.
I am also a Code First Girls ambassador, and I am advocating for more women going into Tech no matter their background. I use my Instagram just to document my journey a little bit, and make it into a visual medium people can have a look at.
My account is called Regular Coder Girl – and I'm promoting courses, sharing advice about which course might be right for you and what they entail… I'll continue documenting my own journey and milestones, and sharing how you can get started as well as stay in Tech!
What were your first impressions of the tech industry coming in as a graduate?
So, my first impression was that there were a lot of very brilliant people. Everyone I'm working with is just so smart and they just have the most diverse background, to be fair. So that actually really surprised me because I did actually think everyone did have a computer science degree, but it's probably 50/50!
Employers nowadays actually really like you having more of a different background because you bring different skills and different perspectives to the Tech industry.
So, that was actually my first impression, how different everyone was and how brilliant they were!
What inspired you to start your journey into Tech?
I always liked computers but somehow computer science was never really an option. Like it was always the boys in the class going into computer science degrees, becoming software engineers. I wasn't the best at Math and I didn't have the best A levels, so for me it just never seemed like an option.
Then during lockdown doing my Psychology with Criminology degree, I started doing coding courses with Code First Girls. First, I did the Python one, and that gave me a nice foundation and I really liked it. So, I signed up for the next Kickstarter course about half a year later.
I did actually really like Psychology. But basically, I was offered a job as a healthcare assistant. And when I saw the hours and the shift pattern, it was just crazy.
So, I applied for the Code First Girls degree, just to see if I could do it and if a company would like me working for them. I was offered a placement on the course and a job with Capital One.
Just having that work life balance and all the factors that are involved in this, like being able to travel, being able to have good hours, and then also the job aspects, like being able to learn every day and work with the newest technologies, I think it was like a lot of factors that actually inspired me to go into.
What's the difference between the Code First Girls Kickstarter Python course and the actual Code First Girls degree?
So, the Python course compared to the degree is eight weeks long and you have two hours every week. It's really much more about learning the basics and building a foundation.
The degree is actually a 14 week course, with classes from Monday to Thursday. The first three weeks they build a foundation where you basically learn all the basics of what you need to work in Tech.
You basically apply for a job and then the company picks which pathway is the best after that. So you learn the basics, then a specialization, which teaches you more role specific and pathway specific skills.
In your first role in Tech with Capital One, have there been any challenges that have surprised you?
Coming from Uni, you don't really have that work life balance.
At the start of Uni, you don't have anything to do, so it's all life. Then, you come to your deadlines, your dissertation, and it's all work!
I'm someone who always wants to work really hard and do extra hours. But, when I came into Capital One, it was such a challenge to actually close the laptop at five and not work longer.
But a person taught me that your career is a marathon and not a sprint, and that they don't want you to burn out in your first two years.
It was a challenge accepting that. Thinking: Okay. I will have to work these hours every day. And it's not just work now and then not later. It's not like university. It's like a marathon.
There's one more thing I found challenging, which a lot of women can get behind. You just see all these brilliant people and sometimes when you're not from the same background, it can seem like a little bit of a challenge because you sometimes just ask yourself why I am here?
It was a challenge at the start to get past that. It was definitely a learning curve to see like, okay, they have different backgrounds, I have a different background, and we are all here for a reason.
Listen to our interview with Lara-Michelle on our podcast – Creating Futures by Salt
What would your dream role be in Tech?
I would love to work in cybersecurity. I think it is a very exciting field to work in, and it would sort of combine what I did as a degree: psychology, criminology, and my passion for technology. It sounds very fascinating and very fast paced and there would always different problems to solve.
What would your advice be to other graduates hoping to secure their first job in tech?
First of all, your soft skills are super important for employers.
You might feel like an imposter at the start, but the most important skills, like communication and problem solving, are actually what employees look for. You might have doubts going into a new discipline that you've never worked in, but in the end of the day, you already have a lot of skills that are essential.
Your different background could possibly be your best strength because your company will be waiting for you to see it from a different perspective, and maybe ask questions no one else has asked or see something no one else has.
Once you're hired, I would definitely advise you to start a journal and write down one thing you learn every day.
At the start you won't close a lot of tickets. You won't contribute as much. Sometimes that can really bug you. But if you write down one thing, one new thing, you learn every day and then you look back you realise how much you've learned and that you've learned every day!
What would you say is important for hiring managers and employers to consider if they want to diversify their workforce in Tech?
So, from my experience, I had an interview before Capital One. I had an interview with a different company at the start of the year, and they made me feel really unwelcome. A really important thing for hiring managers to make sure that you create a very welcoming and relatable interview atmosphere.
It's not just you interviewing the candidate, it's also the candidate interviewing you.
After that interview, I was thinking that I didn't want to work for the company but it actually made me question if Tech if is even the way for me, because of the way they made me feel like I didn't know the answers to tech specific topics.
I obviously do have a passion for technology, but I was just someone coming out of uni wanting to change where I was going, so it wasn't the time to make me feel like I didn't know enough.
One way of making sure that you create a very welcoming interview panel is diversity. Maybe bring in a woman or someone without the usual background.
My interview with Capital One was very welcoming. It was very nice. I felt like I fit right in. Honestly, after the interviews I did, I wouldn't have worked anywhere else because they made me feel like I was in the right place and I was going into the right company.
What would be some career advice you wish you'd heard at the beginning of your education?
Probably that I don't have to end up in the career that my degree set me up for – because I always thought that psychology would be the only way.
Don't get me wrong, psychology is an amazing area! But I couldn't see myself in any of the paths.
So yeah, just that tech is an option even if you're not from that background.
I'm still at the start of my career, but my advice for your career is to remember that it's a marathon, not a sprint. Don't burn yourself out at the start.
What is the biggest learning moment for you so far – outside of Code First Girls?
So I'm pretty sure it was one of the conversations I had with my manager.
I was talking to him and I was just saying how I don't feel like I'm contributing, and he is absolutely amazing.
He said 50% is your technical skills and 50% is how you work in a team and your soft skills, and that I already have 50% of the skills that it takes to work in Tech.
I was very relieved after that meeting just because it changed everything completely.
Technical skill is not everything. You're working with a team of people and from what I've experienced so far, there are way more meetings than I've expected, and it's just way more soft skills than just sitting in front of a computer and writing code. So, that was something that really made an impact and it really calm me down.
What did you want to be when you were growing up?
So I had two main jobs I really wanted to do. I think until I was 12 I probably wanted to become a designer. And then from 12 upwards I wanted to be a psychologist.
I did end up going down to psychology route for a little while. But there's so many different areas in tech. If you are super creative you could go into front end development, make websites or mobile developments. You can work in software engineering and directly work with a customer. There's cyber security, there's so many different options within technology. There's not just one area. There's not just software engineering.
There's so many areas that could definitely fit more than just you wanting to problem solve and be involved with computers.
Listen to our interview with Lara-Michelle on our podcast – Creating Futures by Salt
Ready to take on a new role? Find your dream job with Salt
Work with recruitment experts to secure exciting opportunities across Consulting, Creative, HR, Marketing, Sales, and Technology sectors.
To shape your future with Salt, upload your CV or get in touch with our teams!
Check out our open roles!
Take a look at the jobs we have available around the world:
Keep up with Salt's career advice to help you on your job search! You can stay in the loop by following us on LinkedIn, YouTube, Facebook, Instagram, Twitter and Spotify.