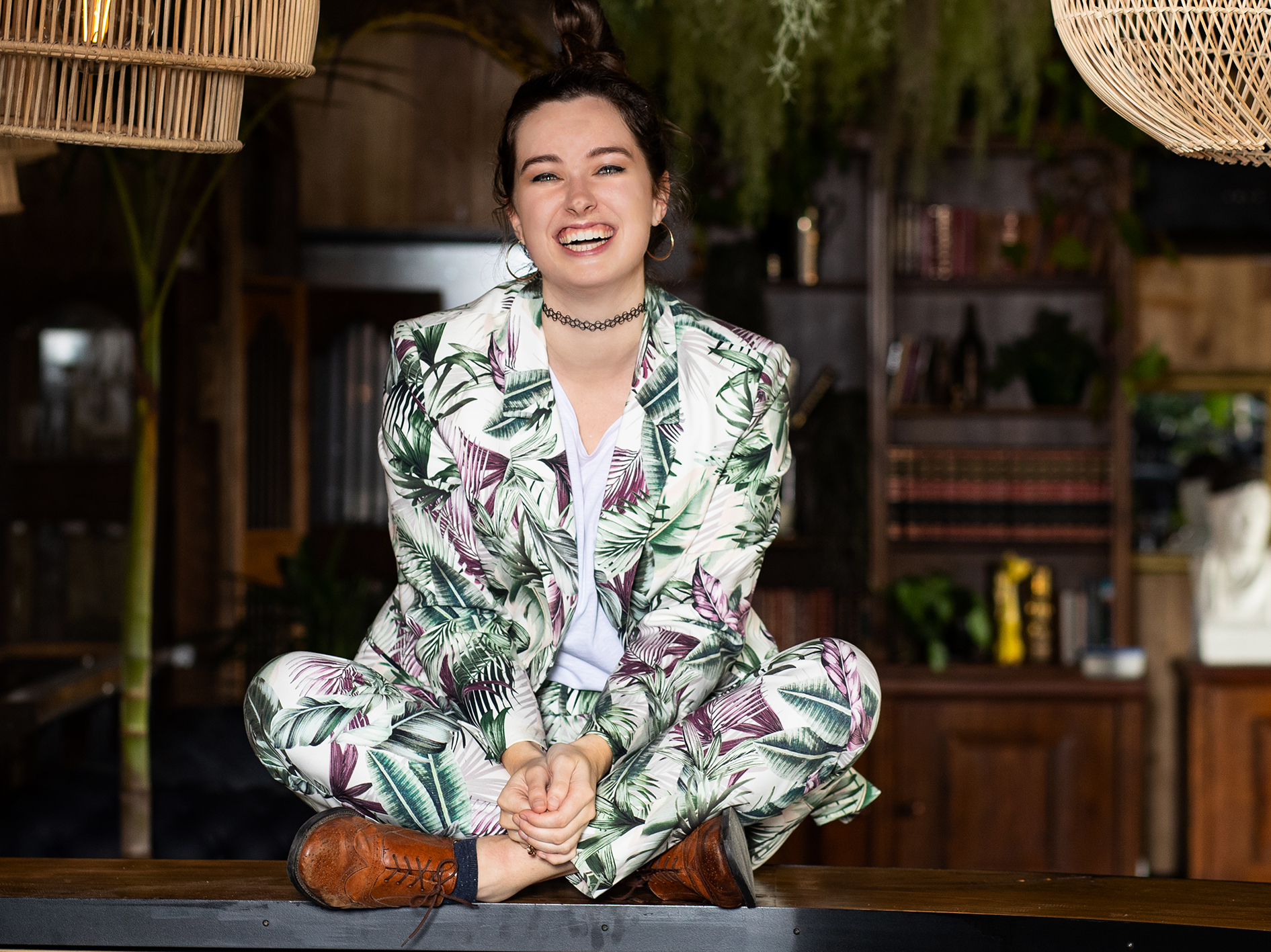 In our latest edition of Salt's Women in Tech series, we caught up with Alexandria Procter, co-founder and CEO of DigsConnect, Africa's largest student accommodation platform. Alexandria started DigsConnect while she was a Student Representative Council member at the University of Cape Town after landlords would contact her to ask how they could advertise their spare rooms to students. Thus, the idea for the brand was born and has grown to become the largest provider of accommodation for students in Africa, helping students connect with potential housemates and rooms, centralizing all types of 'digs' in one place and helping to ensure no student is homeless.
We speak to Alexandria on her thoughts about succeeding in a start-up, her journey to become co-founder and CEO and her advice on how valuing equality, a belief in loving what you do and creating a great environment for your team can make a productive and effective business.
Tell us more about your journey and how the idea for DigsConnect came about?
I was born in Port Elizabeth, and I attended boarding school in Grahamstown. I finished school at 17, spent a year travelling solo throughout India, South East Asia, the USA, South America and the UK and then returned to South Africa and started at the University of Cape Town where I studied a Bachelor of Science.
During my undergraduate degree, when I was a student leader on the Student Representative Council at the University of Cape Town, I was dealing first-hand with hundreds of students looking to me for help in finding student accommodation. Landlords would call me and say they had spare rooms, vacancies, beds to fill and wanted to know how to advertise these rooms to the students. Thus, DigsConnect was born, as an online marketplace to match up sellers (landlords) with buyers (students).
Landlords, estate agents and property managers post their property listings on DigsConnect.com. These digs listings are everything from a room in an apartment to a house, granny flat, or entire private res with thousands of beds. Students can search and filter through these listings to find accommodation that suits their needs. Students can also find other students to live with on DigsConnect.com. That's the core of what we do – we centralize all types of student accommodation in one place so that if you're coming from PE and going to Wits, you can just go onto DigsConnect.com to find the perfect digs close to your campus, book it, match up and meet your roommate – all before even leaving home!
Other than that, I'm getting my PPL (private pilot's licence) at Stellenbosch Flying Club, and I'm a member of Mensa. I used to be fairly politically active, partaking in a political training programme and running politically aligned projects, and I had anticipated a life in the public sector. However, since DigsConnect's growth, I've been hyper-focused on this company and entrepreneurship. I enjoy being active – so I gym, do trail-running, play tennis and hike (I've summited Kilimanjaro, hiked the Inca Trail and trekked to Mount Everest Base Camp).
What would you say is the most exciting part of your work?
Firstly, what comes to mind with this question is just the thrill of suddenly finding yourself aboard a rocketship. Our growth has been explosive, sometimes more than I knew how to handle (we had to hire fast and bring on a lot of advisors), but it's been totally thrilling. It's such an incredible privilege being in a position to help the tens of thousands of students and landlords that are coming to us. It's so cool realising that a small, young group of people can build a solution that solves a real-life problem people are facing, and have that solution be embraced.
I've come to realise that what this platform has become is more than I ever dreamed about in those early days in the Steve Biko Building on UCT's Upper Campus (that's where the SRC offices are). It's a massive sense of achievement when we realise that we've begun to enable access to higher education that has been so elusive for so many students, both in South Africa and across the rest of Africa.
My role with the company has changed so much over time, with some responsibilities being taken away, and others added as we grow the team and expand our operations and national footprint. I've had to learn a lot about finance and financial modelling, which sounded boring from the outside, but has become something that I not only love but am now obsessed with. It sounds obvious to say, but the business is built on the business model, and if you have that right everything else will follow – the product, the UI / UX, the operational flows and sales pipelines, the branding and marketing etc. Every one of those aspects is super exciting, but I'm also learning the importance of delegating because it is quite literally impossible to do everything yourself.
I've also come to love the internal dynamics – company culture doesn't just happen once you reach a certain size, it's something that needs to be cultivated and I've loved growing into that role. I've been calling it "management 2.0" because "management" just sounds so corporate and yuck. I want to have a fresher approach to managing the team, where everyone has the highest level of responsibility, everyone is buying into the company strategy and deciding/debating it together, and everyone is just treated as an adult (which weirdly enough doesn't seem to be the norm!). We hire smart, talented people, so it just makes sense to harness that resource across all the levels of the business. Seeing the power and scope of possibilities that can be achieved by a highly-motivated team is mind-blowing. With the right people, you can do anything.
What has been your most career-defining moment?
It's been an incredible process building the business and using technology to bring people together, to form communities so that no student feels isolated. We speak often of the fourth industrial revolution in South Africa, and we are of the firm conviction that the power to bring this about lies not in the hands of the government, but in the hands of young, ordinary South Africans that can build the solutions they and their fellow citizens need.
But specifically – so many things. Every day I'm proud of what our team is achieving. Every day is a little celebration for us. Obviously, there are milestones – reaching 70,000 beds, raising R12,000,000 in a seed round (one of the largest in South Africa to date), partnering with some incredible universities and schools, launching in new locations – all that is amazing, but every day, every step we take is important. Every new student sign-up, every returning landlord, every line of code and app download. We celebrate all of it.
One story that comes to mind here is of Grace, a Zimbabwean student who attends UCT. Every year, Grace would struggle to get her student visa, because she couldn't get a visa without a signed lease proving that she had accommodation. Before DigsConnect, there was no decentralised platform with a trusted third-party accreditation system, so having to pay the deposit to secure the room to a random "landlord" she had never met before was a stressful and unpleasant experience, resulting in fraudsters trying to con her out of deposits with fake properties, and always having delays with getting her student visa.
This year, she found accommodation on DigsConnect that our team had vetted, and with peace of mind paid her deposit, securing her visa in time to make it back for the start of the academic year. For Grace, and the thousands of foreign students coming to study in South Africa every year, life just got a little bit better.
Is there one piece of advice you wish someone gave you at the start of your career?
Don't wait for your life to start. It's already started. Whatever you're waiting to do – do it now. Right now. This very second. There's no time to lose. Do not wait for the "right" situation, and do not wait for the "right" person to do that thing you keep thinking or talking about. In whatever capacity you have right now, begin. Whatever place you need to go, go now. And then when you falter or stop, pick yourself up and keep going. And keep going. Begin again a thousand times if you must, but never stop.
Do you think that we should try to encourage more girls to consider a career in tech?
This is an interesting question, and to be honest I'm not sure I'm the right person to answer it. I consider myself fairly libertarian and don't like prescribing how others should behave, think or what they should choose for themselves. My only request is that everyone must think for themselves and that they should always be highly, highly critical of anyone espousing to have "the big solution" or "the ultimate answer". I think you can only ever share what worked for you in what context, and believe that it's very presumptuous to believe that that will apply to other people as well.
That being said, I do understand that there are historical and current forces that rob people of the ability to think for themselves or make their own choices. These can be as blatant as laws in some countries banning women from certain sectors, to discrepancies in pay, to subtle forces in the media and society portraying "masculine" and "feminine" roles and discrediting female career success. I also think that people often model their lives and ambitions on what they deem possible, and they judge what they deem possible by what they see happening in the world around them. If girls keep looking for role models in the tech space that look like them but don't see, they could believe that the tech space isn't for them.
But to counter that point, I vehemently oppose quotas and the ideology of representation based on physical features, believing that ideas and principles should unite people (i.e. things you can control), not arbitrary physical factors that you are just born with and cannot control. "Representationism" and discrimination are two sides of the same coin.
So, the only thing I'd say here is doing whatever you possibly can to create a space where girls can think for themselves, be presented with all the unbiased facts, remove the stigma of being true to themselves and prize individuality and hard work.
What challenges have you faced in the workplace, especially your experience of male-dominated environments?
Starting and running a start-up requires true grit. The resistance to change in the world is almost visceral, and it requires endless persistence to affect change. You have to go and keeping going and then go some more. It takes a long time to feel like you're getting anywhere, and it's lonely at times.
There have been some really tough moments; feature failures, cashflow crises and sometimes it's easy to be plagued with doubt. We all work insane hours (generally only leaving the office after 9pm), we all put every spare penny into this and we're more than a little obsessed with building a truly remarkable product and experience to the degree that it consumes all of our lives. And I guess the key part to all of this is the "we" I'm now speaking about. Before Greg and Brendan joined the team, I was trying to figure this all out by myself and it was insanely difficult. I was building the product, pushing growth, learning about fundamental business practices, and trying to keep myself inspired. DigsConnect.com only works because we have an incredible team now. We have a really strong bond as a team and superb working relationships. I honestly believe that what makes a company great is the people behind it. The people that put their time and their lives into envisioning a better future, a better way of doing things and then building that future.
On the male-dominated environment – this kind of goes with my previous answer about not being particularly concerned with male / female dynamics and being a staunch believer in meritocracy. If you can do the work, and you can do it well, and you believe in hard work, then we'll get on. If you don't – then we won't. It doesn't matter what you look like, it matters what you do. The people I've surrounded myself with at the company, our clients, our investors all believe the same thing. We believe in competence, and that trumps discriminatory factors.
I don't think any of the issues I've faced have been tied to my gender, but just the general hardships that all young entrepreneurs face. Myself and my male cofounders have had the same issues and dealt with them as a team. If anything, I feel somewhat advantaged because women in business and female tech groups have all gone over and beyond to help me, include me, support me along the way. It feels like every working woman is every other woman's cheerleader and it's incredible. I feel so wonderfully supported and uplifted by this community. It's certainly something that my male co-founders don't have.
In your opinion, what is the biggest deterrent to women succeeding in the workplace?
I haven't encountered any deterrents to succeeding in the workplace that my male partners haven't also encountered. I may be unqualified to answer this question though because since I started the company, it wasn't like I was joining a workplace that had a "male culture" (if such a thing exists) or anything. It was just me and some friends that all belief in competence, kindness, hard work, self-reliance, humour, fun and equality, and we built our company culture based on that. I think about company culture a lot and I spend a lot of time cultivating our workplace vibe so that it's awesome, fun, upbeat, inclusive and exciting.
Who has been your biggest advocate/mentor and why?
Almost everyone! First and foremost, I have to mention Greg, my cofounder who I first met when I was on the SRC at UCT. He's been my biggest supporter since Day 1. He's my right-hand man, sounding board, sanity-checker, best friend and voice of reason. And of course, Brendan, my other co-founder and best friend, who's die-hard about social justice issues (along with being an excellent developer). We just get each other. I think that's what unites the three of us – the mission here. The mission of DigsConnect is to ensure that no student in South Africa is homeless. This is the cause we're fighting for and making that a reality is what dominates our lives.
Our entire team at DigsConnect is incredible. With their talent and hard work; every day they inspire me to be a better CEO for them. I have to keep raising the bar to keep up with them!
Next, our investors are brilliant! I chat to them daily and their guidance, support, reassurance and cheerleading for our mission, values, company and authentic selves is not only liberating but also enabling. They've given me space and fuel to build something kickass.
I also have to mention my mentor Philip Joubert – he's an endless well of start-up knowledge, experience and skill and has guided me on this start-up journey from the very beginning. He's kept me focused and accountable.
As an employer what infrastructure would you recommend that other companies have in place to develop the best talent?
I always try to live by the adage "do as you would be done by". If I were in anyone else's shoes, how would I want to be treated by me? For our highly talented team, I always ground my thoughts in what sort of an environment and set up would make them feel most empowered, most alive, most excited, most inspired, most happy, healthy, productive and just switched on and thinking.
It's tough getting it right, and requires a lot of vulnerability as a leader, being able to admit to the team sometimes that you're still learning, being able to own it and apologise when you mess up and most importantly have an action plan for how to improve. I believe that it inspires confidence in your team when you're a person of decisive action.
The biggest thing I'd say is giving people the responsibility and space to shine. Everyone at DigsConnect has a lot of autonomy. We don't have any interest in nor the time to micromanage. We align ourselves as a team on the goals and KPIs, and then it's up to you to come up with your game plan for how you're gonna achieve it. Don't understand something; it's up to you to go ask the right people for clarity or help. Don't know the solution to a problem you're facing; it's up to you to figure it out, rise to the occasion, do the research, or put together an internal team to work on it together. One of the best definitions of leadership I ever heard is "leaders create more leaders" and perhaps that sums up DigsConnect's company culture. It's a place where the best will thrive, where everyone is world-class and there's radical self-reliability, openness, vulnerability and most importantly; accountability. I trust every single person in our team to call the shots, make decisions and shine.
How have you found it best to promote and nurture women in the workplace?
I think this carries on from my previous point in that everyone is given the space to be the best they can be. I often find that if you give people the opportunity and resources, they will rise to the occasion and create something extraordinary. I've learnt to never underestimate the potential of human consciousness, the thinking human mind when it's in a space that nurtures free and creative thought. I see it as my mission to create a platform where humans can realise the full potential of what they're capable of. I'm always blown away by the work I see emerging from these situations.
How to get there is very context-specific. Some people need total space and freedom, some need a lot more guidance and support. I think you have to judge each case individually and assess what your team members need to do their work to the best of their ability. Everyone is different and you just need to adapt to support them.
Who is your modern-day hero?
I don't think I have one in particular! I kinda see everyone on the same level, and everyone as a potential teacher or inspiration with a lesson for me, or new perspective to broaden my mind. You don't know what you don't know, so every conversation or interaction holds a lesson. People are always giving you the most incredible gifts if you just keep your eyes open, your mind positive and your heart welcoming. Some people will show you about kindness, about forgiveness, about patience, about perseverance. Every challenge is an opportunity that should be welcomed with gratitude and humility so that you can accept the growth and be happier for it.
Any reading/website you would recommend?
Well, of course, the best website in the world is DigsConnect.com 😉 Haha! But in terms of readings and websites that shaped my thinking – I would always start with the science. Utilizing the scientific method in your rationale and as the foundation of your perception of reality should form the framework through which you interact with the world, people, influences, and everything else!
Learning as much as you can about mathematics, physics and engineering (from science magazines, YouTube channels, online courses, textbooks) is such an exciting journey and always puts everything in perspective. When you start thinking on that level, the smaller, petty, day-to-day trivialities become just that – trivial. It gets you thinking about the Big Picture.
What is your biggest stress reliever?
Firstly – laughing. Nothing is ever as good or as bad as it seems, and having a great sense of humour puts things in perspective and makes the ride a million times more fun. Humour is also a great tool to use when dealing with people and high stakes as it reduces tension immediately, fosters relationships faster, makes people feel more comfortable and most importantly just helps folks enjoy themselves – that's why we're all after all, right – to enjoy our lives and make life more enjoyable for all the other people around us.
Secondly, exercise. I love "dropping into my body" by going to the gym, running, hiking, yoga, tennis, swimming in the sea, spinning, climbing trees and just being active in general! You can't beat your brain chemistry, so give it what it wants! Exercise-induced endorphins are the best!
What was your dream job when growing up?
To become the president of a united Africa and save the world. Literally from grade one, possibly before. Still on the books.
Fun fact about you?
I was the youngest person in the history of my 100-year-old school to go to detention in grade one. I was just 5 years old at the time, and already causing trouble!
Whether you're a student looking for a new place or a housemate, or a landlord or provider who wants to advertise, find out more about Alexandria Procter and the team at DigsConnect on their website.
---
Looking for some more inspirational reads?
Check out more from our Women in Tech interview series and Females in FinTech interviews.