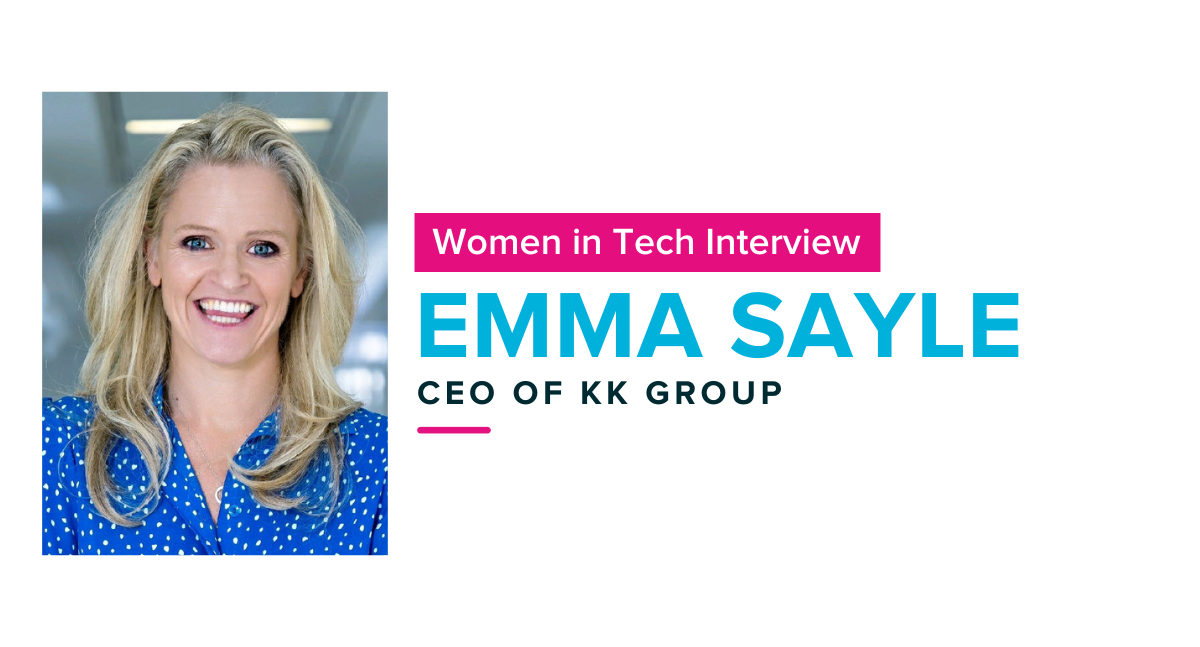 For Salt's latest Women in Tech interview, we caught up with Emma Sayle, CEO of KK Group, which includes mentoring app and platform Sistr. Emma shares more on her proudest moments, building women's confidence up, nurturing women's careers and lots more. 
The Women in Tech #WiT interview series speaks with thought leaders from around the world to get their opinion and advice on how they have grown their career in tech, and overcome challenges and adversity during their career.
What is your current role and the most exciting part of your work?
I am CEO of the KK group, including Sistr and Killing Kittens. Every day is different working at the forefront of women's empowerment as it shifts daily. The most exciting part of my work is seeing the micro changes we make become big society changes.
What do you think we should be doing more of to encourage girls to consider a career in tech?
Start at grassroots level and make it fun to encourage more people to consider a career in Tech, especially by making it relevant to little girl's passions and hobbies. This will show them that Tech covers all aspects of our lives and that we need the way girl's brains work for coding, in order to change the very patriarchal tech coding that exists right now.
What is the biggest deterrent in your opinion to women succeeding in the workplace?
Confidence. The confidence gap within genders is huge and no amount of skill courses will fix this, we need to get down to the core of confidence. That's why the whole ethos off KK Group to our Sistr business is confidence. If you nail that, then you will nail the workplace.
Who has been your biggest advocate/mentor in the workplace and why?
Our members. I have a very tribe work-life mentality. I have tribes in all areas of my life and that allows me to have it all, without them in all the areas I couldn't go at 1000mph doing what I do. There is no one person, just the communities that surround me.
As an employer what recommendation would you give to other companies to develop the best talent?
I see our team as a dysfunctional, eccentric family, you have to see each individual for their strengths and weaknesses and know there is no one set way to build them up. You have to know what works for each person.
I'm a big sports person and have always played competitive sport. If you treat your team like a sports team then you realise that each player has a specific position and part to play within the team and you coach those skills to them.
How do managers best promote and nurture women in the workplace?
Flexibility and trust. Allowing our staff to work from home, juggle childcare, feel comfortable asking to leave early etc. As long as the work gets done, then I'm not into hour counting or having to be in an office.
What has been your most career defining moment that you are proud of?
Leading the charge on women's sexual empowerment and being one of the first women to own that publicly and unashamedly, which then led to helping hundreds of thousands of women find their voices sexually. Probably the most humbling moment was when I first stood back and saw what I had started. With Sistr, we're now tackling the confidence gap that a lot of women experience in other areas of their lives so between KK and Sistr we cover it all, 'from the bedroom to the boardroom.'
What challenges have you faced in the workplace, especially your experience in male-dominated environments?
Even now I am asked who I work for and who my business partner is, with people assuming it's a man that has created my business. Another challenge is not being taken seriously, especially as a woman in the sex space. Funding has been and continues to be tricky, combined with being a mum of three. There is a very male assumption that I can't possibly be working hard if I'm also a mother and therefore how can KK Group be a proper business.
Who is your modern-day hero?
Dolly Parton… She has been since I was little when my mum played her songs in the car. I have songs of hers for so many parts of my life and milestones reached. The stories behind her songs and her own life story from little girl to hugely successful businesswoman and the battles she's had as a woman on all fronts, is just epic. Her faith and optimism are two things that have always driven me.
Any reading/website you would recommend to stay updated?
Brene Brown books and podcasts, Wolfpack by Abby Wambach and Mission. 
What is your biggest stress reliever?
Water or walking. I love being in or on water, we live by the river so I'm in, on or walking by it every day.
Is there one piece of advice you wish somebody gave you at the beginning of your career?
To be unapologetically selfish. You need to look after yourself, before you can look after anyone else.
What job did you dream of when you were a kid – your Plan A career path? 
A Mechanical Engineer.
Fun fact about you?
I'm a total mess, I just don't have time to be tidy – I can't change the world with an immaculate house.
---
Looking for some more inspirational reads?
Check out more from our Women in Tech interview series and Females in FinTech interviews .