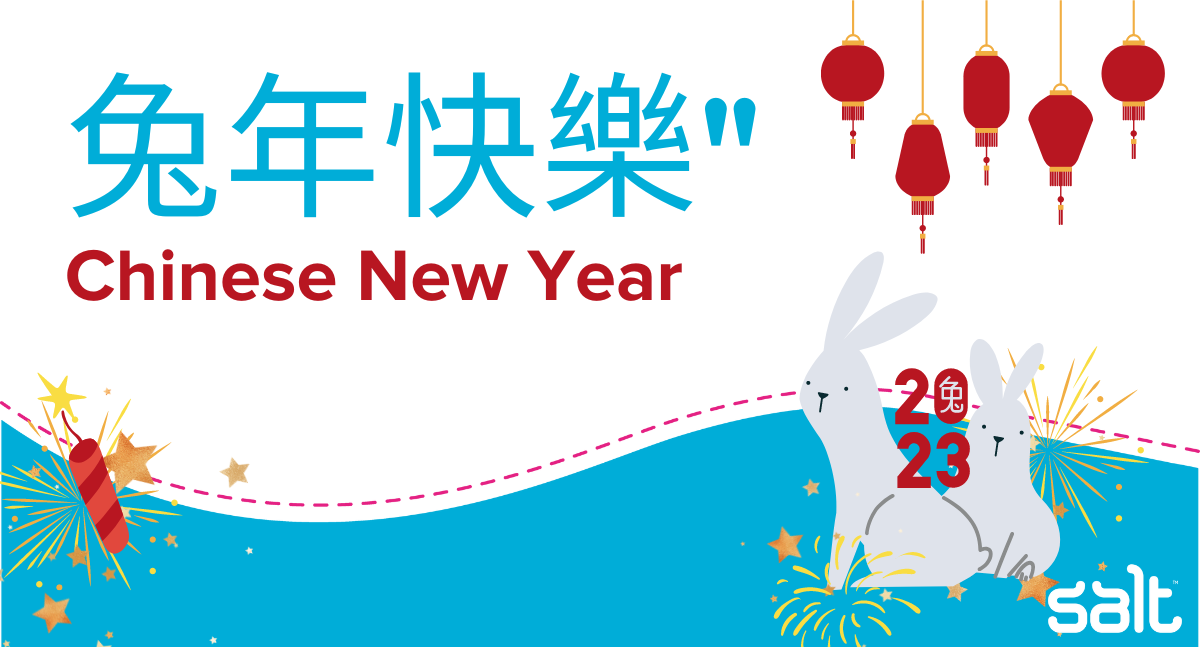 Chinese New Year 2023
Chinese New Year (also known as Lunar New Year or Spring festival) 2023 officially begins on January 22nd. However, the Chinese New Year date changes yearly as the Chinese lunar calendar determines it. Still, it always falls from January 21st to February 20th. The day of the Chinese New Year is always a new moon day, usually the second after the winter solstice.
What is Chinese New Year, and why is it celebrated?
The Chinese New Year is the time to worship ancestors and celebrate with your loved ones. Over time, it has also become a time to feast and visit family members.
The celebrations, which are held to usher out the old year and bring forth the luck and prosperity of the new one, last for 16 days. However, these are the most notable dates of the 2023 Lunar New Year:
January 14th – the Little Year (小年 – Xiǎonián) – when the preparations for the new year begin.
January 21st – Chinese New Year's Eve (除夕 – Chúxì).
January 22nd – Chinese New Year's Day (初 – Chūyī).
And finally, on February 5th, the Lantern Festival (元宵节 – Yuánxiāojié).
Chinese New Year is the most important festival in China. However, it is also significant in other East Asian countries, such as Hong Kong, Malaysia and Singapore. Our offices in these locations are closed for business during this holiday. Our Hong Kong office will be closed from the 23rd to the 25th of January, and our Malaysia and Singapore offices will be closed on the 23rd and 24th of January (both include public holiday dates).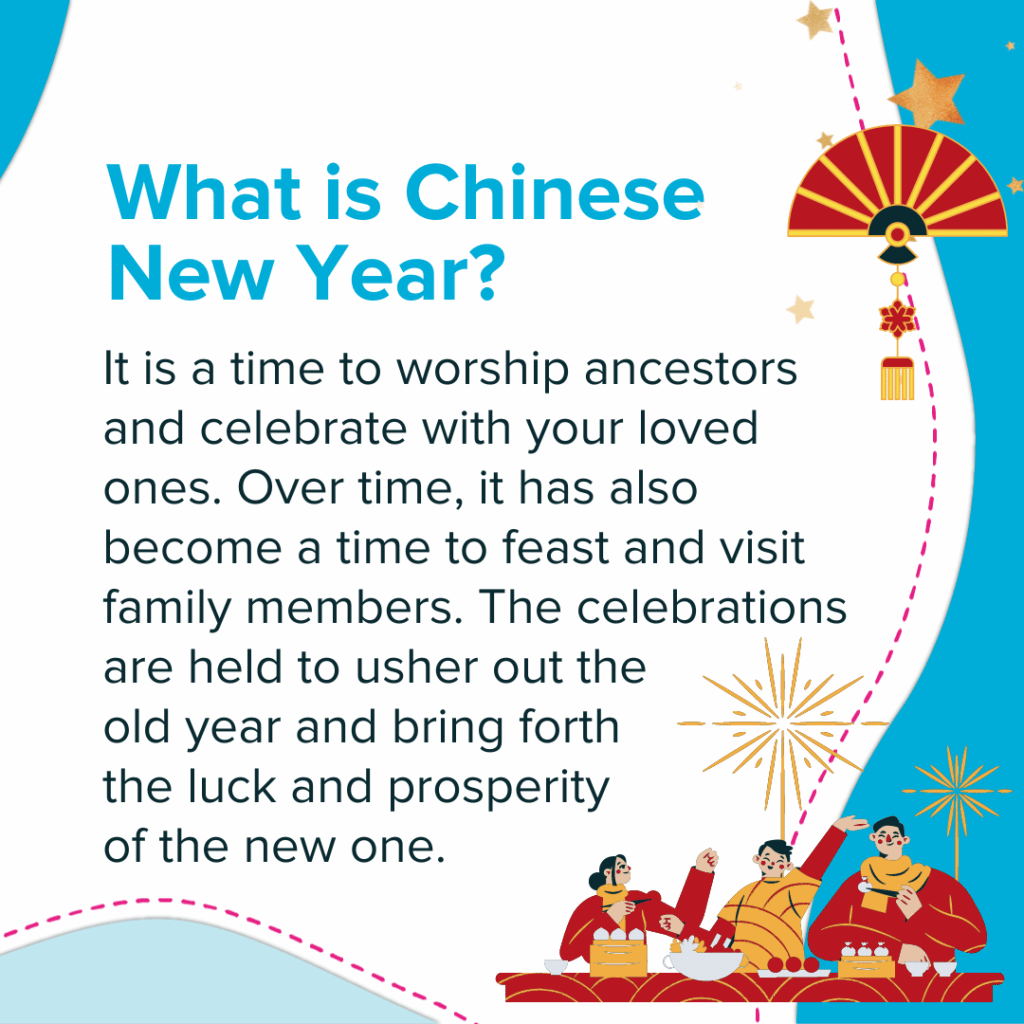 What is the 2023 Chinese Zodiac Animal?
According to the Chinese zodiac cycle, each Chinese year is associated with an animal sign, and 2023 is the year of the Rabbit, specifically, the Water Rabbit. The Rabbit symbolises longevity, peace, and prosperity in Chinese culture.
The Rabbit is the luckiest of the 12 animals in the Chinese zodiac, so 2023 is predicted to be a year of hope. We expect this year to bring prosperity, good luck, and patience.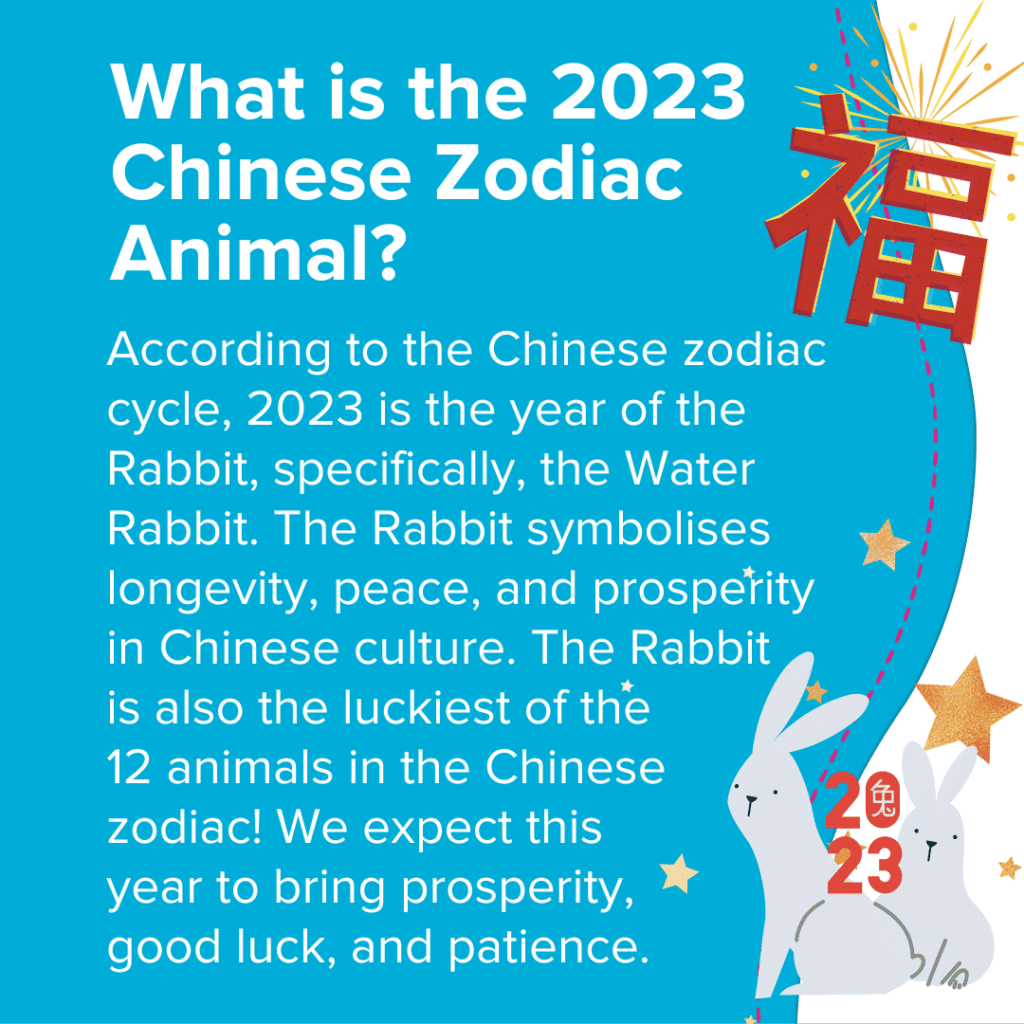 How is Chinese New Year traditionally celebrated, and why?
One of the most famous legends is about the mythical beast Nian 年. He would terrorise villages, eating everything from mosquitos to humans. As time passed, the villagers realised that the monster returned every 365 days, on the eve of a new year, to cause havoc before heading back into the forest. This was when the villagers decided to take action!
To prevent Nian from attacking people and causing general destruction, people put food at their doors to distract him. It's said that a wise older man figured out that Nian feared loud noises and the colour red.
In the hope of getting rid of him once and for all, people put red lanterns and red scrolls on their windows and doors. Even crackling bamboo was lit to scare him away, which later turned into firecrackers.
Customs and traditions vary widely, but they all carry the same theme. Following the legend above, the original purpose was to scare Nian away and prevent him from returning, so many things to do with Chinese New Year are bright, loud and red. This holiday is also now used as a time to say goodbye to the previous year and welcome the prosperity of a new year.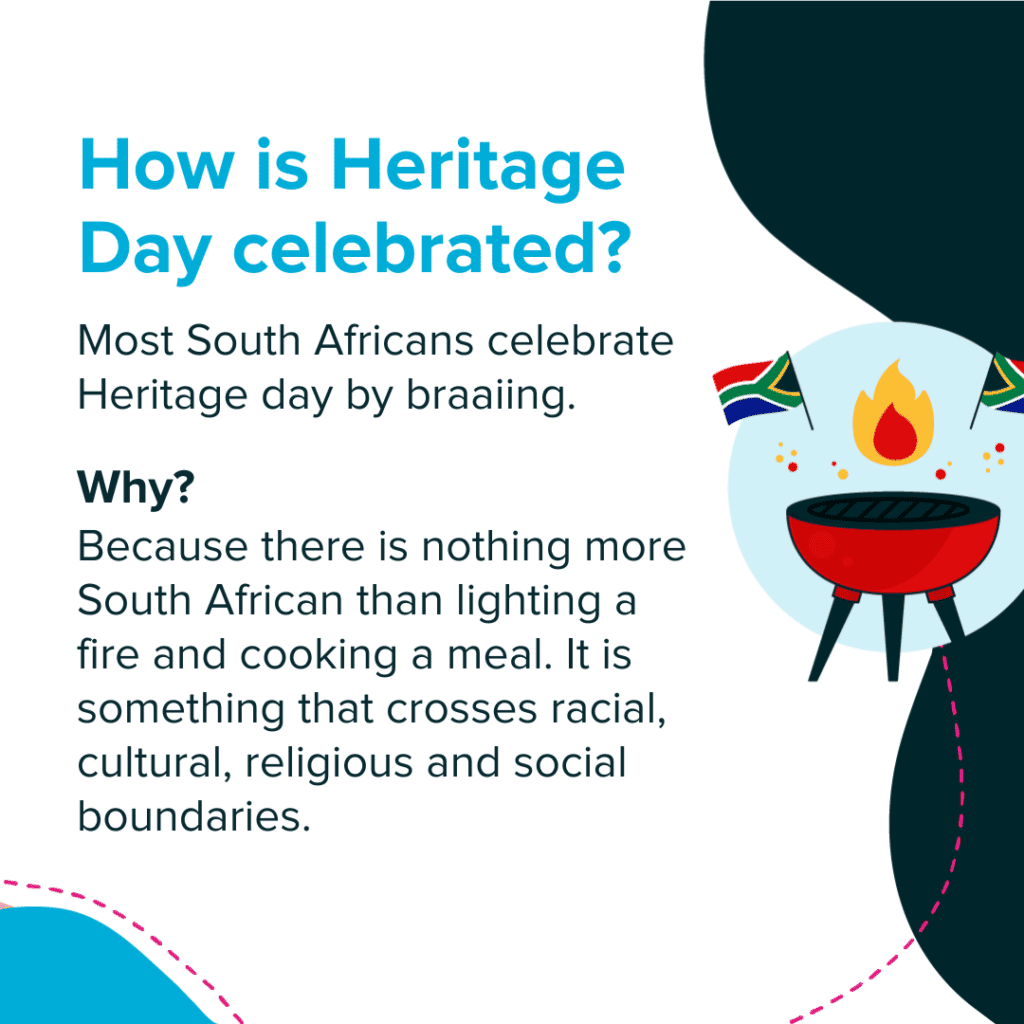 These are the main activities you may see happening over the holidays:
While Nian may fear the colour red, in Chinese culture it represents happiness and good fortune. Lots of decorations are put up for the Chinese New Year. You will see paper Cutting Arts 窗花 (chuāng huā), Door Gods 門神 (mén shén), Fortune words hung up 福 (fú), Spring Festival Couplets 春聯 (chūn lián), Paintings 年畫 (nián huà), Kumquats 金桔 (jīn jú) and Lanterns 燈籠 (dēng lóng).
As part of Chinese New Year traditions, to pay respects to passed family members and ancestors, families offer sacrifices. It is believed that the spirits of our ancestors are always with us, protecting us and helping us become prosperous.
Before their reunion dinners, families worship their ancestors, allowing them to eat first. Families visit their loved ones' graves or shrines, first sweeping and cleaning the area before offering joss paper, joss sticks, meat, and wine. Offering sacrifices on New Year's Eve and throughout the festivities is a way of paying them back for their lasting protection.
Food is one of the things the Chinese take the most pride in. Like the activity and decorations, the dishes are created to give blessings.
Family and friends gather for a reunion dinner on Chinese New Year's Eve. Though every household will have different customs, some familiar dishes are on every table. Hot Pot 火鍋 (huǒ guō) is, for many, the centrepiece of the dinner. It may sit alongside Spring Rolls 春卷 (chūn juǎn), Dumplings 餃子 (jiǎo zi), Noodles 長麵 (cháng miàn), Steamed Fish 蒸鱼 (zhēng yú), Steamed Chicken 蒸雞 (zhēng jī), Nian Gao 年糕 (nián gāo) and Vegetarian stir-fry田園素小炒 (tián yuán sù xiǎo chǎo).
Many meats and vegetables have symbolic meanings, as well as being tasty!
In traditional Chinese medicine, wine was often used. It's also known as 百药之長 (bǎi yào zhī zhǎng), meaning alcohol is the leader of all medicine. It isn't widely known that the wine culture in China is just as long and important as tea.
Alcohol (酒 / jiǔ) represents longevity (長壽 / chángshòu). People will drink to everlasting friendships, happiness, and other wishes during this holiday.
The most common alcohol drunk for Chinese New Year is Chinese white wine, or baijiu 白酒 (báijiǔ).
As New Year is the year's biggest celebration, gifts are exchanged amongst family and friends. Traditionally, children and retired people within a family are given money in colourful red envelopes. When handing someone a red envelope as a gift, it is believed that you wish them luck and prosperity. The money inside is a way to guide you to that in the New Year for the future.
Due to superstitions, it is bad luck to gift people certain things, like clocks, scissors and pears. This holiday's traditional gifts may include fruits, candles, alcohol, plants/flowers and tea. Read more on what not to give at Chinese New Year.
One of the most famous Chinese New Year traditions is letting off firecrackers. Also, fireworks are set off at midnight and for the first few minutes of the New year, much like other New Year celebrations worldwide! But firecrackers are a uniquely Chinese New Year custom.
Some families celebrate on the doorsteps of their homes, and some people celebrate in large numbers at a big show. Either way, you can expect a lot of noise when New Year arrives! Due to security reasons, since the 1960s, firecrackers have been illegal in Hong Kong, and fireworks have been banned in many cities around China. Still, you can expect to see them in many other cities.
You'll likely have seen the traditional Chinese dragon dance at some point. It is a spectacular show with dancers, performers, puppets, magical dragons, and lions dancing alongside them! This performance is part of a procession through the streets and is widely seen throughout Chinese New Year celebrations. It is a beautifully colourful and lively part of celebrations meant to bring prosperity and good luck for the coming year.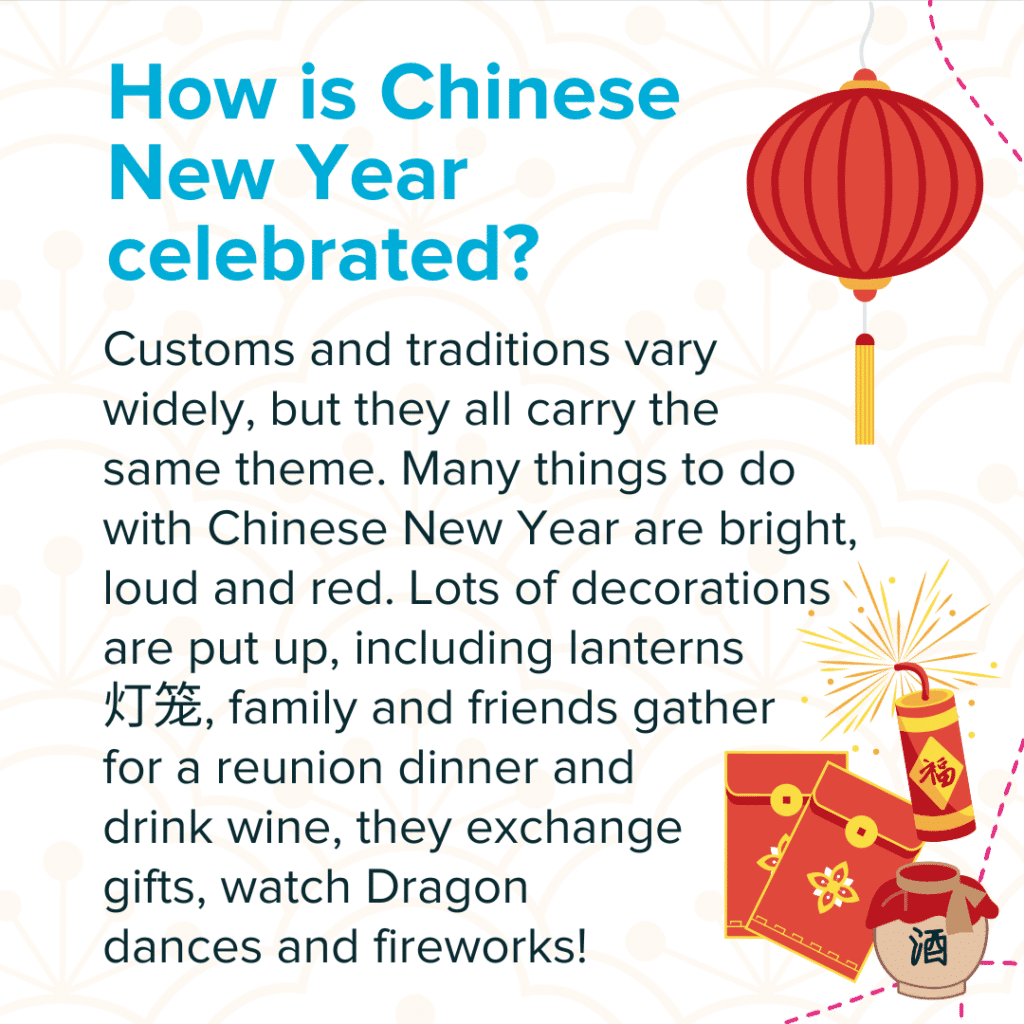 What are the superstitions around Chinese New Year?
As Chinese New Year is the start of a new year, Chinese people believe that what you do during this time will affect your luck in the coming year.
With this in mind, this holiday period has some dos and don'ts – there are some taboos on the first day of the New Year, and some superstitions that remain for the whole New Year season.
Some of the best superstitions are:
It is believed that if a person takes medicine on the first day of the lunar year, they will be ill for the whole year. After the bell announces New Year at midnight, some sick people even break their medicine pots. It is also believed that if you do this, the custom will drive away their illness for the coming year!
Many celebration activities cause a lot of mess…however, if you sweep or take out the rubbish on New Year's Day, you are also sweeping all your wealth, good luck and fortune out of the house with it.
This also goes for yourself; your hair must not be washed on Chinese New Year's Day. In Mandarin, hair (髮, fa) has the same pronunciation (and indeed is the same character) as fa in facai (發財), which means 'to become wealthy'. Therefore, if you wash your hair, you also wash your fortune away on just day one of the New Year, no good! It's also believed that cutting your hair on this day might bring misfortune to your uncles.

People also don't wash their clothes on the first and second day of the New Year. This is because the first two days are also celebrated as the birthday of the water god, Gonggong, and washing your clothes is regarded as a sign of disrespect. The ancients believed that water symbolises wealth and that the pouring away of water after washing clothes invokes a pouring away of wealth. So, what we can take from this is that it's a time to relax. It's a definite tomorrow problem, soak in all the good luck whilst you can!
Don't give an odd amount when you are gifting someone money in a red envelope (1). The Chinese people like even numbers, as it's a traditional belief that good things always come in doubles. Saying that, avoid unlucky numbers such as 4 and 40, as 4 when spoken in Chinese, sounds like 'death'.

No crying! The cry of a child is believed to bring bad luck to the family. So, for this holiday, parents and families do everything they can to keep children from crying!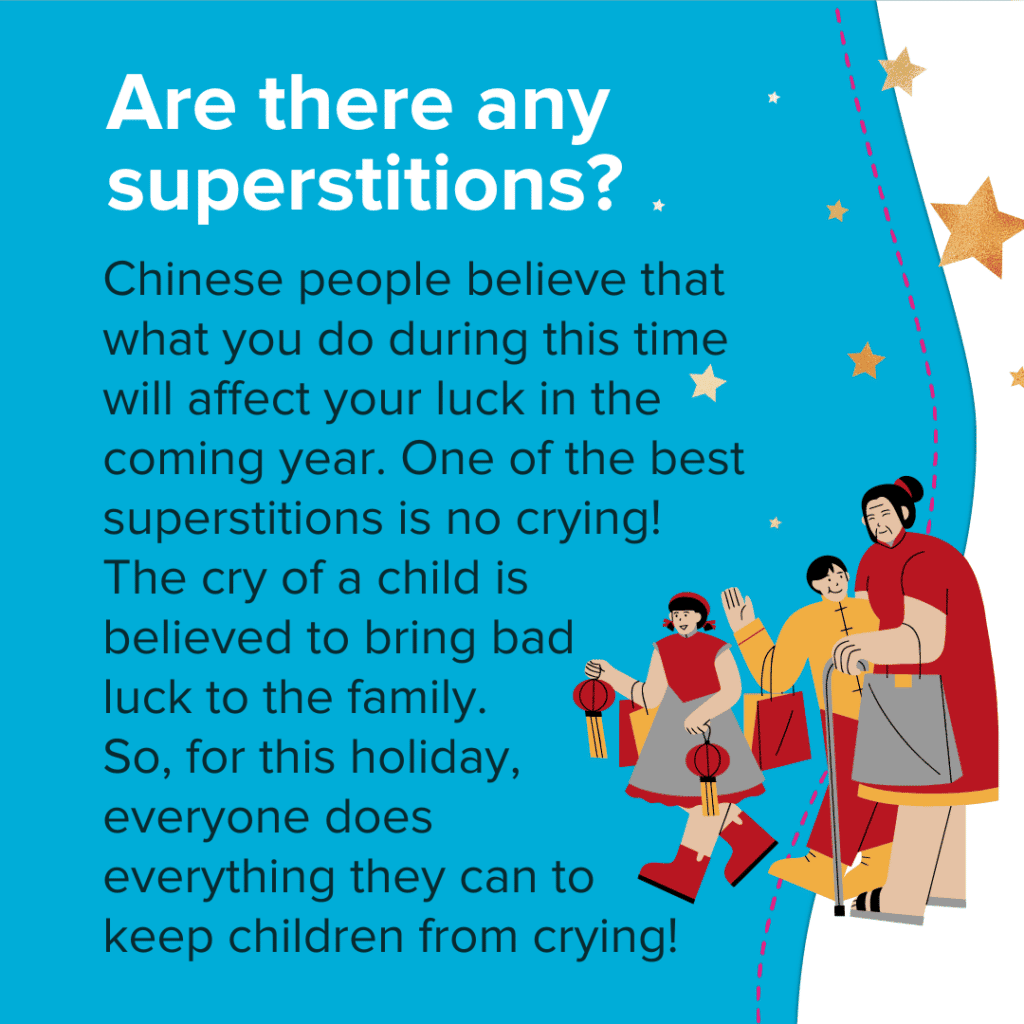 Hear from our Salt Rabbits
We interviewed our Salt 'Rabbits' in Hong Kong, Malaysia, and Singapore. They talk about their family traditions and what they enjoy eating, wearing, and gifting for Chinese New Year.
You will be able to watch these videos over the holiday season, keep your eyes peeled!
Are you thinking about working in any of the above countries? There are many job vacancies in various cities across these countries. We have a range of exciting opportunities, from remote work to part-time jobs to full-time jobs across Consulting, Creative, HR, Marketing, Sales, and Technology sectors.
Our award-winning digital recruitment agency is perfectly positioned to help you find your dream role.
You can find your dream job with Salt.