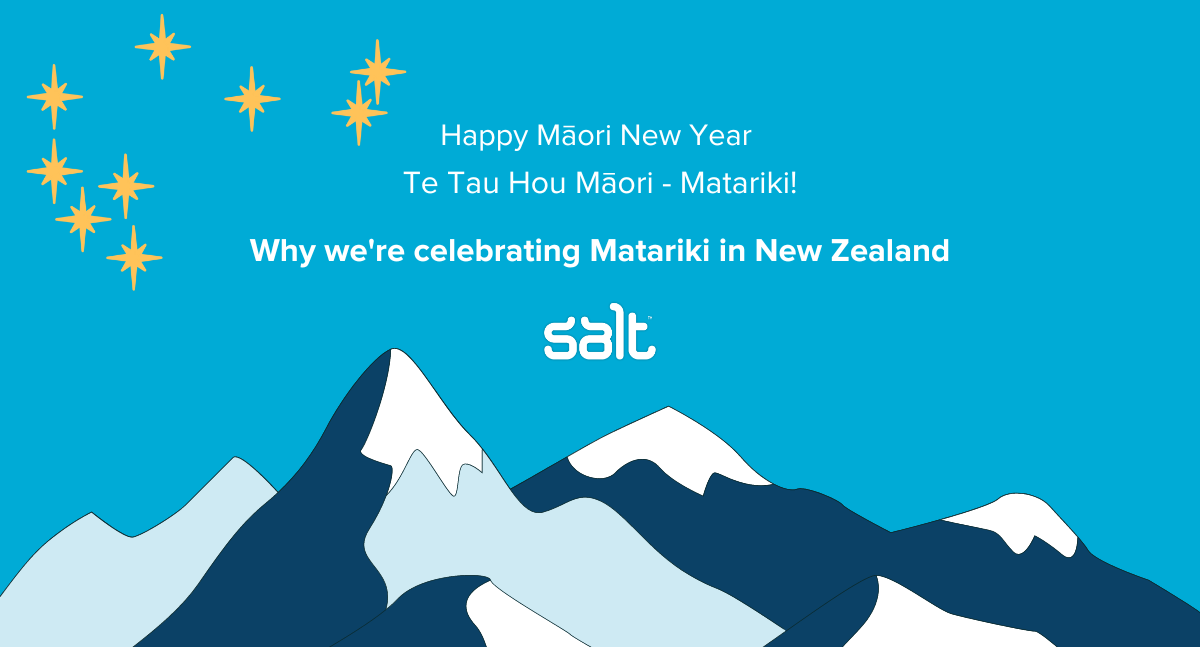 In Aotearoa, New Zealand, Matariki is a special time when the Māori New Year is celebrated. This occasion holds cultural, spiritual, and environmental significance across the Pacific. To acknowledge Māori culture, a public holiday has been established on July 14th for the second year in a row.
In this blog by Salt Wellington team member Annalee Hoogeveen you'll find out all about Matariki, what it means, why it's celebrated and how you can take part this year!
About Matariki
Matariki is a well-known star cluster also referred to as the Pleiades. It is a part of the larger constellation known as Taurus and has been recorded as one of the earliest star groups in human history.
The Pleiades has different names in different countries:
Subaru in Japan
Mao in China
Krittika in India
and the Seven Sisters in Greek mythology.
For the Māori people, the appearance of this star cluster marks the beginning of the te Mātahi o te Tau, otherwise known as Māori New Year.
Although Matariki can be visible for most of the year, it disappears briefly due to its proximity to the sun. When it re-emerges about a month later, New Zealand celebrates the Māori New Year. This date does change depending on the Māori lunar calendar.
Matariki in 2023
The theme for 2023 is 'Matariki Kāinga Hokia – Matariki calls you home!'
The stars invite you to return to where you are from and encourage you to reconnect with the mountains, rivers, ocean, and land. They also serve the purpose of reminding us of our responsibility to the places we call home.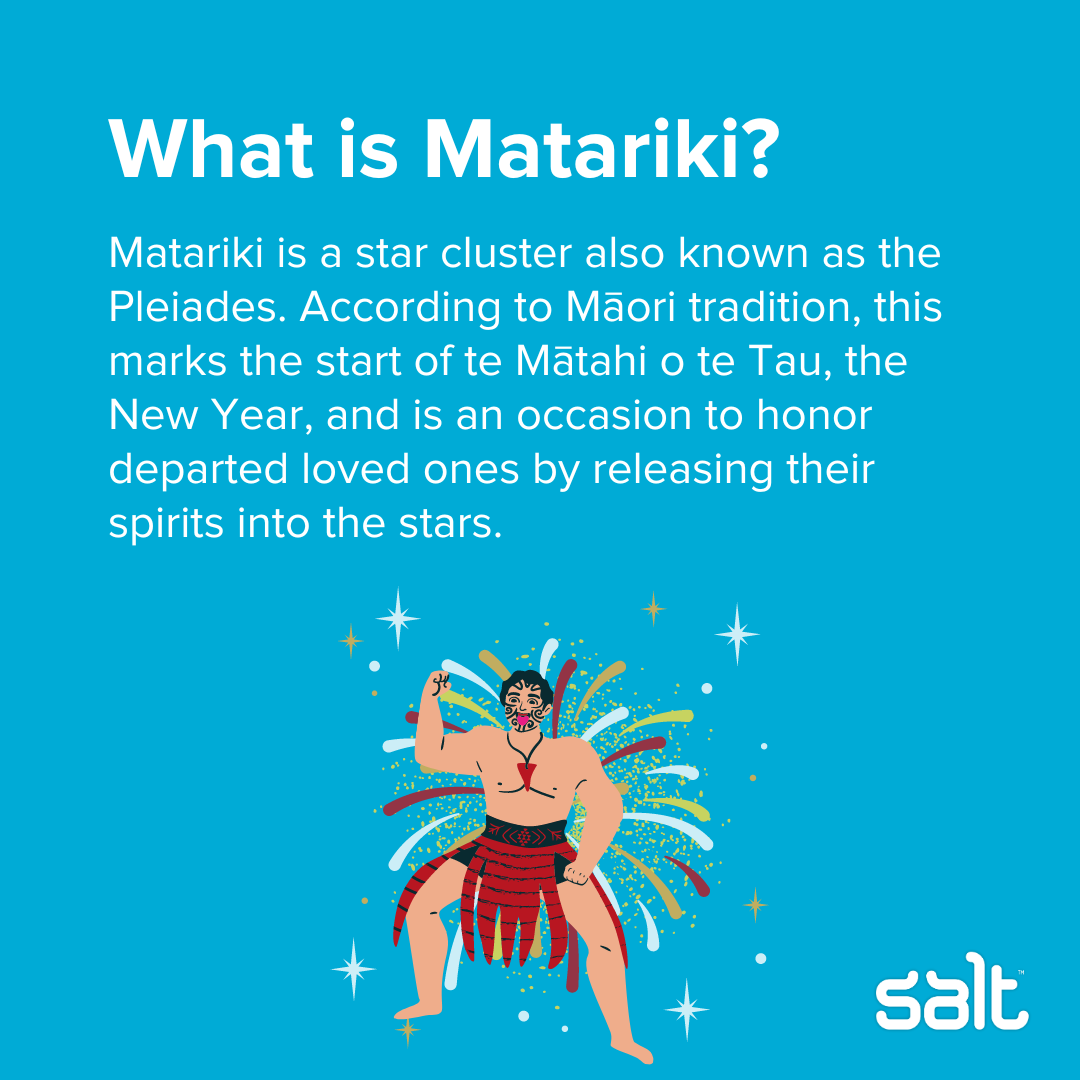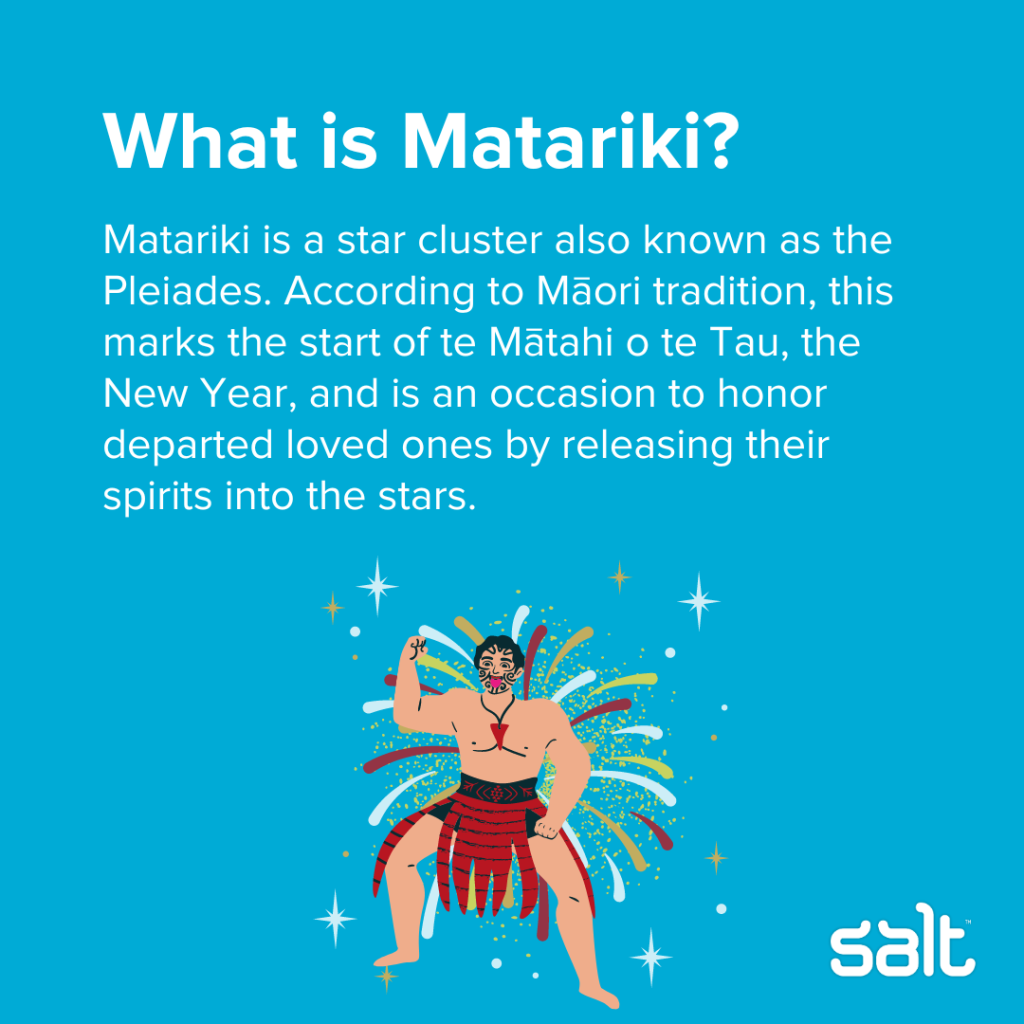 The history of Matariki
Matariki was, and still is, a time to remember those who passed away, honour them and release their spirits to become stars.
It is a time to come together with loved ones and feast with whānau (family). It's also a time for reflection, gratitude, celebrate the present and look ahead.
However, in the past, Matariki served many purposes for New Zealand's ancestors. They relied on it to guide navigators across the oceans and to determine the best time to plant crops for the upcoming season:
If the stars were clear and bright, it indicated a favourable and productive season ahead, and planting would begin early.
If the stars were hazy and closely bunched together, it meant a cold winter was coming, and planting would be delayed.
There are many legends about the star cluster Matariki. The most popular is that the stars represent a mother and her six daughters.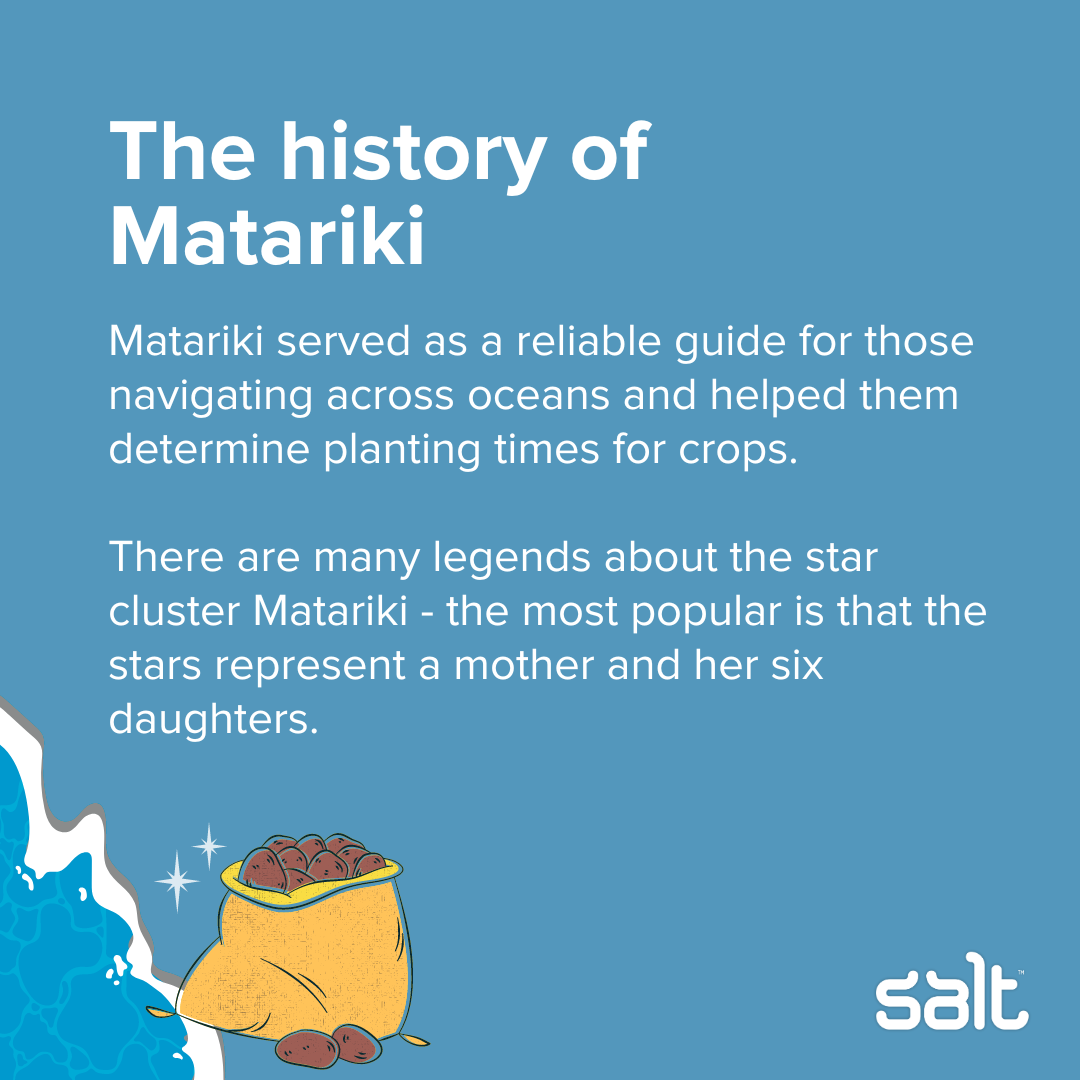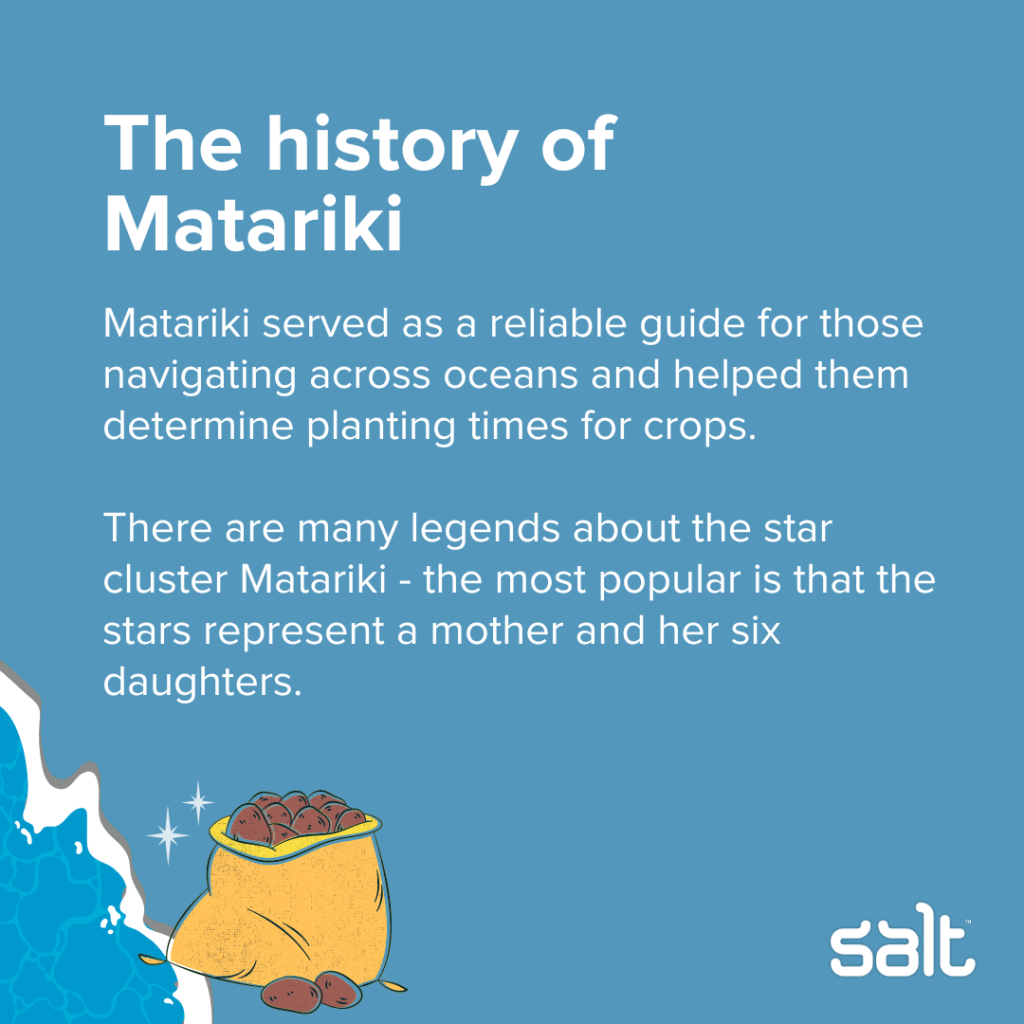 Meanwhile, in other areas, there is recognition and celebration of nine stars, each of which holds particular importance and symbolism within Māori culture.
The nine stars of Matariki
Matariki symbolises reflection, hope, our relationship with the environment, and humanity's overall health and well-being.
Pōhutukawa is a reminder of those who have departed and their influence on our lives.
Tupu-ā-nuku is associated with food crops harvested or collected from the ground.
Tupu-ā-rangi is linked to food sources from the sky, such as birds, tree fruits, and berries.
Waitī is related to freshwater and the food it provides.
Waitā symbolises the ocean and its bountiful seafood, urging us to value and protect it.
Waipuna-ā-Rangi is connected with rain, hail, and snow.
Ururangi relates to various winds.
Hiwa-i-te-Rangi is the wishing star symbol.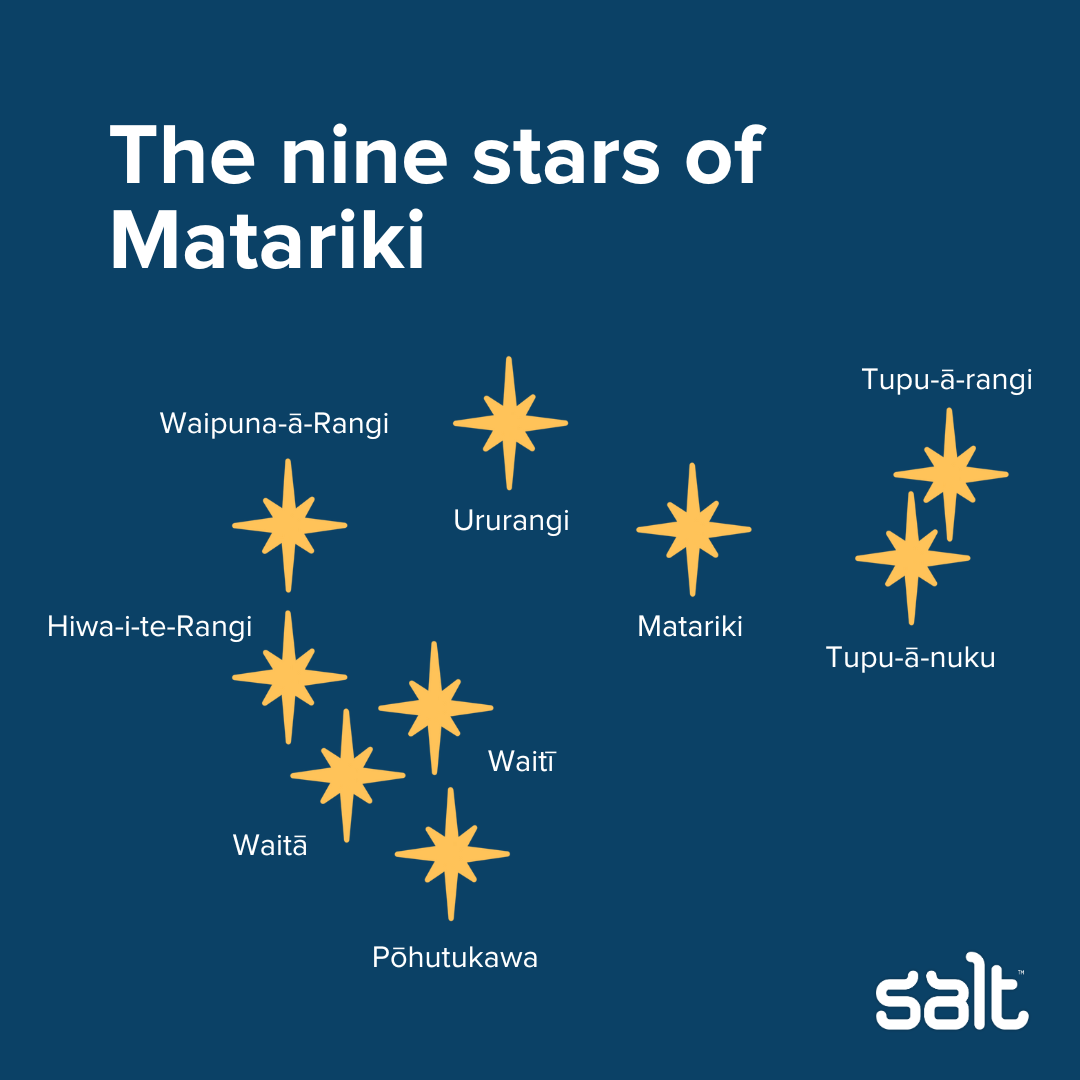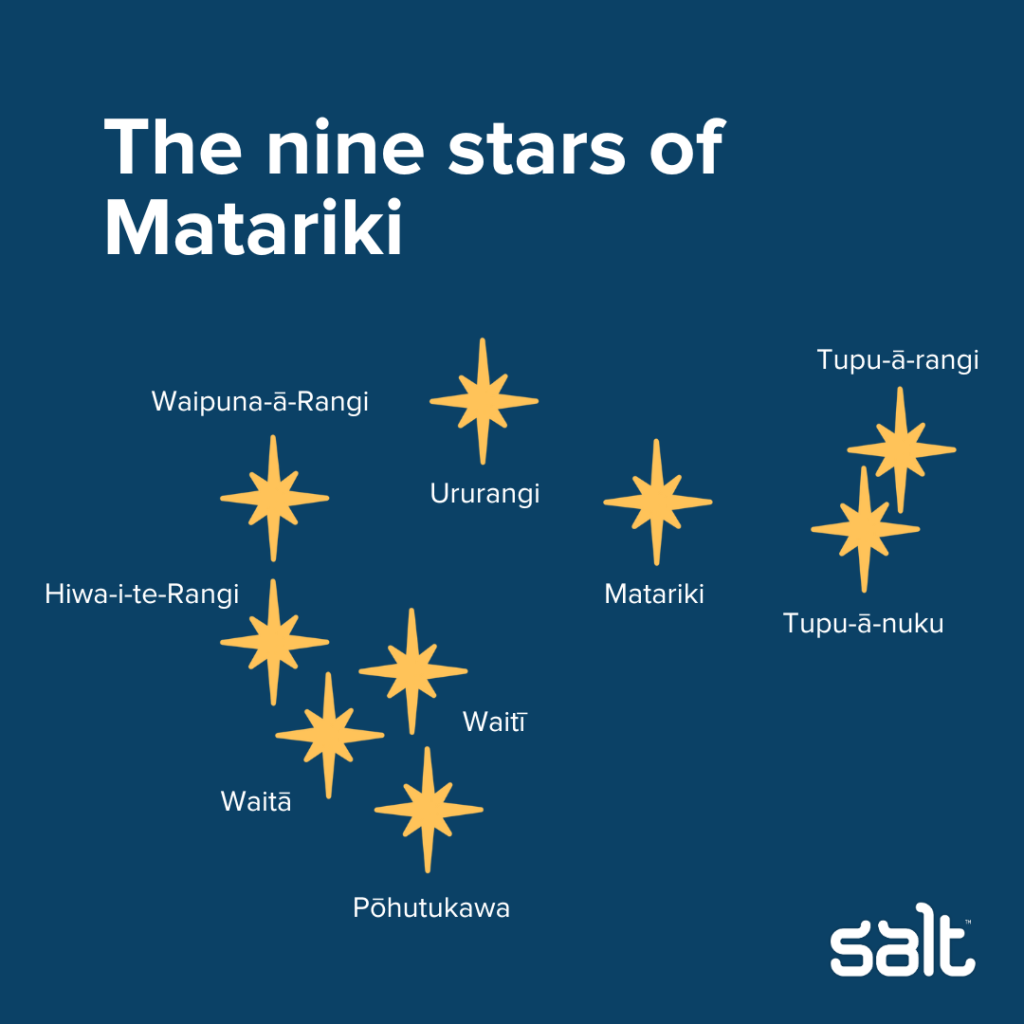 How to celebrate Matariki
People celebrate by lighting ritual fires, offering gifts, and rejoicing in life; after all, it's a time to reconnect with home, the community and cherish family and friendships.
There are various ways to commemorate and recognise the Māori New Year and the emergence of Matariki, regardless of your location!
Here are some ideas to try!
Spend time with family and friends.
You can gather together to remember and celebrate, pay tribute, indulge in delicious food, and plan for the future.
Sit down and eat together.
In New Zealand, Matariki falls in the middle of winter, a great time to have a mid-winter feast with loved ones, but you can feast together wherever you are in the world! Māori culture has four food sources and during the celebration of Matariki it is customary to honour the stars by indulging in a feast of food representing each of them: Tupuānuku (earth), Tupuārangi (sky), Waitī (freshwater), and Waitā (ocean).
Attend a local event
See what might be happening locally for a fun experience filled with entertainment and celebration.
Plan for the year ahead.
Jot down your goals and aspirations for the next year.
Plan to start a garden
You can then grow crops for next year's Matariki celebration.
Remember your connection to the environment and your responsibility to care for it.
You could take part in activities like beach clean-ups, planting trees, adopting a zero-waste lifestyle, recycling more, conserving energy, or biking to work instead of driving!
How to see Matariki in person
To locate the Matariki star cluster you can use other well-known star groups as markers.
In the early morning hours, direct your attention towards the east to spot Tautoru, also known as Orion's Belt or The Pot.
Next, look to the left of Tautoru to see Hyades or Te Kokotā, a collection of five stars that create an arrowhead pattern. You'll come across the Matariki star cluster by shifting your gaze to the left again!
There is also a star above Tautoru called Puanga. This star holds great significance for some iwi as a symbol of the Māori New Year, also known as Puaka in certain regions.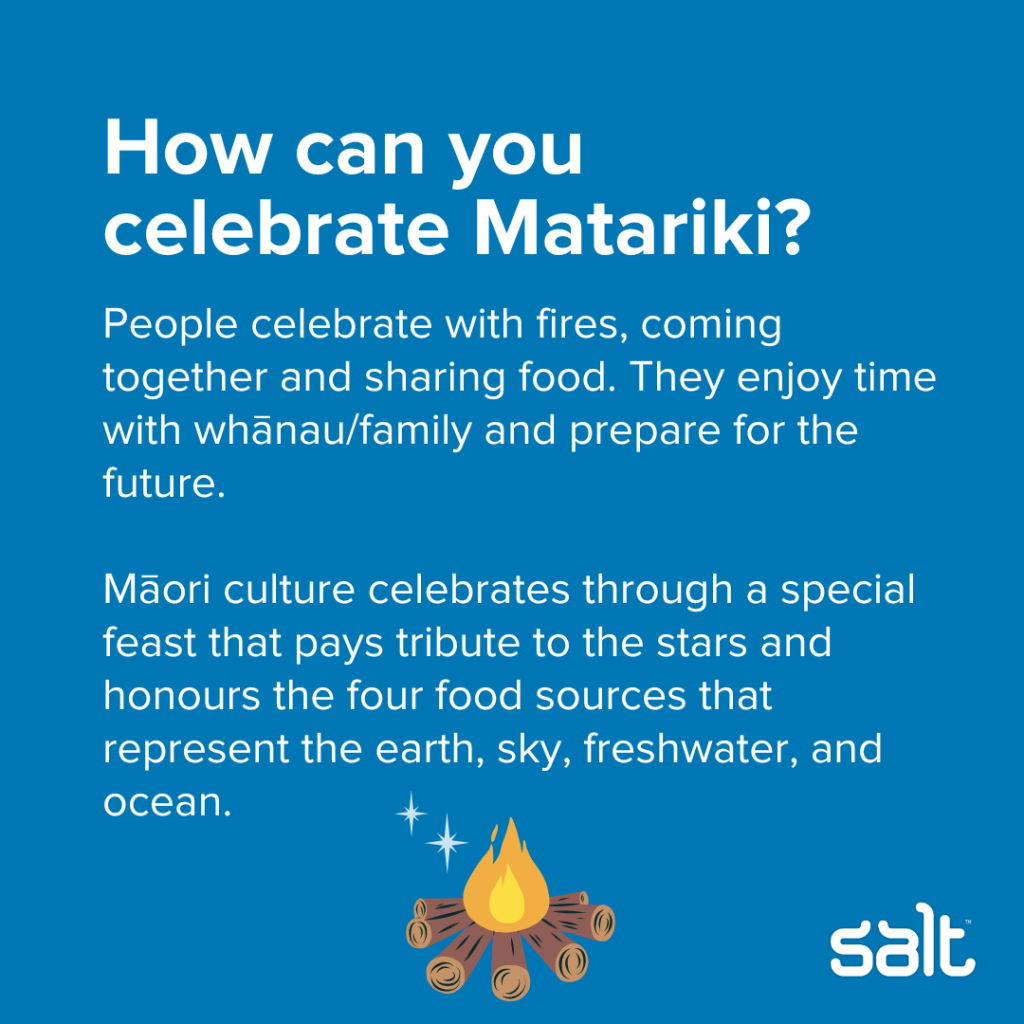 Matariki for Me
To me, Matariki is a time for gathering with family. Before sunrise, we observe the stars and offer a karakia/prayer of gratitude to each of the nine we can see. We also remember loved ones who have passed on. Afterwards, we enjoy a feast of foods harvested this year, each dish representing and honouring a different star. This occasion is a celebration of our present and an opportunity to plan sustainably for the future. It's important for me to pass on the significance of Matariki and the Māori culture to my two sons, teaching them to cherish the past, celebrate the present, and look forward to the future.
Mānawatia a Matariki – celebrate Matariki!
Find your dream job in New Zealand
Are you thinking about working in New Zealand – or looking for to take the next exciting step in your career? There are so many options with Salt available throughout New Zealand.
Take a look at our postings in New Zealand to find your next role today!
Ready to take on a new role? Find your dream job with Salt
Work with recruitment experts to secure exciting opportunities across Consulting, Creative, HR, Marketing, Sales, and Technology sectors.
To shape your future with Salt, upload your CV or get in touch with our teams!
Check out our open roles!
Take a look at the jobs we have available around the world:
Keep up with Salt's career advice to help you on your job search! You can stay in the loop by following us on LinkedIn, YouTube, Facebook, Instagram, Twitter and Spotify.