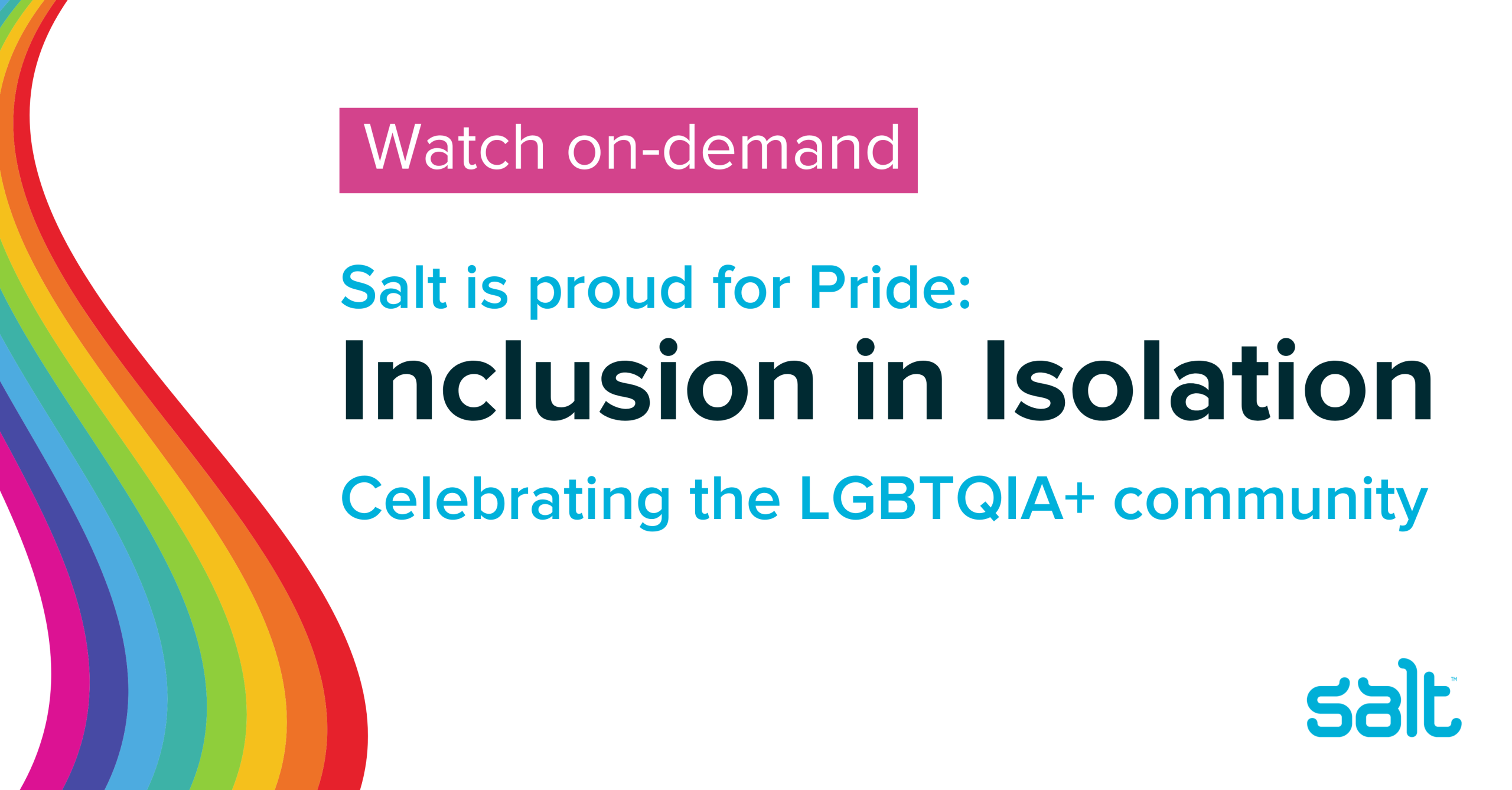 In celebration of Pride month, we recently held a webinar panel discussion, hosted by Salt's Elizabeth Kayler and Bea Casey. We spoke to some fantastic digital professionals about Pride, covering what diversity means to them, the initiatives they have taken part in and how organisations (and people, in general), can be more aware and inclusive, especially during this pandemic.
During the Pride webinar, our speakers shared many insights around diversity and inclusion that could help both businesses and employees be more aware and help to create a more inclusive environment in the workplace and mindset overall. They also shared their personal stories about why diversity and inclusion is so important to them.
If you didn't have a chance to join or if you would like to watch the recording on-demand, you can see the recording below:
Here are just some (there were many!) of the insights and tips raised during the webinar:
1. Retention is a great measure to understand how inclusive your organisation is
You can always attract candidates but keeping your employees is a way organisations can measure how inclusive they are. You should also look at the type of benefits you offer to see whether they help to make people feel like they belong in your organisation. However, this can sometimes be the last measure when someone does not feel like they are included.
2. Run an anonymous Diversity and Inclusion Survey 
Kobalt ran a survey in their London office and the answers were used to gain insights into how inclusive their staff felt the business was. They then used these insights to create different internal support groups and programmes.
3. Ask yourself how much of a personal connection you have with different communities and educate yourself
Make sure that you really look at your own personal connection with different communities and try to educate yourself more. Danie suggested a documentary called Disclosure which recently aired on Netflix and looks at trans representation in the media and the way that different people are perceived and represented, which is a good starting point.
4. Make sure that job applications and forms are more inclusive, don't just ask if you are a man or woman 
Companies must make sure that when they are asking people about their demographic data, such as gender, they make these forms more inclusive, as it could exclude people from applying. It is also important that you outline why you are capturing this information and what you are going to do with it.
5. Be true to who you are and bring your true self to work
Bringing your true self to work is important because if you can bring your true self to work, you can perform better and be more engaged. It is important that workplaces encourage this too.
6. Build a sense of community by cross-collaborating with different community programmes
Consider cross-collaborating different ERGs (Employee Resource Groups) or in other words, different employee programme groups, such as groups for black minorities, working parents, veterans, etc. The quarantine and lockdown has also made more businesses put a stronger focus on communities and mental health and wellbeing. ERG is shifting to more of an education and supportive piece during the lockdown, instead of always being a physical component in the workplace.
7. If you are struggling to get senior leadership to listen, find a sponsor within the senior leadership team
Finding a sponsor and getting them to speak on your behalf at board meetings is a good first step to getting Senior Leadership teams involved with D&I initiatives and programmes, which can sometimes be difficult.
8. If you are marketing to the LGBTQ+ community, make sure that your organisation is aware and also diverse as the community is very aware
Make sure that your efforts are insight-driven and strategic and do not include any stereotypes. Amy from Klick Health shares some brilliant insight about how you can market to LGBTQ+ consumers and also adds a reminder to support LGBTQ+ media organisations. 
Our Speakers:
Dawn James (she/her pronouns), Software Engineer for Kobalt Music who founded and leads the employee resource group for Diversity and Inclusion.
Amy Gomez (she/her pronouns) leads cross-cultural marketing capability at Klick Health, helping their clients to communicate effectively with diverse consumers. Supports diversity, equity and inclusion initiatives.
Sean Frazier (he/him pronouns) works at ViacomCBS for their user acquisition and user experience for their paid marketing mobile app platform. Sean has lived in New York for just over 2 years but was raised in Dallas, TX.
Lakuan Smith (he/him pronouns) has worked with brands including Uber and BounceX and is a Diversity and Inclusion Consultant. He has a background in industrial organisational psychology and researched into the lack of diversity and benefits of inclusive mentoring at PhD level.
Danie Brawand (he/him pronouns) has a background in Technology and UX and is a Product Consultant, which he has been doing for 6 years. He is currently working on a Master's degree in social support to help the communities who need support.
Lianna Newman (does not use pronouns) is a Software Engineer at Booz Allen Hamilton, and regularly partakes in volunteer work for the LGBTIA community. Lianna does a lot of work around mental health and wellness issues, and is passionate about diversifying the tech world.
Help us raise money for the Ali Forney Center in New York
Salt has worked closely with the Ali Forney Center, which is the largest LGBT+ homeless shelter in New York. Their mission is to provide young people housing and continued supported services to help them with independent living. Whilst our event was free, we are asking our community to donate to the Ali Forney Center to help them with their work.