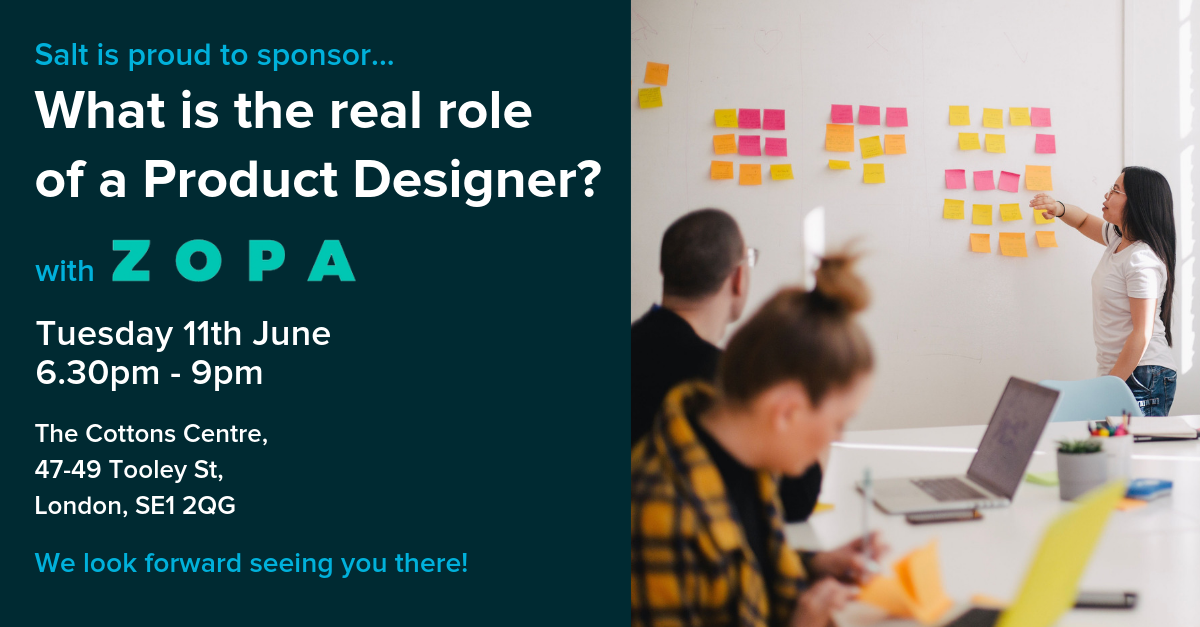 Salt, a global, award-winning digital recruitment agency, are proud to have partnered with Zopa to bring you this event all around Product Design on Tuesday 11th June. 
Joining us on our panel is:
Product Manager at Zopa
Yasamin Karimi, Head of Product at Starling Banking Services
Vanessa Kirby, Head of Experience Design at Marks and Spencer
Neil Metson, Product Design Lead at Shell Digital Ventures

Our panel of experts will be sharing insights and strategies into some of the most common challenges Product Designers face such as; how to effectively contribute ideas in teams, cross-functional teams, improving team motivation and retention and lots more.
You will pick up practical recommendations that you can implement straight away in your own or your team's routine. The panel will be sharing their own personal experiences and career advice too.
There will also be Q&A with our panel so you can ask any questions you may have.
No matter what level you are at, come and join us for pizza, drinks and great discussion by reserving your ticket by registering your place below. 
About Zopa
In 2005, Zopa built the first ever peer-to-peer (P2P) lending company to give people access to simpler, better-value loans and investments. Since then they've helped hundreds of thousands of customers take the stress out of money by building our business on honesty, transparency and trust.
Zopa give their customers access to other great products and tools, empowering them to better manage their money.