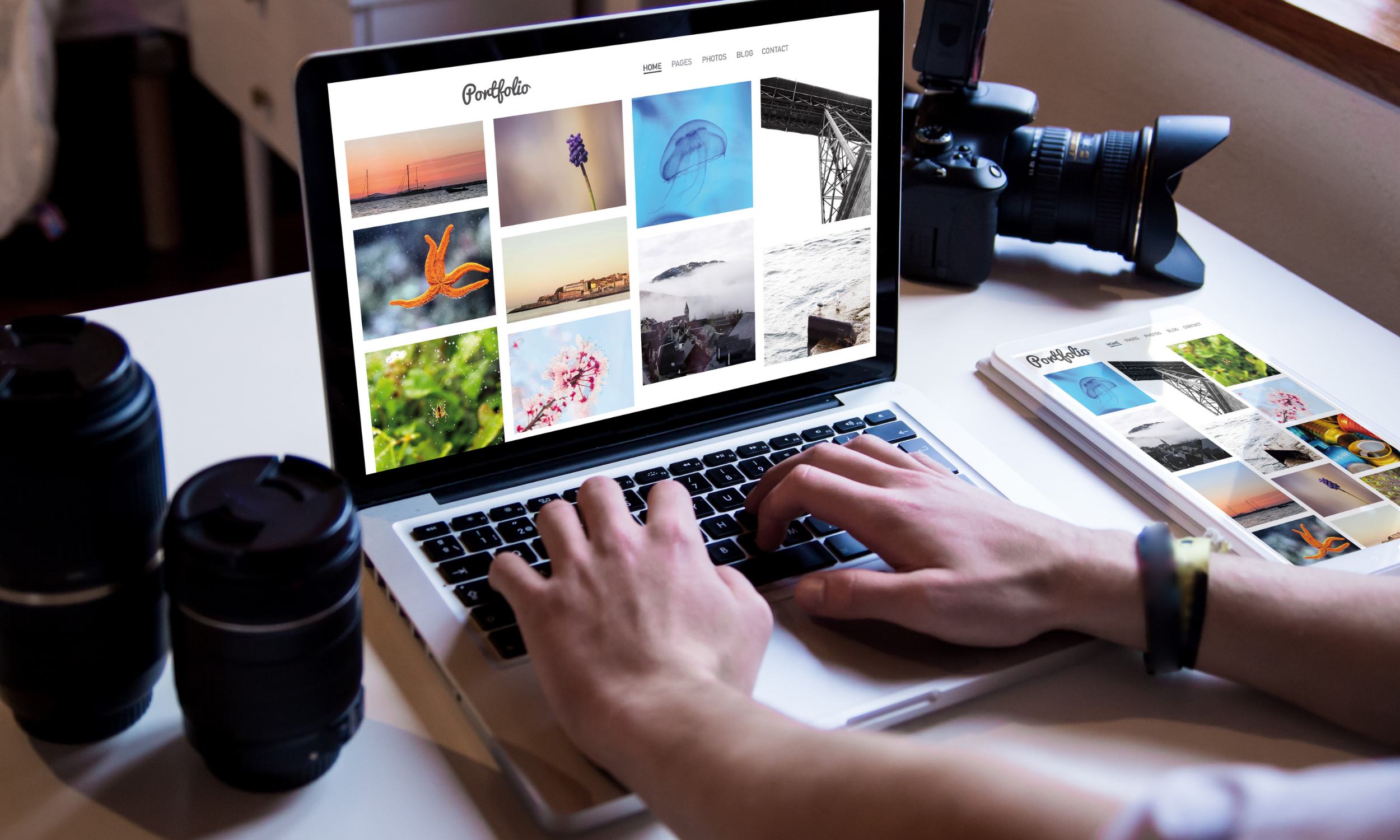 Don't underestimate just how important your online presence is. Potential employers will most often look at online profiles before making a decision, so you need something that will set you apart from the rest. You want to shine in a positive light, and stand out from others who applied.
This is why knowing how to make an online portfolio is so important. It is your professional lifeline in the digital age, regardless of what point you are at in your career. And for those in creative jobs, your portfolio is a physical realisation of ingenuity; therefore you need to nourish it.
These top 10 tips on how to make an online portfolio will help you kick-start the process of breathing life back into your work.­
1. Exclude work that doesn't showcase your current ability
When it comes to your portfolio, it helps to think of it as a highlight reel. You want to be selective about what work you showcase, so before you dive headfirst into the details and design of your portfolio, take some time to reflect on the work you're most proud of and what is most relevant. It's not about quantity but quality. If you are uncertain about a piece of work, then you should most likely leave it out. Instead of including dozens of projects that go back to your college days, rather opt for about five great pieces of work.
2. Show the work you want to get
You are constantly growing in your career and work that was once an accurate reflection of your skills may now be outdated. With this in mind, it's essential to refresh your portfolio every three years or so. Evaluate what old work can be cut out and what new projects you can include that reflect your current abilities more accurately.
You want to present projects that will open doors into work that you hope to do in the future. For example, if you were once a journalist but are hoping to break into the world of copywriting and SEO content writing, you would include new pieces you have written relevant to those roles. You may be proud of your first ever front-page story for the newspaper you once worked at, but it may no longer serve you.
This applies to all fields. Imagine you are in content marketing but wish to focus primarily on social media jobs. You should rather include at least three examples of successful social media projects you've worked on.
3. Compile your portfolio logically
When putting together your online portfolio, it helps to arrange your work to highlight sections that give an overall impression of the range of your abilities and styles. The best way to do this is to compile your work logically, either chronologically or by theme. What you want is for your portfolio to flow. You also want it to be relevant, so stay active with your profile by including meaningful updates and content.
4. Keep things simple and easy to digest
You have 27 seconds to make an impression, and you want yours to last. The key here is not to allow your website to take attention away from your work. While you may be tempted to create an elaborate design, it could attract the viewer's attention, taking the shine off the projects you're trying to showcase.
If you are looking for something cheap, user-friendly and flexible, then Wix, Behance and Flickr are great options. They are easy to navigate and offer you dozens of layouts to pick from. You can also customise your site on these platforms so that they reflect your personality and style.
5. Ensure employers can find your work fast
On average, users won't wait for more than 1 minute before abandoning the task of finding your work. It's therefore vital to make sure the paths to your work are visible and short. If you choose a more advanced hosting and website option, ensure the speed of page loading isn't sleep-inducing speed.
If it's applicable, it also helps to use SEO to make you discoverable. If you have a little extra cash to spare, paying a small annual fee to a custom URL will make your website more search engine friendly. Using social media to drive traffic to your website is another way that you can improve your SEO ranking.
6. Keep your portfolio fresh with new projects
Whenever you finish a project (and once you have caught up on sleep), ensure you upload it on to your profile. This gives you an excuse to email a potential or previous employer and share your latest air-punching moment. Aside from the desire to brag, you could bring in new work instantaneously.­
7. Use social media to your advantage
Place your work on a blog tied to your website and then distribute it regularly on social media to gain feedback. Crowdsourced opinion can help you decide which pieces to put in your online portfolio. If you haven't worked with big brands, you can leverage public support to help you step up professionally. There are platforms specifically suited to designers and industry discussion.­
Need another reason to up your social media game? Employers almost always check candidates on social media after interviewing them. They also use social networking sites to recruit potential hires. A recent study further showed that 64% of employers surveyed had used professional social media to make informed hiring decisions.
8. Take criticism of your work constructively
Taking your work online means you will likely have to deal with some criticism and it's important to be able to take it in your stride. Trolls and the online public can be harsh, but you need to know when to consider negative opinions and when to shake them off.
Learning how to deal with constructive criticism can be tricky, but it can also benefit you as a professional. But how do you do it without needing a box of tissues? The most important thing you can do is not dwell on criticism. Yes, take time to process, but then move on.
9. Tell the story behind the work in your portfolio
Each project you have worked on has a story, and people often want to hear these and know the thought process behind your work. Explain the background of each project included in your portfolio and, if it was commissioned on behalf of a well-known brand, don't be afraid to mention it.
10. Don't forget the basics
Yes, you should include basic details in your portfolio, but don't underestimate just how easy it is to let these things slip. Consider this a gentle reminder to always provide your contact details, make them easy to find, and offer multiple ways to get in touch.­
This is how you make an online portfolio that helps your career and the great thing is, if you are working in a creative industry, you can easily rebrand, rediscover and target the companies and projects you work with.
Our teams at Salt are specialists in every aspect of digital recruitment. We partner with our clients to place not just the best individual talent but also to create some of the most exciting digital teams globally. Click here to explore our digital roles (make sure you include a link to your digital portfolio)!