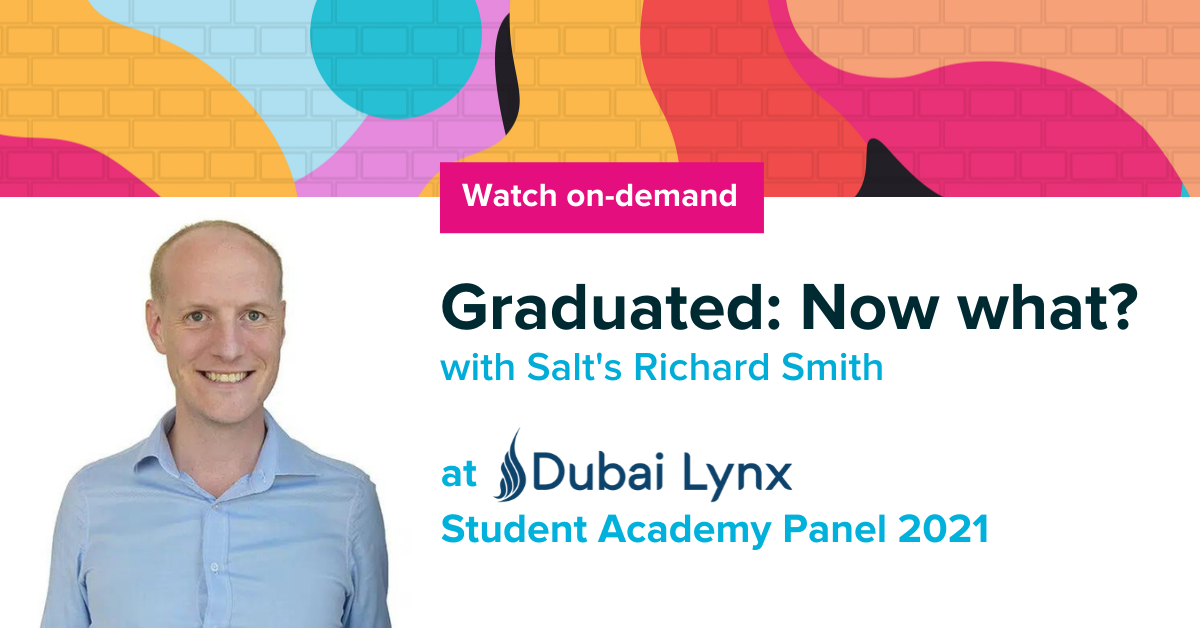 The job market can be extremely challenging at times, especially for students who are leaving university and trying to land their first job. How can you get experience and get your foot in the door with no prior experience, or how can you stand out in the crowd in a competitive candidate-driven market? We share the key talking points from the recent Dubai Lynx Student Academy, to help graduates increase their employability.
Richard Smith, our Regional Director MENA joined the Dubai Lynx Student Academy panel to share his advice on the digital recruitment space. Moderated by Elena Agaragimova, Richard was joined by Margaret Flanagan, who co-founded strategic and creative communications agency Tales & Heads in the UAE earlier this year. The session focused on what comes next after graduation, including how to stand out from the crowd and get hired, plus how to get experience in the corporate world. They also addressed how to show your potential to an employer when you lack experience.
During the discussion, the panel also touched on topics including how to raise your personal brand and how to network effectively. Here are some of the key takeaways:
1. Employers look for personality and ability to learn on the job
Not all employers are only looking for skills when hiring for their teams. When looking for a graduate job, be realistic with the types of roles that you will be able to do depending on your skills, personality, and your passions. Make sure that when you apply for a job, you highlight that your drive is to come in as an open book and learn, and don't just focus on salary.
2. Research the company that you want to engage with when trying to make a connection
When trying to approach a potential employer on LinkedIn, make sure that you research the company that you are reaching out to and think about them instead of yourself. Look at recent news or press releases and make sure that you know what the company does and lead with that. Make sure that you are patient when you reach out to potential employers and follow up if you don't hear back from them, with a different angle or information to avoid repetition.
3. Show that you are enthusiastic and also demonstrate your passions
One of the most important things when interviewing is to show that you are enthusiastic about an opportunity but also remain professional when selling yourself to potential employers. People normally thrive when they talk about things that they are interested in or have a passion for. When speaking about why you want to join or how you would approach a task, make sure that you demonstrate your passions, show your way of thinking, and share ideas.
4. Want to start your own business? Get experience in a start-up
Start-ups tend to hire graduate talent when they are starting out. If you are interested in one day owning your own business, try to get some experience in a start-up so that you can see how they work. This is also beneficial because you may get more facetime with your CEO and senior leadership team to ask them questions you may have.
5. Communicate that you are a team player
When interviewing, a lot of people tend to say that they worked on a project on their own, but many hiring managers want to see evidence that you are a team player and can work with other people. This shows honesty, as well as showing how you communicate a project, what your involvement was, and the progress of it. Use examples that explain what you did and shows that you can work individually as well as in a team.
If you missed the event and would like to check it out, watch the recording below:
---
Are you an employer who needs some help with hiring digital talent? Visit our Employer page to submit a short brief and we'll be in touch shortly.
Looking for a new job? Check out our current opportunities on our jobs page.