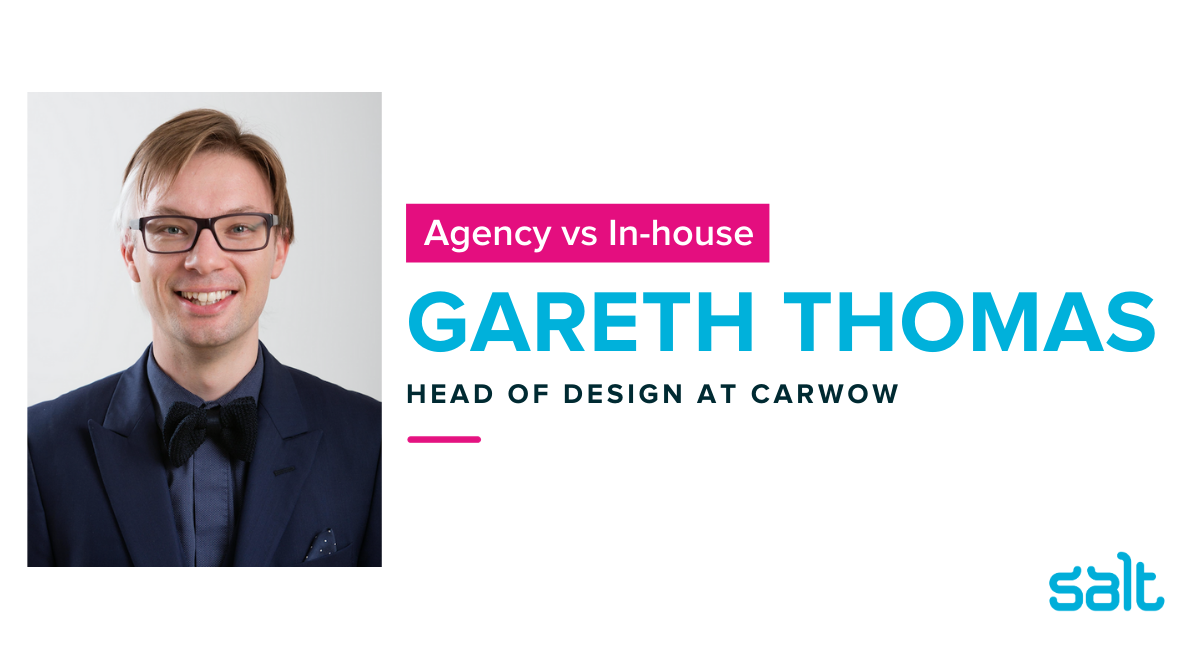 In this 'agency vs in-house' interview series led by Salt's Managing Consultant for Creative, Holley Potts, we speak to customers from all different sectors within the world of digital to answer the age-old question – agency or in-house? This series will give you a snapshot of creative career journeys and insights into what is currently happening in their businesses. Over to Holley…
I'm excited to introduce my next guest, Gareth Thomas, Head of Design at carwow who takes us through his journey from the start of this year until now…
Holley – Welcome Gareth! Great to have you on this series. I thought I would swing this particular talk to looking at Lockdown and how you have adapted. What principles had you put in place before Lockdown that have allowed you to come out stronger as a result? 
Gareth – We've spent the last year continually reviewing and improving our internal communication process and trying new tools. The Team have become advocates of Notion; it's our tool choice for sharing knowledge between people and Teams. Documentation has become an essential ritual in how we work; it's taken several months to get people up to speed on how and when to document Product thinking and critical decisions. Documentation is key to empowering our future selves. We've in designing UI we've moved away from Sketch and Invision to Figma; it's a cloud-based Swiss army knife. We've found it very powerful for remote design pairing as multiple designers can be on a call whiteboarding out ideas. Getting user feedback is vital to our design process; we've had to radically rethink how we do this in a COVID world, with social distancing measures we can't meet users face-to-face in user testing sessions. We are currently trialling a platform called Maze, it's seamless to use with real users, and you get feedback within 24 hours.
Holley – I can see with all the new tools emerging, trying to streamline it all into one cohesive platform makes sense. Especially with remote working – which is a topic of the year! How have you guys coped working remotely? 
Gareth – We're working remotely until the end of year, but this depends on government advice. The big talking point we are discussing at the moment is how to when do we need people in the office. carwow has run several surveys during Lockdown to gauge people's feelings.
Early on, people were wanting to get back to a working 'normal', spending four to five days in the office. A recent poll has shown seen people value being able to choose where they can work, only wanting to be in the office one or two days a week, a massive mindset change.
For some people, they need that office environment and enjoy the social element, and a good working set up of a good office chair and desk. Not everyone has the perfect situation at home, so we are working out how we can balance people working in both locations. We want to make sure we support people in doing their best work. We don't want to lose people; we want to retain them, so why should location count against you? 
Holley – Exactly, there is talent all over the world so to have purely miles restricting top talent shouldn't be the case. A lot is about trust in your employees that they will do the work without supervision. Also new ways of working, especially being more Agile now than ever. What does the process look like how you guys work at carwow now? 
Gareth – We are a pretty agile company, pre-COVID we worked four days in the office and one day at home. To make sure everyone understands our working practices and how personal development is important to us, we've built out a playbook. We've written it to encompass four levels; what we individually want to get out of our roles, how we want to function as a team, what impact can we have at carwow and how our Product and Service are going to change the world.
The work we have done around the Playbook has aligned the Team's values and goals. We've empowered User Researchers and Designers to speak freely. This ties into how designers document their thinking from understanding and qualifying user and business problems to set goals and objectives, to explaining how a finished solution came to be, i.e. the context of the problem to the alignment of vision etc…— leading to producing an outcome (A/B test or feature release).
We are trying to find ways of weaving into documentation design thinking and user feedback. We use these write-ups when sharing work with peers and stakeholders. Sharing knowledge backed up with customer data informs stakeholders why we've made decisions to move a task forwards; you can never argue with the data. Having a robust process in place allows specialists like User Researchers and Designers to show progress and action swiftly. We are at an excellent point where we are empowering those senior people to have critical thinking and a point of view. 
Holley – A great process you have there, concrete facts to prove your ideas. I can imagine coming in as a junior to learn all this must be hard getting your foot in the door from school/ University. What would you suggest for companies to help educate juniors into the world of design from a personal viewpoint? 
Gareth – One thing we value is equality, especially in User Research and Digital Product Design. If you look at the current tranche of Design Leaders they're mostly male, white and come from a well-to-do social, economic background. They're often based in or near to London and found their way into the industry through unpaid internships, with only being able to develop their career with support from their parents by footing the costs, for example.
To make the industry a fairer place and give opportunities for all the design industry radically needs to rethink how we attract new talent from a broader background. Which is why earlier in the year we kicked off working with schools to advocate that, as most schools traditionally only teach IT, Art and Design Technology, so it's about introducing the broader spectrum of digital + product design into their curriculum. We had plans to develop our reach on this further, but Lockdown happened so scoffed our plans! But we will get back there again soon in 2021.
There we have it, a stroll in the park with Gareth. A wonderful insight into what goes on behind the scenes at carwow. It seems like there is a lot of good implementation happening.
Stay tuned for more interviews, coming your way. If you would like to find out more about the series or find out how we can help you to hire consultants online, get in touch with Holley via hpotts@welovesalt.com.
Read more of our agency vs in-house interviews here.