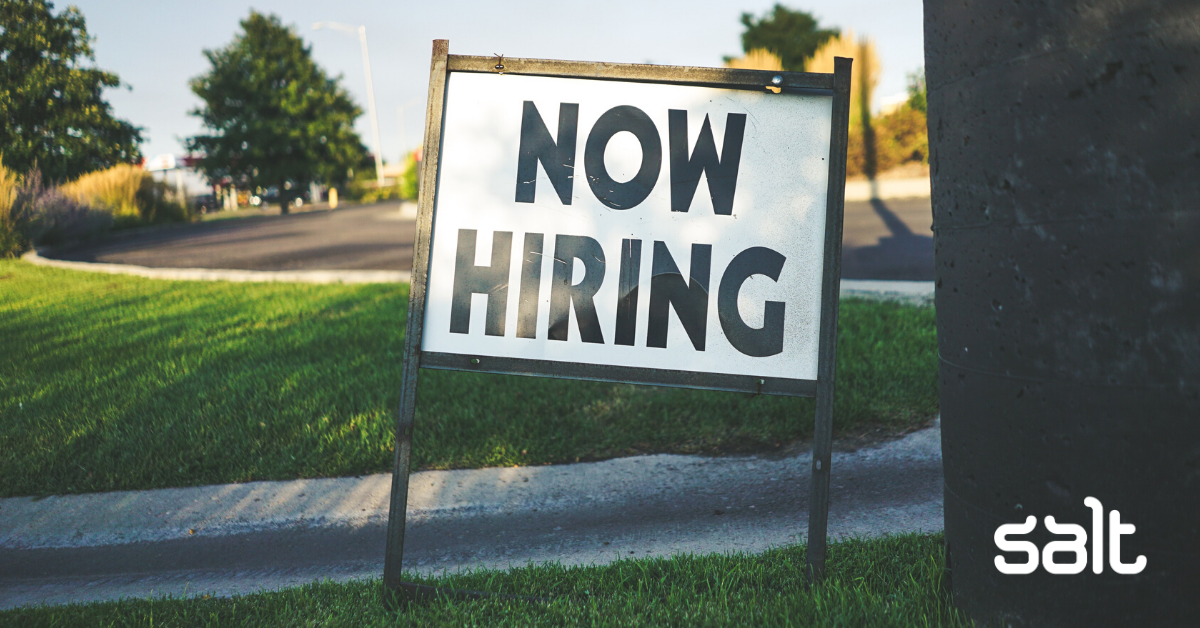 In the current job market, there are a high number of salespeople looking for their next job and it's even harder to get the attention of Recruiters and Hiring Managers. We've put together this article to help you stand out when applying for sales jobs.
The good news is that sales is critical to any organisation and in fact, our COVID-19 employer survey revealed sales to be in the top 6 skills companies need going forward.
The current pandemic has had a harsh impact on the economy, from how we work and communicate to how and what we buy. Whilst this presents challenges, this also provides some opportunity to provide solutions to businesses' problems. To do this, companies need highly-skilled salespeople.
Below, we've shared some of our tips for applying to sales jobs and interviews, to help you stand out and make a great first impression.
We always recommend people update their LinkedIn to help their job search, check out this article to get you started.
First of all, check your CV and make sure it highlights your sales targets and how you met them regularly. This article goes into more detail about sales CVs, good formulas you can use to impress, and will also help you make sure you've got everything in there that employers need to see.
What exactly are clients looking for when they're hiring?
This is one of our most FAQs, so we asked JJ de Wit who heads our sales team in South Africa for his insights:
A proven track record

of successful sales achievements over the past few years.

What does this mean for you? Make sure your achievements are clear to see on your CV and LinkedIn, including your target set and achieved target.


Connection, connection and connection

. Clients are looking for people that know the right people in the right positions and who are able to bring sales in from an early stage.

What does this mean for you? Don't reveal too much about your client book at this stage but highlight your connections by talking about the type of companies you've worked for (for example SaaS), whether you've worked globally or in a particular region, and your experience working with different sizes companies, for example startups to blue chips.


Relevant industry experience.

Although a good salesperson has interchangeable skills with different industries, clients are looking for the best salespeople that have excelled in their particular space before, for example SaaS sales.

What does this mean for you? Highlight your experience in the company's field, making sure it's clearly stated on your CV and is one of the first things Recruiters can see. Also, highlight how you solved a common problem in that industry and be prepared to discuss challenges and successes in more detail at interview.
For your interview…
It's very important that you are professional and dressed smartly – even if it is a Zoom call. Check out our virtual interview tips and interview guide here.
Make sure you do your homework and research the company you're interviewing at. Read their annual reports to get a true feel of their organisation.
When you go into the interview, make sure you have key figures that you have achieved in mind, so when you are asked about them in the interview, you can confidently talk about this.
Companies your interviewing for will most likely ask how you dealt with difficult customers and what you did in order to achieve a successful sale in the end. Make sure you have an answer prepared for this question.
What is the client expecting to hear?
Despite the wording of this, this question is actually a great opportunity for you to showcase your best qualities as a salesperson. Think of an occasion where you had a difficult customer and be careful to not be too personal or insulting of them.

Tell a story, highlight the problem and then the solution you provided. Detail what skills you used – communication, negotiating, patience, resilience and what processes did you follow? Did you research more into the customer's company and provide a better option than originally?
Some questions that you may be asked in your interview:
How do you keep up to date on your target market?
In your last role, how did your attitude and behaviour help your team move towards a goal?
How do you balance nurturing current clients with developing new business?
When do you stop pursuing a client?
In your previous role, how did your daily activities improve your company's bottom line?
Besides money, what motivates you as a salesperson?
Describe the way you handle rejection and recovering from rejection.
Tell us about an objection you had trouble overcoming. How did you finally move the deal forward?
What to consider when planning your answer to these questions
These questions are a mixture of finding out more about you as a salesperson and how you handle difficult situations. You want to make sure you come across as professional and calm and highlight your skills and processes that make you an excellent salesperson.
To shape your future with Salt, a leading digital recruitment agency, send your CV to enquiry@welovesalt.com or use our search to find sales jobs. You can also keep in the loop by following us on Facebook, Instagram and Twitter.