With 50 million people looking for jobs on LinkedIn every week, getting your profile noticed by the right people can feel daunting.
Whether you're setting up your LinkedIn profile for the first time, or updating it as part of your job hunt, our top tips will help you stand out to Recruiters and Hiring Managers!
1. Upload a great LinkedIn profile picture
Your LinkedIn profile picture gives anyone you engage with an important first impression.
Our advice is to choose:
A recent photo, of just you!
Your profile picture should represent you as you are. You shouldn't feel pressured to look a certain way to get noticed. Instead, focus on a photo that's recognisable and representative! Also, no group pics or photos with friends – it should be clear who's profile we're looking at.
Wear something you'd be comfortable working in
It doesn't have to be a corporate getup if that's not what you like to wear to work, but wear something you're comfortable in, and that represents work-you! We'd recommend a photo showing head and shoulders – as full-length photos appear very small in search results.
Be conscious and professional
Be conscious that some things, like a glass of wine in your profile pic, have certain connotations. Every industry is different, so there's no hard rules, but remember that alcohol has a different cultural significance as well which might make you less marketable internationally.
Something clean and clear
Avoid having a distracting background, like a busy restaurant or staff party. Try to use natural lighting – the best time to take a photo is at dawn or dusk, but sunlight of any kind is good! The focus of the photo should be you – not what's going on behind you.

2. Add industry keywords to your LinkedIn headline
Your LinkedIn headline sits right at the top of your profile. It's short and sharp (220 characters or less) and will appear next to your name and your profile picture in search results. So, it's an ideal opportunity to stand out from the crowd!
Your LinkedIn headline section can include your job title, but it's a good idea to include industry keywords to help you appear in Recruiters' and Hiring Managers' searches. Try looking at some jobs you'd want to apply for and see what terms they're using in their specifications.
For example, if you work in Digital Marketing, you might want to have terminology related to SEO (search engine optimisation) and PPC (pay-per-click).
3. Make your LinkedIn summary pop
Many people don't fill out their summary sections, but it's prime real estate space on your LinkedIn profile page because it's right at the top and it lets you tell your own story. It also gives the LinkedIn algorithm more to go on and makes it more likely you'll appear in searches!
Rather than listing your job experience and current responsibilities, which you can do in your work experience section, your summary should be short and to the point.
We'd recommend:
Summarizing your experiences concisely – with a focus on results!
Mentioning industry keywords your ideal hiring manager would be searching for – check out some dream job specs for ideas about what to include.
Including achievements you're proud of – with statistics or references to show (rather than tell) Recruiters and Hiring Managers how fabulous you are!
Tell your story and show your passions and professional focus in your own voice.
4. Clearly communicate your skills
Find a few jobs you'd like to apply for and see which skills they're looking for. If you have that skill set, add it to your profile! See step 9 to see how endorsements can help make your skills section look more impressive.
If you don't have the experience or skills they're looking for, there are lots of great ways to upskill yourself. LinkedIn has lots of training available, or you can check out what courses are available on Coursera or Udemy.
You can also take a LinkedIn skills assessment, an online test for specific skills, to demonstrate your understanding and experience as well. You'll get a 'Verified Skills' badge on your profile if you pass the test, which looks great to potential employers. Research shows that candidates able to verify their skills on LinkedIn are ~30% more likely to be hired. So, why not put your knowledge to the test!

5. Make the most of LinkedIn's features
LinkedIn is a platform that wants to showcase your talents and professional endeavours – and they make it easy to do so with their features!
How to use LinkedIn profile features:
Populate your work experience section
Concisely summarise your role and responsibilities, but make sure to emphasize reasons and results. Different companies might use different language to describe their internal processes – so focus on telling a story, rather than listing tasks.
Share examples of your work
You can attach examples of your latest work in your work experience section to help your profile stand out. Choose projects you're most proud of to showcase here, to show what you're capable of!
Add some 'Featured content'
This will show underneath the about section on your LinkedIn page, so it's a great way to grab and hold someone's attention when they visit your profile page! To add this, click on 'My profile', go to 'Add profile section', then click on 'Featured'. Here you can add posts, articles, links, or media.

How to turn on 'open to new opportunities' or 'open for work' features
Your manager doesn't have to know if you are open to new opportunities, but recruiters can! You can choose who sees that you're open to hearing about new positions by selecting 'Just recruiters' – here's how:
Click on the 'Me' tab > click on 'Add profile section'
Underneath the 'Intro' tab, it says 'Looking for a new job'. Click here, and fill out your desired job titles and job location. You can also select whether you're open to remote work, add your start dates and job types (full-time, contract or part-time).
Then select 'Just recruiters' so no one from your company will know you're job searching.
If you're in the market for a new job and you don't care who knows it, click 'All LinkedIn members' to add a green 'Open for work' badge on your profile picture.
6. Build and expand your network
LinkedIn has 830 million members in more than 200 countries and territories worldwide. Thought leaders and people you admire are probably already on there sharing content that you can learn from. It's also worth following the companies you want to work for – to keep up to date with their news and to check for job opportunities.

Don't be afraid to reach out, comment and surround yourself with inspirational people. Send connection requests to others working in your field and nurture the connections you have. Comment on posts and send messages to people that interest you. If you don't agree with something, comment and explain why.
Challenging views respectfully can be a great way to join the conversation and connect to like-minded people in your industry. The more you share and comment on content, the more you establish your expertise and thought leadership credentials.
New to professional networking online? Follow, listen and learn. Take it one step at a time.

7. Post long-form content on your LinkedIn feed
Long-form content, like articles and blogs, is a great way to showcase your talents and perspective. They also perform really well on this platform!
Paul Shapiro, founder of Search Wilderness, analyzed over 3000 successful posts on LinkedIn (posts that received an average of 42,505 views, 567 comments, and 138,841 likes) and found that:
"Posts between 1900 and 2000 words perform the best. [They] gain the greatest number of post views, LinkedIn likes, LinkedIn comments, and LinkedIn shares."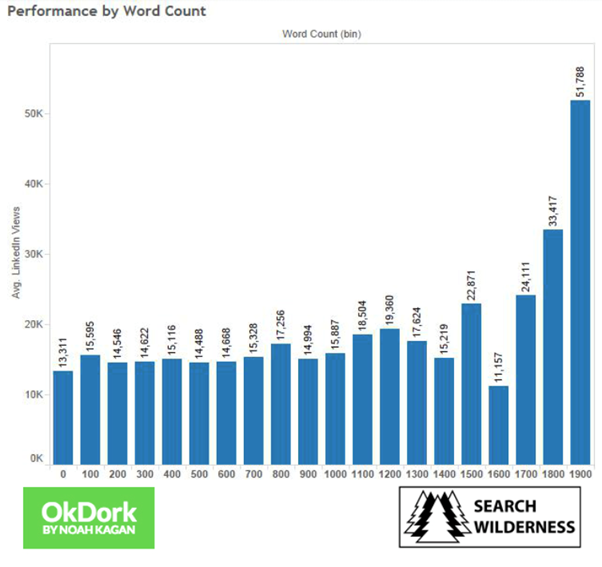 Try choosing three subjects that you could talk about freely and add value to your network.
You can use social media scheduling tools – like Hootsuite – to schedule posts in advance. If lots of ideas come to you at once, this is a great way of spreading out your interactions to maximise engagement and keep you posting more consistently.
8. Manage your LinkedIn endorsements
You can recommend somebody for a skill they've included on their LinkedIn by clicking on someone's profile, scrolling down to 'skills and endorsements', and then clicking the 'Plus' button next to the skill to endorse them. People usually return the favour! You can also reach out to friends and colleagues to endorse your skills.
Keep your skills section relevant and try to update your profile as you learn and develop. It's easier to write about a new skill or completing a course while it's still fresh – and you can always come back and edit later.
Remember to take away skills that no longer suit your career path – so Recruiters and Hiring Managers focus on the skillset you're actually wanting to promote for your next step.
9. Have fun with it!
Whilst LinkedIn is the world's largest professional social channel, it's still about building connections. Don't be afraid of having fun!
Messages, comments, and shares are generally well-received and are a great way to network virtually. You can also keep up with the latest industry news and trends and generate new ideas for your current role or your job applications.
There are lots of insightful articles, newsletters and courses on the platform that are worth checking out. This can also be a great way to find interesting people to follow and connect with.
The first post you share could feel daunting, but it soon gets easier. Being active on LinkedIn helps you learn, network and stand out from the crowd.

Good luck with your job search!

How Salt can help
Check out our latest jobs and our job searching advice – or submit your CV to get help from our recruitment specialists
Follow us on LinkedIn, Facebook, Instagram and Twitter for more tips, advice and inspiring stories!