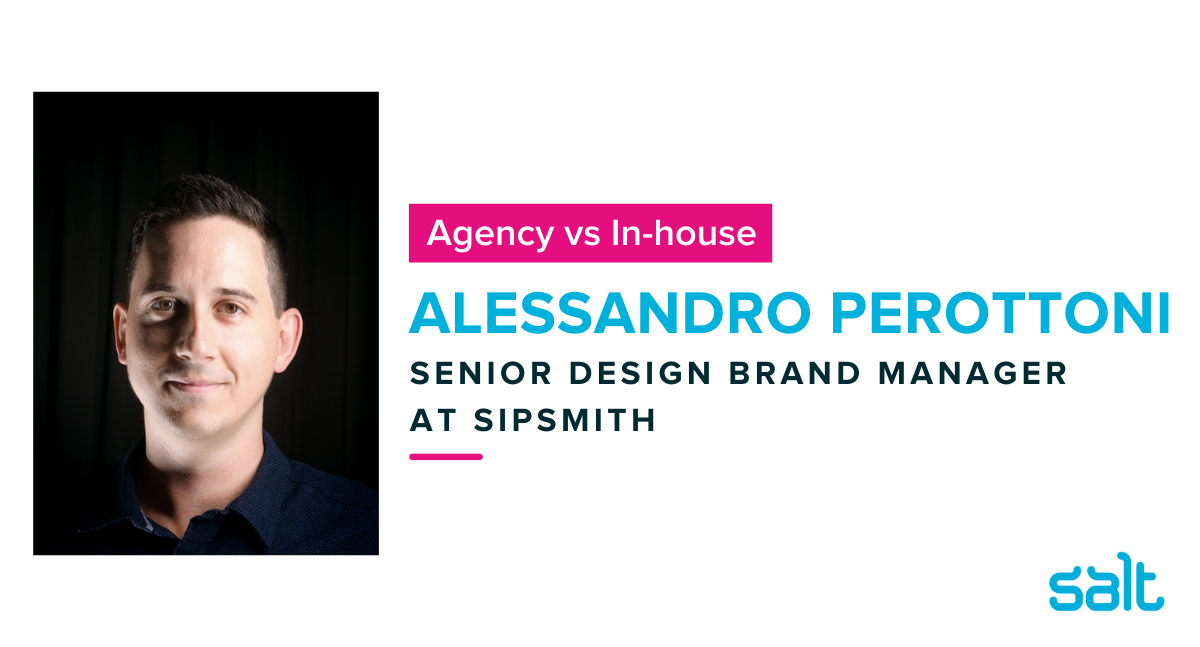 An interview with Alessandro Perottoni, Senior Design Brand Manager at Sipsmith about working in agency vs in-house in the Creative industry.
In this 'agency vs in-house' interview series led by Salt Senior Consultant for Creative, Holley Potts, we speak to customers from all different sectors within the world of digital to answer the age-old question – agency or in-house? This series is designed to give you a snapshot of creative career journeys and insights into what is currently happening in their businesses. Over to Holley… 
Despite all the negativity that's happened this year, I want to shout about the good things that are still happening amongst brands, and being quite an avid lover of Sipsmith, I would love to share with you the inspiring journey that Alessandro Perottoni, Senior Design Brand Manager at Sipsmith has to say on reflecting at this year and his path he has taken from advertising in Brazil to In-house in London… 
Holley– Welcome Alessandro! I am sure the audience would love to hear your side of the story of how you got to where you are to start us the interview off and introduce us to your beginning at Sipsmith. 
Alessandro – Of course! So, it all began when I graduated in advertising in Brazil, and moved to San Paulo which is essentially the capital of advertising in Brazil. I did a 3-month course where I worked with the top Creative Directors which allowed me to get my foot in the door with a few agencies there as an Art Director. There I managed to work on some brilliant creative projects and big brands. One of the things I noticed at these agencies is that you work incredibly long hours, especially in Brazil.
So, when I had the chance to move to London to work at Sipsmith, I leapt at it! Sipsmith stood out to me as they were quite small when I first joined as a designer just over 5 years ago. They still had that start-up feel about them where I felt I could have real impact, plus the people where really open to new ideas which is great. I was the only designer at the time so had a lot of autonomy and could really make an impression.  
Being a small team allowed me to work on other skills like social media photography at the time, fast forward to today and we now have our own in-house photography studio where we do about 85% of our photography in house from Christmas to Summer photoshoots.  
Holley – That's great that you have developed those skills for Sipsmith and really pushed the photography for them. As you work in Brand, do you find combining Marketing with Design can be tricky? As they sometimes repel each other! How have you managed to overcome this?  
Alessandro – The Design team sits inside the Marketing team. We are now developing a digital team, it's like a creative hub inside the Marketing team. The great thing about that is that when they start thinking of an idea, they can take us on the journey too, and we can work more fluidly with them. We're really focusing on the marketing objectives as opposed to focusing on design just because it's nice, and it helps both ways as they know what they can expect from us. 
Holley – I see you have transitioned from being an Art Director into a Brand Design Manager, this multi-faceted background is popular amongst more in-house brands, have you found this too?  
Alessandro – Right now in the team we have 3 designers, I tend to do the graphic design and photography, and one of the other designers is great at illustrations which compliments our designs. That's how I recruit for the team, they do the general day to day work but also have their specialisms too. Now we are looking at how we can increase our presence on design for digital. We are hybrid in a way that we can do anything we want, but when we need specific input, we will hire a freelancer. 
Holley – I think that's a sensible way to manage your team, it's about being adaptable and fitting the puzzle with the right skill sets to compliment each other. Speaking of which are there any other areas that you want to up-skill personally? 
Alessandro – One of the things I am trying to understand is the digital side, so learning how to play with Sketch and code so I am able to talk to coders and developers, not to actually code, but just so I can speak the same language. 
It was the same with Photography, I learnt this all at Sipsmith and up-skilled massively in that area and was something that I wanted to develop more. I want to get better at the digital space as it is becoming more important globally, and really own the content space as it's something that I find interesting, especially the storytelling part. Coming from advertising I have always wanted to execute my ideas and really push an idea.  
Holley – Would you say that things are more malleable working in-house in terms of freedom to express yourself creatively without boundaries?  
Alessandro – One of the benefits of working in-house is that you have flexibility, so if you see an opportunity, you pitch for it and go for it, they won't come back with costs and restrictions like an agency, and if the team are happy with the idea then they will make it quickly come to life. The team know what the cultural shift is, and what the brand is looking for so they can link the 2 in a very organic way, which results in some beautiful content and ways of interacting with consumers as well.  
There is more of that feeling of taking it from the root of the problem and making it come to life as good as it can be. You are presenting to your own client which is your company, and you know how to sell your idea and there is no middleman in that process, it becomes more of a conversation. 
Holley – We just touched on the malleability in opportunity of ways of working, let talk about the malleability of remote working, how has this impacted you and the team?  
Alessandro – We have been adapting fast to this new way of working, seeing what works and what doesn't. I would say overall as a result of what's happened this year, fortunately its actually been beneficial for us. With the likes of Teams, this has helped us keep that creativity going as we have such an open line of communication with each other. 
Remote has been great as when you are in the office you can get interrupted in the middle of your creative thinking and it can be disruptive and counterproductive. Once you're out of the zone, it's hard to get back in the zone, especially if people come to your desk. That's the beauty of working at home, you can focus more wholly on your projects especially as a designer. Emails can wait. I have seen the creative output and quality of my team has increased dramatically as we can focus on our projects for up to 6 hours straight without the interruption so that for us has been very productive. That time to think and be in your own head has been amazing.
We still have lots of creative meetings too. We have two creative meetings a week where we discuss our ideas or a brief that's being challenged, or if anyone needs help. We have a work team meeting and a wider team meeting every week. I think those are important to keep that reactive synergy that we have within the teams still happening. So, although we have lost that desk to desk interaction, we have lost the disruption as a result and hence been more productive.  
Holley – With the likes of eCommerce, Healthcare and Retail that all have boomed because of Lockdown, is there a sector that you see growing because of this year?  
Alessandro – Online courses and learning. We have always had eLearning, but we didn't value it as much as we should. We don't need to be in a classroom to learn, there are other ways of sharing knowledge that are beneficial for everyone. This next level of learning and to not have to spend so much to learn will be so important and something I see really flourishing.  
An awesome in-depth telling of the perks of working in-house! I thought it was fascinating how Alessandro noted that whilst remote working has lost the personal interaction with your colleagues, you have gained more concentration time by losing the distractions that come with it, as I always say there is always something positive that comes out of a negative!  
Stay tuned for more interviews, coming your way. If you would like to find out more about the series or find out how we can help you with your hiring, get in touch with Holley via hpotts@welovesalt.com. 
Read more of our agency vs in-house interviews here.
For more information or advice on hiring digital talent, get in touch with the team today at contact@welovesalt.com..