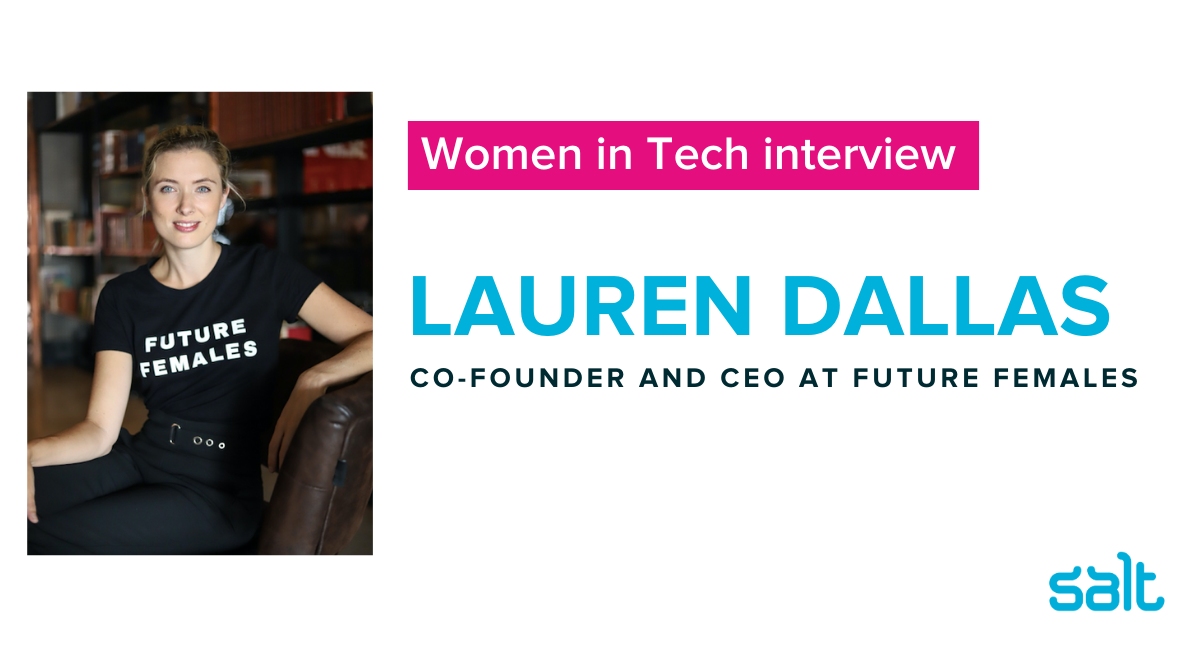 For Salt's latest Women in Tech interview, we caught up with Lauren Dallas, Co-Founder and CEO at Future Females to share her experiences and advice.
The Women in Tech interview series speaks with thought leaders from around the world to get their opinion and advice on how they have grown their career in tech and overcome challenges and adversity during their career.
About Lauren and Future Females
I have always worked in male-dominated environments – from leading eCommerce businesses to tech startups, to management consulting.
However, it was when I moved to Cape Town and was part of a Fintech accelerator program, with 10 companies participating from all around the world, and there was not a single female founder. That is when the spark for Future Females was lit.
We launched in August 2017, with a simple mission – to increase the number of female entrepreneurs and better support their success. At our launch event, we had 100 people squeezed into a room that held 60, and another 500 tuning in online – and that's when we knew, this was needed. Female entrepreneurs were hungry for a community where they could connect, support each other, and not just talk, but take action.
Since then we have grown organically to 32 cities around the world, with monthly events led by our ambassadors, who are the face of Future Females in their cities. We have also launched a virtual accelerator – the 'Future Females Business School' that supports women to launch profitable online businesses and to take control of creating their own financial futures.
What is your current role at Future Females and the most exciting part of your work?
I am Co-Founder and CEO of Future Females, and I look after the strategic direction, growth, and the management of our HQ team. As a natural-born creator and entrepreneur, the move into 'CEO' was a daunting one – having to take myself out of my comfort zone of the day-to-day execution into a more strategic role, where a lot of the value I can add is 'thinking' rather than 'doing'.
However, now I have consciously made this shift – in mindset and in title – what lights me up is empowering my team. Training and giving my team authority to create in their own space, and seeing the beautiful offerings they come up with.
Most recently, we put on the #OwnYourIncome summit – with 6,500 female entrepreneurs tuning in from around the world, tuning in to 13 guest experts on how to take control of their income and create sustainable & profitable businesses. This was one of our most exciting achievements – we were able to recreate the energy of an offline summit online, and it was also so exciting to see my team take this concept, own it, and bring it to life in a way more beautiful and impactful than I could have imagined.
What has been your most career defining moment that you are proud of?
This is such a tough question – every day I feel so excited and proud of the change we're driving, and the success stories we hear from our community.
If I had to pick just one, it would be launching our Future Females Business School. We created this program because we saw a need – for an accelerator that was not just focused on getting a business 'funding ready', but rather on building something that is profitable and can sustain its own growth. Also, a program that supports 'lifestyle' businesses that typically are not supported by more traditional tech accelerators.
We've graduated 390 entrepreneurs in the past 18 months – and some have gone on to raise funds, to build sizeable teams, to expand into other countries, to make 5-figure revenue in a single weekend, and even to meet Prince William and HRH Duchess of Cambridge Kate in the UK.
Nothing feels better than seeing these types of results from our community.
What do you think we should be doing more of to encourage more girls to consider a career in tech?
I believe it comes down to two things – firstly we need to highlight female role models – to better showcase and celebrate the women who are succeeding in tech careers – showing girls that this is a viable and exciting career path.
Secondly – we need to create environments where it feels safe to experiment, to try, to win and to fail. The number one reason we hear from our communities holding them back from bringing their tech ideas to life is fear – of embarrassment, of standing out, or of failure.
At Future Females – we actively celebrate failure! We operate on the 'Failure Club' principle, that 'it's easy to succeed if you set the bar low enough'. And rather we should constantly strive, and celebrate if we fail, that at least we were taking risks, and consider how much further we'd come than if we'd settled.
A motto we operate on – "if you don't take risks, you don't drink champagne."
What challenges have you faced in the workplace, especially your experience in male-dominated environments?
I remember I was put in charge of recruitment in one corporate role, and told to progress a female candidate through to the next level if she met 6/10 of the criteria and a male candidate through if he met 9/10 of the criteria.
This is something I fundamentally don't believe in – I believe organisations need to create training and mentorship programs, pathway opportunities, and supportive communities, that will attract the RIGHT female candidates, rather than setting women up to fail by putting them into roles they may not be right for in order to fill a gender quota.
The desire for diversity needs to start at the top, and filter through all levels of the organisation – creating an inclusive culture, awareness and space for different leadership styles, flexible working opportunities for Mothers (and Fathers), and only then, updates to individual processes like recruitment.
What is the biggest deterrent in your opinion to women succeeding in the workplace?
The issue that troubles me the most is environments where women who have succeeded and are in Management positions, do not support other women on the way up. Perhaps they feel that 'they made it the hard way, and so other women need to do the same'. If we're going to move the needle on gender parity, women need to lift each other up.
Who has been your biggest advocate/mentor in the workplace and why?
I am blessed to have had so many advocates in the workplace – typically my line managers who have really supported me to advance quickly, and as my authentic self.
I can particularly thank Noah Zamansky – who was accosted by my Mother at a dinner party after she heard him mention he worked at eBay (my dream company in school!). I met Noah for coffee and talked him into giving me eBay's first paid intern role ever, and trusting me to join his team and work on some incredible initiatives still in place at the company today in their Shipping & Fashion Divisions. I was at eBay for 3.5 years and they were some of the most progressive years of my life and my professional development.
As a 'Female Founder' and employer, what would you recommend to other companies regarding infrastructure to have in place to develop the best talent?
My advice to companies is to be authentic – you can't stamp a diversity initiative on your website & think that that will bring you the best talent. It may attract them, but it will not do the job to retain.
In my experience – companies need to lead with their values. To take time to craft and define unique values (that pass the 'swap test'), and filter these into every aspect of the business – the content shared the internal culture, the hiring processes, how you manage performance.
At Future Females – every decision we make and staff or ambassador we recruit, we above all ensure alignment of purpose & values.
In a management position how have you found it best to promote and nurture women in the workplace?
I have found that to be happy, employees (not just women) need to:
1) know how their role and tasks contribute to the greater vision & purpose of the company. And;
2) have space to experiment – to be creative, to try, to fail and to learn.
At Future Females, we have created a culture of self-accountability, where everyone knows the vision, the annual goals, and has authority and support to experiment and explore best, most engaging and most connective pathways to achieving (and surpassing these goals).
Who is your modern-day hero?
The women I have the most respect for are the ones taking ownership of their own futures – understanding that they have all the tools and resources needed to be successful, and the only thing holding them back is taking action.
What inspires me is not the celebrity, but the everyday woman balancing their job, family, self-education and everyday stresses – who still manages to act on their ideas, and create beautiful and impactful businesses.
Any reading/website you would recommend to stay updated?
I can't go past Brené Brown and the concept of 'vulnerability with boundaries'. I believe this is one of the most critical skills for a successful female leader to embrace.
What is your biggest stress reliever?
Swimming, dancing and Gin &/or Red Wine.
Is there one piece of advice you wish somebody gave you at the beginning of your career?

Three pieces of great advice:
Enjoy your 20s, find yourself in your 30s. I didn't take this advice, but I wish I had – travel, experiment, explore, give yourself time to experience and decide where and who you want to be.
Stop trying to "get ahead" – competing against others will only leave you unfulfilled and following the obvious or expected, rather than the most rewarding path for you as an individual.
Keep it light. Probably the most impactful advice – don't take yourself too seriously, there are enough problems in the world. Just enjoy what you do and create environments for your team to feel the same.
What job did you dream of when you were a kid – your 'Plan A Career' path?
As a child, I wanted to be a 'mattress tester', but quickly realised that while this might be comfortable, it wasn't going to lucrative… or challenging!
Then as I grew up – my dream was to an underwater welder. I've always been attracted to exotic, dangerous and unique pathways, that allow me to explore places that no-one has been before.
Fun fact about you?
I was a full-on choir girl – I've sung in the Llangollen International Musical Eisteddfod, in St. Mark's Basilica in Venice, and even on a plane across Europe (that was by far the most embarrassing – the other passengers were definitely not expecting a live rendition of 'Waltzing Matilda').
I love music because I love expression – and am currently teaching myself guitar (#COVIDGOALS).
To shape your future with Salt, a leading digital recruitment agency, send your CV to enquiry@welovesalt.com or use our search to find Technology jobs. You can also keep in the loop by following us on Facebook, Instagram and Twitter.