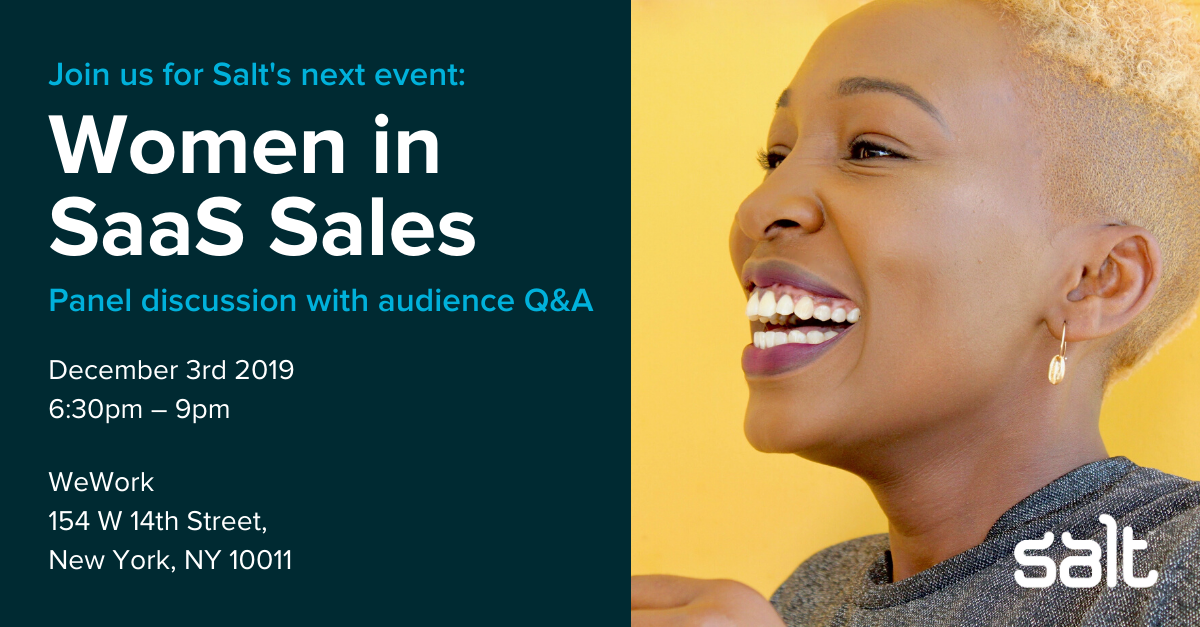 A study by PWC shows that 58% of companies are actively trying to hire female talent and this is echoed in conversations we regularly have with clients. 
Here at Salt, global, award-winning digital recruitment agency, we want to open up this conversation further with our Women in SaaS Sales Event on December 3rd where our fantastic panelists will be sharing their career experiences, advice, and tips and lots more! Whether you're a Hiring Manager, just starting your SaaS Sales career, or looking for a new role, you're guaranteed to pick up some inspiration and motivation. Plus, there will be an audience Q&A where you can ask any questions you may have.
Meet our panelists below…
Molly Siems Cavanaugh, Director of Business Development at Justworks
At Justworks, she manages strategic partnerships and channel sales and has grown the channel program from inception to 20% of company revenue in just over two years.  Previously, she was both Head of BD and Legal Director at marketing tech startup NewsCred where, as the 15th employee, she helped grow the company from Series A through Series D over 4 years.  Molly is a Columbia Law School alum, beginning her career as a corporate lawyer in private equity M&A at Kirkland & Ellis.  She is also a Pod Leader in Declare, an organization that works on elevating women into leadership roles in VC, finance and technology.
Priya Ravindhran, Director, Sales and Customer Experience at H20.ai
Priya is an experienced Technology Sales professional with a demonstrated history of working in the computer software industry. With a degree in Electrical Engineering and Computer Science from UCLA, she began her career as a SQL developer at PayPal, gravitated toward business-focused roles in product management at Wells Fargo, Ad-tech startups, and Marketing Data Analytics, and thrived in more client-facing positions where she was able to effectively communicate and serve as a liaison between technology and the business.
With exposure to the sales process and cycle, Priya developed a sharp hunting and prospecting skillset while working with the largest names in Retail, Entertainment & Media.  When she joined H2O.ai, Priya had a strong track record of successfully selling to large enterprises, and she took her next role as an Account Executive for H2O.  Since joining, Priya's contribution to H2O has led her to a top performer status at one of the leading machine learning companies in the World.
Sasha Pilch, Business Development at Plaid 
Sasha Pilch is in Sales at Plaid, a technology platform which makes it easier and safer for developers to build innovative financial services and applications. At Plaid, she is responsible for bringing on new Mid-Market sized companies within Payments, Lending, Wealth, Insurtech, Healthtech, and eCommerce.
She is also the co-founder of NYC Fintech Women, an organization with the mission to connect, support and sponsor women in order to advance their careers. NYC Fintech Women has 3,000 members and has held 46 monthly events at fintechs such as Stash, Payoneer and Adyen as well as traditional enterprises including Deutsche Bank, SVB and EY. Previously she spent 9 years working for some of the world's largest banks including RBS & Citi in London and CBA & Westpac in Sydney.
Jenn Chen, Chief Revenue Officer at Connatix
Connatix is a next generation video platform for publishers. At Connatix, Jenn oversees sales, marketing, and client success. Jenn started her career at Lehman Brothers, went to AppNexus as an early employee, and become the VP/GM of Programmatic at Sizmek, where she scaled the global programmatic business over 500% and drove the integrations of several strategic acquisitions. In addition to her accomplishments in the digital space, Jenn is also the Co-Founder and President of Givology.org, a nonprofit platform which connects donors to students in developing countries. In her free time, she tries to wrangle in her two little boys, enjoys cooking and painting, and hopes to food-travel the world one day
————————————————————————————————————————————————————————————–
Read all about our Women in SaaS Sales event that took place in London this November.
We also highly recommend PWC's report: Winning the Fight for Female Talent, where they share insightful research into diversity and talent attraction.