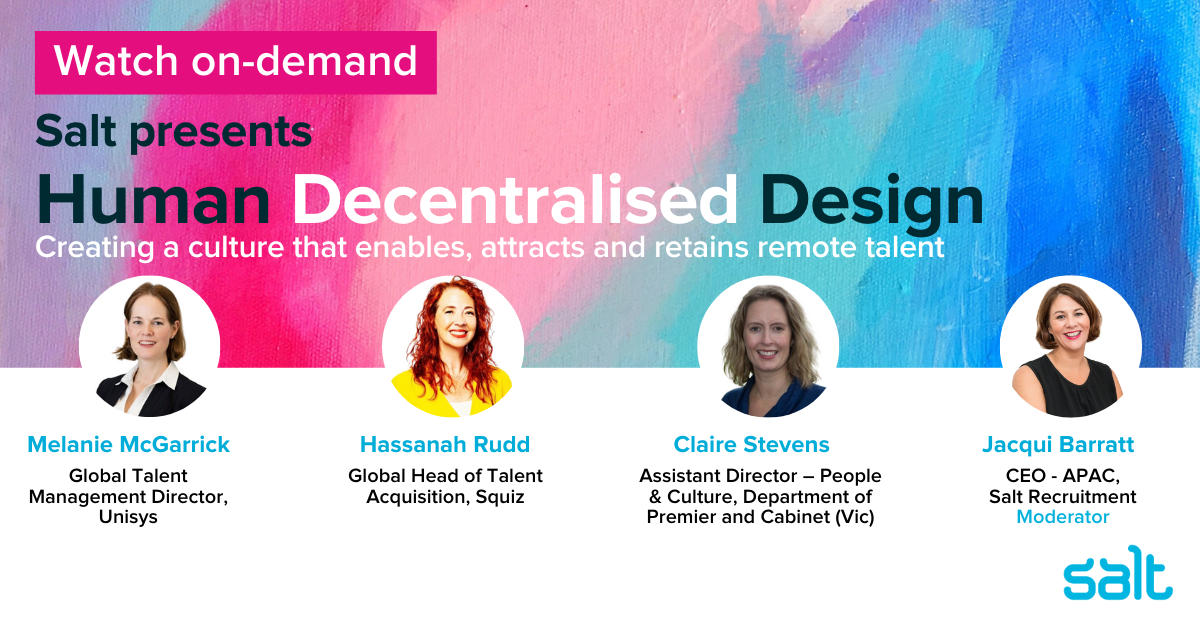 Due to the Coronavirus pandemic, many companies had to adapt their hiring practices and work remotely with their teams. With this in mind, our Australia team hosted a webinar panel discussion on Human Decentralised Design on Thursday, 2nd July at 10:00am moderated by Salt digital recruitment agency's APAC CEO Jacqui Barratt.
Hear from our panel of leading industry leaders, across the public sector and tech industries as they shared their insights around a decentralised workforce, and discussed the challenges and opportunities of creating a culture that enables, attracts and retains remote talent throughout COVID-19 and beyond.
Our Speakers:
Check out some of the insights that were discussed.
00:19 — Fun fact about the speakers
01:37 — What do you think is posing as the biggest challenge to both the culture of your organisation and organisational design as we move into the next phase?
05:53 — What do you think are the key changes that we're going to have to make?
10:34 — How do we drive the concept of work-life balance more effectively?
12:53 — What do leaders need to do to remain effective for their teams? And what support do they need from us to do it?
16:40 — How do you try to either accelerate or create trust when the person is new? What are some of the things you can do?
22:27 — How do you think companies will shift looking at their measurements and their performance management of people? And what do they need to do both on an organisation level and an individual level?
29:06 — How do you try to measure outcomes? What do you suggest we can do more effectively to give leaders confidence during this period?
37:10 — Organisational transformation needs people interaction over virtual set-up. How long will band aid solutions sustain? Do we need to create opportunities to bring people together as well?
42:13 — How do organisations manage the well-being of people they can't see?
45:23 — On boundaries, how much responsibility sits with an individual?
48:51 — Given more people are going to work from home, blended or some shape or form, how does it a) impact talent acquisition strategy and b) does it open up some new talent pools to us that we haven't been aware of or engaged with previously?
54:37 — Is there anything you would advise people in particular to look at when you're hiring and you're looking for their adaptability to change, learning agility?
Here are just some of the insights that were raised during the panel discussion:
1. Leverage the positives

Companies need to look at what worked and what hasn't worked, and not revert to the old ways. With work noticeably becoming of what we do rather than where we go, the challenge for organisations is to work on accommodating this on an ongoing basis. One of the challenges is replicating the informal water cooler conversations, office culture and the business pulse.
2. Key changes

Organisations need to rethink the whole onboarding process from a new joiner's perspective and how to manage that. We know how critical it is to drive the initial engagement of somebody who joins the business. Another game changer will be organisations' next level flexibility policies.
3. Focus on outcomes

We should focus on outcomes, on what people are delivering and how effective that is. Many businesses are also moving towards teaming (pulling people with the right skill for a particular project), focussing on skills, and not whether you're at your desk. It's all project-based, outcome-based.
4. Ways to remain effective
Leaders should set a kind of cadence of having regular catch-ups with their teams. They should use very deliberate and thoughtful communication in managing their teams, and focus on building trust with them especially when someone's just joined the team. Additionally, while trust might be quick to form, it's also very quick to dissolve specifically when's there not a strong focus.
5. On building trust
You can build trust by creating opportunities during informal connections. For leaders, it's very much about role modelling. You build trust when you're consistent in your messaging and your behaviour, and when you're role modelling the values you're talking about.
6. Company measurements and people performance management

At the organisation level and individual level, agility, the willingness to try new things and work in new ways are actually business critical. We should use these to not only measure an organisation's success, but also recruit people who can thrive in a changing environment. The pandemic has given us an opportunity to really reshape and change how we measure performance and instead of hiring people based on position descriptions, we are looking at hiring a particular skill set and teaming you on different projects. Performance is not measured on the thesis of a position rather the outcome of a project.
7. Well-being of remote employees

There should be a spotlight on the well-being of employees. Wellness issues that may arise are isolation, burnout, boundaries, always working, manageable workloads, managing mental health, and being on video all the time.
8. Talent acquisition strategy

With more people working from home or on a blended schedule, it's a huge opportunity for the talent acquisition market to drive significant changes as it's really challenging the location visual. With employees' expectations changing, they'll head to an organisation that gives them the choice of how, when and where they work instead of staying with a rigid organisation.
 
---
Are you an employer who needs some help with hiring digital talent? Visit our Employer page to submit a short brief and we'll be in touch shortly.
To shape your future with Salt, a leading digital recruitment agency, send your CV to enquiry@welovesalt.com or use our search to find Technology jobs. You can also keep in the loop by following us on LinkedIn,  Facebook, Instagram and Twitter.