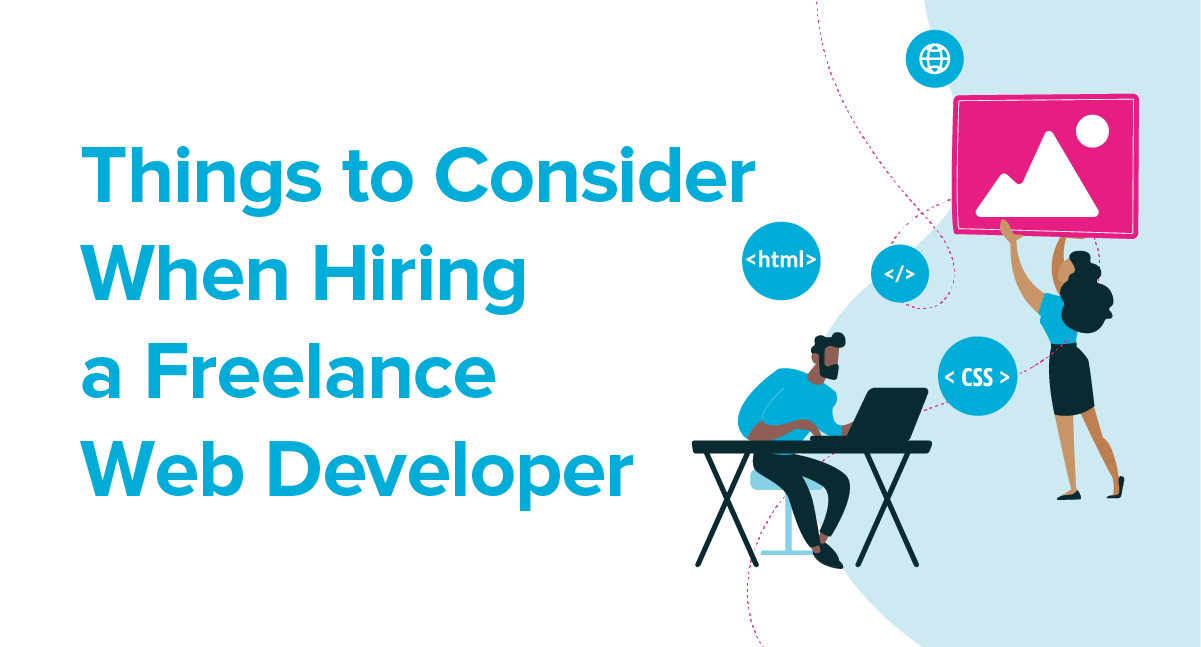 A strong web presence is essential for any business and having the help of a talented freelance web developer can really set you apart from your competition. This is the person who will be creating the online face of your company after all. They will be the ones responsible for taking your vision and transforming it into a website. Because this is done through writing lines of complex code, it is important that you hire a web developer with the right skills for the job.
There are many benefits to hiring a freelancer, but they depend on your type of company, the resources you have in-house and your budget. In some cases, hiring a freelance web developer may allow you to save costs depending on your type of website and how complicated your web development needs are.
Having a wide pool of talent to choose from allows you to find a developer that you can develop a good professional relationship with, will understand your business, and who you can ultimately rely on.
But how do you find this person?
Here are our top tips to consider when hiring a freelancer:
1. Know what you need from a web developer
Before you even begin the hiring process, you need to know what you are asking for.
Do you need a new site or do you just need some updates made on your current one?
Do you need a new tool created?
Do you just require someone who can help you with maintenance?
There are dozens of questions you first need to ask yourself before you start to look for the right candidate for the job. This will help you decide exactly what kind of freelance web developer you need.
Perhaps you require a front-end developer, whose role is to make changes to the front of your site, or a back-end developer who works on the structure of the front-end of your website? Maybe a full-stack developer who can develop both the front and back-end of your website would better suit your needs? Do you also need someone who can help you with the creative design or has UX and UI skills?
Knowing exactly what you need ahead of time will help you identify the skills and talent you need when looking for a freelance web developer.
2. Where to find a web developer
There are many options when looking to hire a freelancer. You can advertise the position on recruitment sites, your website, job boards and LinkedIn or you could connect with freelancers on sites that feature an expansive network of developers.
Location will determine which resources you use. If you are looking to hire a freelance web developer in London for example, a quick Google search will pull up dozens of sites and listings for your area and it can get very overwhelming. Narrowing things down could be tricky.
A recruitment agency can find candidates much faster than you can, saving you time and effort, using their network of talent. They will also connect you with highly skilled professionals in your area so, again, if you are looking for a web developer in London or any other part of the world, an agency can help. What's more, you can save money as you are only eligible to pay once a candidate is hired.
3. How to choose a web developer
The many benefits of hiring a freelancer mean that you are spoilt for choice but it also makes deciding who to employ difficult.
Before hiring a freelance web developer, you need to evaluate their experience and decide whether or not they can cope with your requirements. This is why it's important to first check out all applicants' portfolios so that you can get a better idea of their experience. You can also do a bit of research by visiting their LinkedIn profile or doing a quick google search.
Once you have found someone whose expertise satisfies your business needs you can get in touch to arrange an interview.
When meeting with your candidates, don't shy away from asking a lot of questions. There are various things to consider when hiring a freelance web developer but these commonly asked interview questions may help you determine whether the candidate is the right fit for the job:
What are your strengths and weaknesses?
What's your experience with coding?
What coding languages do you work with and which is your strongest?
What types of projects do you enjoy working on?
Are there any projects you are working on in your own time?
Describe a project you completed. What approaches did you take? What challenges did you face and how did you overcome them?
What soft skills will you bring to the job?
4. How to negotiate payment
Now that you have found your freelance web developer it is time to figure out what and how to pay them. You want to offer competitive rates so it would be a good idea to research what the average cost of a freelance web developer is first. Once you have determined this you can negotiate payment.
Freelancers most commonly charge per hour or project so you need to discuss what would be most suitable for both parties.
If you are paying per hour, you will have to negotiate an hourly rate whereas if you commission them per project you will need to decide on a set fee for each project.
Remember, you get what you pay for so ideally, the compensation you offer will be based on what you determined is the average cost for a freelance web developer.
When discussing pay it is important to be upfront about your budget. From there you can work out what would suit you both best. This may mean that some of the job's responsibilities may change but it is worth discussing this with your freelance web developer.
You will then need to set up a payment schedule. You could offer 50% at the start of the project and 50% at the end. Alternatively, another option is to divide payment into installments. Don't pay for the project in full until the work is completed and delivered.
If you'd like advice on how to hire a freelance website developer, get in touch with our team of recruitment specialists who will be able to guide you in the right direction. Click the location that you are hiring in below to submit your requirements: