As part of Salt Digital Recruitment Agency's Christmas blog series to get you "job ready" for 2018, we caught up with Matthias Hendrichs in Hong Kong and asked him to provide some advice to job seekers out there.
An introduction:
Matthias Hendrichs is an entrepreneur, senior executive and trusted advisor on the topic of digital transformation and disruption. His experience over the last 21 years stretches across three main areas: (1) Founder of several digital ventures in Europe and Asia – including brain father of a HK based unicorn, (2) Strategist and Business Unit head with Fortune 500 companies (BASF and Bertelsmann) and (3) Partner in strategy consulting firms (Booz&Co and Gao Feng). He helped numerous companies in the Asia Pacific across a variety of industries aligning their strategies to the digital age and drive their digital transformation. Most recently, Matthias drove the digital transformation of LVMH's global travel retail business.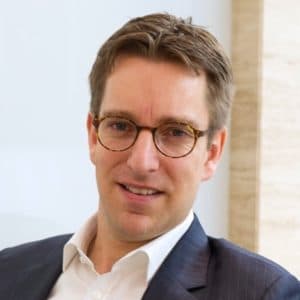 What's the one piece of advice you would give to people looking for their next career step in 2018?
"My career advice for candidates is to stand out. In a global marketplace, seemingly everyone can compete with each other. Therefore, it is critical to understand what the interests and aspirations, and subsequently the key strength of a candidate are. Once that is clear, I encourage the candidate to think about how he/she can stand out among other candidates with a similar background. These days there are many options to do so. LinkedIn or other platforms are a great way to build your own profile, learn, observe and interact with peers and potential employers. My advice though is to be subtle and humble. I receive many uninvited, blunt and direct messages from strangers asking me to hire them. Candidates want to build a relationship first and immerse themselves in the context before jumping too quickly.
What do you think is going to disrupt the digital market next year?
Overall, 2018 will bring a maturing of some of the trends we have already spotted in 2017, but in 2018 these will have more sophisticated and in-depth applications such as blockchain. In 2017, especially towards the end of the year, the main hype is around blockchain based cryptocurrencies (Bitcoin, Etherum). In 2018, we will see financial and non-financial products and services using the distributed ledger technology.
Another continuing trend will be the combination of analytics, artificial intelligence (AI) and big data. These three topics are inseparably connected, and value-driven insights that enhance both customer experience and operational profitability will lead the way in 2018.
Last but not least, Digital Transformation – a buzz word already in 2017 and before – will continue to echo in the hallways, especially for traditional companies. It will penetrate industries further away from typical end consumer markets; such as Energy and Chemicals, etc. There will hardly be any business that is not impacted by the digital age. It matters less whether the products/services are rendered digitally. The mindset of consumers and the environment of digitally connected and operating businesses will drive this trend.
What do you do to ensure your company has a good culture?
Company culture is a very important topic and highly intangible. On the one hand, it is the sum of all stakeholders involved in the company – it goes beyond the employees and also includes partners. On the other hand, I see management as responsible for cultivating the corporate culture by acting as role models. It is critical to clearly outline what a company stands for and what it does not – summarizing this in a corporate compass is helpful. As in any situation, real adoption only happens, if everyone lives by those values. There are little things I do, such as ensuring people do not constantly stay late or are rewarded for achievements, but ultimately what makes the difference is whether people "feel" they are in a good place. This can only be achieved by trust and by delivering on promises.
What do you look for in members of staff?
For me, there are two dimensions when it comes to hiring criteria – soft skills and hard skills. The hard skill part is usually quite straightforward. I can easily see or test the relevant skills required for the respective position. But equally or maybe even more important are the soft skills. How do candidates fit into the corporate culture? What are their values and integrity? It is not trivial for a hiring manager to gauge these characteristics and usually takes experience to assess a candidate correctly. Looking back, the reason why new hires might not be successful in the long term is due to an incorrect assessment of their soft skills and cultural fit.
The end of the year is always the time for reflection, what is the one thing you wish you knew at the beginning of the year?
Besides the development of the Bitcoin price (joking aside) – a key learning for me is that with all digital technology at our fingertips, the human factor is still the most important to deal with. Be it in a situation of massive change as part of a digital transformation project when employees need to change their way of working after sometimes decades of hardly any changes or when you design entirely new products and services and by that need to create new demand for something that didn't exist before. Understanding and bringing people along is a key responsibility of any manager.
What do you do in the office for Christmas?
In Asia, with a very heterogeneous mix of people, cultures, religion, Christmas is usually rather a "year-end celebration" where we take time to take a step back and reflect, celebrate the successes we had and look at what we want to achieve in the coming year. In a retail environment, Christmas is a key season, but the preparations for that start a very long time before. I personally like to take some time off and spend a few days with my family.
Image source: https://unsplash.com/photos/dgOJDAv96s8, https://www.pinterest.co.uk/pin/503769908303247968/